Facing History in New York, in partnership with WNYC Radio's Radio Rookies program, helps public high school students develop digital storytelling skills through the Neighborhood to Neighborhood project. Each year, students in the program tackle complex questions about identity, race, education, and crime and violence in their communities. Using interviewing skills and multimedia tools, the students produce original visual and audio pieces. This post is the second in a five-part series introducing their finished pieces. Each post will include connection questions you can use in your classroom to discuss the works or to start your own project. This week: A student from East Side Community High School discusses how writing music helps her find voice and release. Check back next Tuesday when we look at the relationship between the languages we speak and our identity. Follow along!
Facing History student Alicia first turned to writing music four years ago, after the sudden death of her grandfather.
Alicia knows she's lucky to attend a high school with a music writing program, Beat Rhymers. It was something that hit home even more so last year, when her mother was shot in the leg and her uncle was killed in a car accident. Writing beats and lyrics gives Alicia a release, but she wonders - do other kids struggling with loss and violence also use the arts to "get it out"?
Watch and/or listen to Alicia's multimedia investigation of voice, identity, and violence: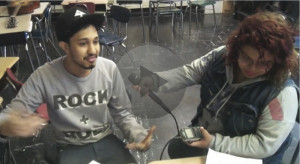 Connection Questions:
Rookie Reporter Alicia says that poetry and beat-making helped her deal with issues in her personal life and in the world. "Beat Rhymers taught me not to let my problems keep me down but to express it and voice how I feel." Are there any art forms that serve a positive function in your life?
The story suggests that arts programs like the ones featured in this story motivate students to attend school and complete their work. Are there any programs in your school that serve these purposes? If not, how could you help to get these programs started?
Alicia says, "I want my work to inspire people. I want them to know that you can be faced with bad stuff happening around you. But with a positive outlet, you can turn things around." Do you agree with Alicia's conclusion? How might this story inspire others?
In this story, Alicia says, "I feel like writing about the violence around me keeps it from taking over my life." Why do you think writing has been such a powerful tool for Alicia? Are there things that are overwhelming to you, and if so, what tools do you use to keep them from taking over your life?
All of the stories in the "Neighborhood to Neighborhood" project are available in two formats: audio only and audio-visual. Try listening to the story in both formats. How do the images (or their absence) shape the way you experience the story?
Why do you think the series is called 'Neighborhood to Neighborhood'?
How might this story be different if reported by adults?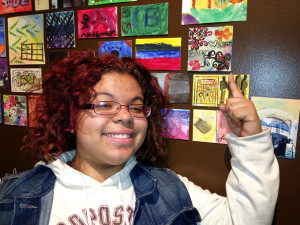 Strategy Spotlight: Found Poems, a Teaching Activity to Draw Out Student Voice
The Neighborhood to Neighborhood Project was made possible by the Hive Digital Media Learning Fund in The New York Community Trust and The MacArthur Foundation.

Check out the rest of the "Neighborhood to Neighborhood" blog series!