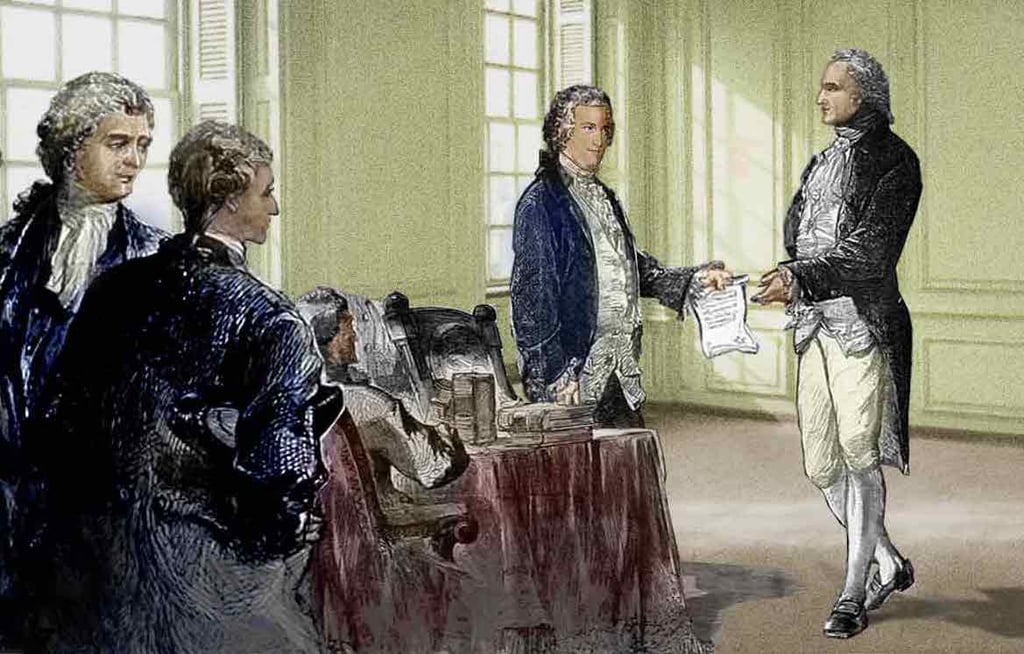 In August white supremacists in Charlottesville, Virginia erupted in violence during a rally, including an instance of terrorism that killed one and injured 19 others when a vehicle was purposely driven into a crowd. Even as other world events continue to demand our attention, it is important not to lose sight of the rifts and tension that Charlottesville shined a blinding spotlight on. If we look to history, President George Washington's letter to the Hebrew Congregation in Newport, Rhode Island reminds us of the need to reclaim the nation's vigilance against bigotry.
When George Washington traveled to Newport in 1790 he was greeted by Moses Mendes Seixas, one of the leaders of the Jewish congregation. Seixas had written to Washington about his concerns of religious persecution and his congregation's ability to live freely as citizens.Washington embraced, word for word, Seixas's phrase about neither sanctioning bigotry nor assisting persecution but he went further. His reply stressed that the liberty and immunities of Citizenship apply to members of the Jewish community not due to the generosity of others, but as a matter of right ensured to all.
That these ideas arose in dialogue between the President of the United States and members of the community is especially noteworthy. There was no other nation at that time where Jews could speak and be greeted as "fellow citizens." To assemble, to speak, to be heard, and to be engaged with: these were and are crucial elements of membership in a democracy. Washington's reply and visit demonstrated how much he understood the mutual need of elected officials and citizens. And while the eloquence and modes of communication (face-to-face and handwritten letters) may change, the kind of respect shown between George Washington and Moses Seixas offers an example particularly instructive right now.
It's not that we have any shortage of ways to connect as community members with officials. Now we have not only assemblies, marches, and written letters, we also have telephone, email, Twitter, Instagram, and YouTube. So-called "Smart Cities" use digital and hi-tech solutions letting officials see how residents travel, use energy, and identify priorities—and assemble data and metrics to aid accountability to the community. Smart-phones enable residents to marshal data on neighborhood blight, environmental harms, and police brutality.
Some of these developments raise new risks to personal privacy. Some may promote passivity rather than active engagement by citizens. Some raise new questions about the reach of the First Amendment. But the combination of the First Amendment and the new tools for two-way and multiple-way communication may actually make democracy—self-government—more possible now than ever before.
And yet, abetted by the possibilities of anonymity and the audacity of crowds, new communication technologies permit and spread demeaning, abusive, and hateful messages. Some are spurred by the promise of money, linked to numbers of viewers, who engage in electronic rubber-necking or dare-you-to-be-outrageous games. Sometimes the abuse is a response to perceived slights or wrongs, reflecting the escalation of tit-for-tat abusiveness. Sometimes the abusive or hateful communication is produced by private individuals, sometimes by public officials.
Here, once again, George Washington's letter offers an important message. Echoing Moses Seixas, Washington wrote: "For happily the Government of the United States gives to bigotry no sanction, to persecution no assistance, requires only that they who live under its protection should demean themselves as good citizens, in giving it on all occasions their effectual support." The government should give no support to intolerant opinions and prejudices, especially toward a group lacking power; in return, those protected by the government should conduct ourselves as good citizens. We each can take steps to stand up against hatred and abuse, while ensuring room for debate and disagreement among members of the community and with our officials.
Response is required in the face of bigotry. We need upstanders—those who speak out publicly against bigotry and injustice. Yet, upstanders face danger—whether it's disapproval by others; costs of time, money, and emotion; or even more dire risks to personal safety. And it is of course easier to be passive, to feel overwhelmed, fearful, or to be in denial about the risks to us all from the abuse leveled against others.
The challenges of citizenship include not just developing ideas but also developing practices—practices that make passivity no easier than taking action against hatred and violence. This means creating cultures and institutions to help individuals empathize with those who are oppressed. That is why we each need to find ways to stand up, to speak out, and to engage with public officials, and with one another. We can build practices to help individuals resist peer pressure to do nothing and to strengthen peer support for standing up against suffering and injustice. That includes demanding that our leaders do the same. We must address genuine fears, sources of denial, and feelings of being overwhelmed so often experienced by those who do nothing in the face of oppression. Standing up includes "liking" and praising those who stand up; it can include shunning those who engage in hate. The role of upstander should not be confined to remarkable heroes but taken up by responsible communities, resisting inaction and the assumption that these are other people's problems.
Inspire thoughtful conversation about religious freedom in our increasingly diverse society with our featured collection, "Give Bigotry No Sanction." It uses lesson plans, text, and images of the letters, and an anthology of essays to go deeper into the historical correspondence between George Washington and Moses Seixas.

Photo Credit: Stephen Brosnahan, 2008. Courtesy of the George Washington Institute for Religious Freedom.
This piece was adapted from a speech given by Martha Minow at the Touro Synagogue in Newport, Rhode Island on August 19, 2017.