Here at Facing History, we see awareness months as opportunities to deepen our knowledge of and attention to the histories and contemporary experiences of historically marginalized communities. However, the focus on celebrating these communities over one particular month can further marginalize the very experiences we are hoping to elevate. With this in mind, what follows is an invitation to engage with important themes raised by Pride Month this June and throughout all of the months of the year.


This month, we are sharing ten young adult (YA) titles that have been released in the last year that bring important themes in LGBTQIA+ life and history to the fore for young readers. Below is promotional text excerpted from material offered by each book's publisher along with the reading level of each text:

"Jake is just starting to enjoy life as his school's first openly gay kid. While his family and friends are accepting and supportive, the same can't be said about everyone in their small town of Barton Springs, Ohio. When Jake's dad hangs a comically large pride flag in their front yard in an overblown show of love, the mayor begins to receive complaints. A few people are even concerned the flag will lead to something truly outlandish: a pride parade.
Except Jake doesn't think that's a ridiculous idea. Why can't they hold a pride festival in Barton Springs? The problem is, Jake knows he'll have to get approval from the town council, and the mayor won't be on his side. And as Jake and his friends try to find a way to bring Pride to Barton Springs, it seems suspicious that the mayor's son, Brett, suddenly wants to spend time with Jake. But someone that cute couldn't possibly be in league with his mayoral mother, could he?"
–HarperCollins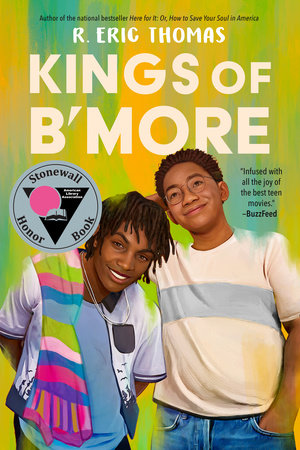 "Two Black queer best friends face their last day together with an epic journey through Baltimore in this magnetic YA debut by bestselling author of Here for It, R. Eric Thomas…
With junior year starting in the fall, Harrison feels like he's on the precipice of, well, everything. Standardized testing, college, and the terrifying unknowns and looming pressures of adulthood after that—it's like the future wants to eat him alive. Which is why Harrison is grateful that he and his best friend, Linus, will face these things together. But at the end of a shift at their summer job, Linus invites Harrison to their special spot overlooking the city to deliver devastating news: He's moving out of state at the end of the week.
To keep from completely losing it—and partially inspired by a cheesy movie-night pick by his dad—Harrison plans a send-off à la Ferris Bueller's Day Off that's worthy of his favorite person. If they won't be having all the life-expanding experiences they thought they would, Harrison will squeeze them all into their last day together. They end up on a mini road trip, their first Pride, and a rooftop dance party, all while keeping their respective parents, who track them on a family location app, off their trail. Harrison and Linus make a pact to do all the things—big and small—they've been too scared to do. But nothing feels scarier than saying goodbye to someone you love." –Kokila


Lakelore

(grades 7-9)


by Anna-Marie McLemore


"In this young adult novel by award-winning author Anna-Marie McLemore, two non-binary teens are pulled into a magical world under a lake - but can they keep their worlds above water intact?...
Everyone who lives near the lake knows the stories about the world underneath it, an ethereal landscape rumored to be half-air, half-water. But Bastián Silvano and Lore Garcia are the only ones who've been there. Bastián grew up both above the lake and in the otherworldly space beneath it. Lore's only seen the world under the lake once, but that one encounter changed their life and their fate.
Then the lines between air and water begin to blur. The world under the lake drifts above the surface. If Bastián and Lore don't want it bringing their secrets to the surface with it, they have to stop it, and to do that, they have to work together. There's just one problem: Bastián and Lore haven't spoken in seven years, and working together means trusting each other with the very things they're trying to hide."
–Feiwel & Friends


"A gay Muslim boy travels the world for a second chance at love after a possibly magical heiress grants him three wishes in this YA debut that's Simon vs. the Homo Sapiens Agenda with a twist of magic…
Sy placed all his bets for happiness on his boyfriend, Farouk . . . who then left him to try and 'fix the world.' Now, the timid seventeen-year-old Indian Muslim boy is stuck in a dead-end coffee shop job and all he can do is wish for one more chance . . .
Sy never expects his wish to be granted. But when a mysterious girl offers him three wishes in exchange for his help and proves she can grant at least one wish with an instant million-dollar deposit into Sy's struggling bank account, a whole new world of possibility opens up. Is she magic? Or just rich? And can Sy find the courage to leave Los Angeles and cross the Atlantic Ocean to lands he'd never even dreamed he could visit, all to track down his missing ex? With help from his potentially otherworldly new friend, will Sy go all the way for one last, desperate chance at rebuilding his life and refinding love?" –Bloomsbury YA


by Haley Neil


"A moving YA debut about a girl who grapples with questions of her Jewish identity, mental health struggles, and sexuality while on a temple exchange trip through Israel… When high school senior Tally and her twin brother Max head off on an exchange trip to Israel over their winter break, Tally thinks it will be a good distraction for Max; he might be trying to hide it, but she knows he's still struggling in the wake of a car crash that injured him and killed the driver…
But as the group travels across the country, Tally realizes her plan might not be working, and that her brother might not be the only one with a lot on his mind. When a new relationship gets complicated in the face of her own anxiety-about her future, her sexual and romantic identity, and her place within the Jewish diaspora. Tally must grapple not only with the past, but also with what life will be like when they get back home." –Bloomsbury YA


Like Other Girls
(grades 9-12)
by Britta Lundin
"After getting kicked off the basketball team…Mara is dying to find a new sport to play to prove to her coach that she can be a team player. A lifelong football fan, Mara decides to hit the gridiron with her brother, Noah, and best friend, Quinn―and she turns out to be a natural. But joining the team sets off a chain of events in her small Oregon town―and within her family―that she never could have predicted.
Inspired by what they see as Mara's political statement, four other girls join the team. Now Mara's lumped in as one of the girls―one of the girls who can't throw, can't kick, and doesn't know a fullback from a linebacker. Complicating matters is the fact that Valentina, Mara's crush, is one of the new players, as is Carly, Mara's nemesis―the girl Mara fought with when she was kicked off the basketball team. What results is a coming-of-age story that is at once tear-jerking and funny, thought-provoking and real, as Mara's preconceived notions about gender, sports, sexuality, and friendship are turned upside down."
–Disney-Hyperion


by Eliot Schrefer


"This groundbreaking illustrated YA nonfiction title from two-time National Book Award finalist and New York Times bestselling author Eliot Schrefer is a well-researched and teen-friendly exploration of the gamut of queer behaviors observed in animals. A quiet revolution has been underway in recent years, with study after study revealing substantial same-sex sexual behavior in animals. Join celebrated author Eliot Schrefer on an exploration of queer behavior in the animal world—from albatrosses to bonobos to clownfish to doodlebugs.
In sharp and witty prose—aided by humorous comics from artist Jules Zuckerberg—Schrefer uses science, history, anthropology, and sociology to illustrate the diversity of sexual behavior in the animal world. Interviews with researchers in the field offer additional insights for readers and aspiring scientists. Queer behavior in animals is as diverse and complex—and as natural—as it is in our own species. It doesn't set us apart from animals—it bonds us even closer to our animal selves." –Katherine Tegen Books


by Romina Garber


"In Cazadora, Romina Garber weaves together Argentine folklore and what it means to be illegal in a timely, intimate, and emotionally powerful narrative…
Following the events of Lobizona, Manu and her friends cross the mystical border into Kerana―a cursed realm in Argentina―searching for allies and a hiding place. As they chase down leads about the Coven―a mythical resistance manada that might not even exist―the Cazadores chase down leads about Manu, setting up traps to capture and arrest her. Just as it seems the Cazadores have Manu and her friends cornered, the Coven answers their call for help. As Manu catches her breath among these non-conforming Septimus, she discovers they need a revolution as much as she does.
But is she the right one to lead them? After all, hybrids aren't just outlawed. They're feared and reviled. What happens when the Coven learns of Manu's dual heritage? Will they still protect her? Or will they betray her? And after running this far, for this long―how much farther can Manu go before her feet get tired, and she stops to take a stand?"
–Wednesday Books


A Million Quiet Revolutions
(grades 10-12)
by Robin Gow


"For as long as they can remember, Aaron and Oliver have only ever had each other. In a small town with few queer teenagers, let alone young trans men, they've shared milestones like coming out as trans, buying the right binders―and falling for each other.
But just as their relationship has started to blossom, Aaron moves away. Feeling adrift, separated from the one person who understands them, they seek solace in digging deep into the annals of America's past. When they discover the story of two Revolutionary War soldiers who they believe to have been trans man in love, they're inspired to pay tribute to these soldiers by adopting their names―Aaron and Oliver. As they learn, they delve further into unwritten queer stories, and they discover the transformative power of reclaiming one's place in history. Further reading on trans history is included in backmatter."




–Farrar, Straus and Giroux (BYR)




When You Call My Name
(grades 10-12)
by Tucker Shaw


"Tucker Shaw's When You Call My Name is a heartrending novel about two gay teens coming of age in New York City in 1990 at the height of the HIV/AIDS epidemic…Film fanatic Adam is seventeen and being asked out on his first date―and the guy is cute. Heart racing, Adam accepts, quickly falling in love with Callum like the movies always promised. Fashion-obsessed Ben is eighteen and has just left his home upstate after his mother discovers his hidden stash of gay magazines. When he comes to New York City, Ben's sexuality begins to feel less like a secret and more like a badge of honor.
Then Callum disappears, leaving Adam heartbroken, and Ben finds out his new world is more closed-minded than he thought. When Adam finally tracks Callum down, he learns the guy he loves is very ill. And in a chance meeting near the hospital where Callum is being treated, Ben and Adam meet, forever changing each other's lives. As both begin to open their eyes to the possibilities of queer love and life, they realize sometimes the only people who can help you are the people who can really see you―in all your messy glory. A love letter to New York and the liberating power of queer friendship, When You Call My Name is a hopeful novel about the pivotal moments of our youth that break our hearts and the people who help us put them back together." –Henry Holt and Co. (BYR)
–

Facing History and Ourselves invites educators to use our ELA Featured Collection "Coming of Age in a Complex World" to teach coming-of-age literature such as many of the titles listed above.