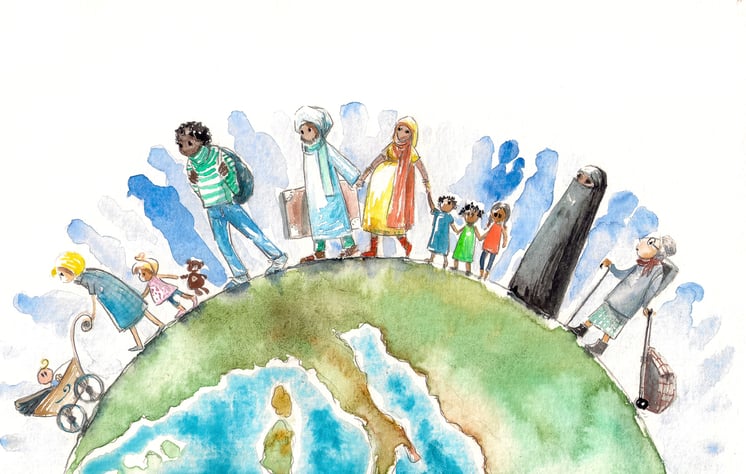 During the final week of July, Facing History will host Identity, Membership and Belonging: A Summit on Teaching Immigration featuring historian Dr. Erika Lee and Pulitzer Prize-winning journalist Jose Antonio Vargas. Though registration for the summit is now full, we invite you to join us for two upcoming webinars on July 28th and 29th with Dr. Erika Lee and Jose Antonio Vargas, respectively.

Whether you are able to join us or not, all educators are welcome to take advantage of our growing library of curricular resources that help students understand key historical migrations, the impact of the policies surrounding them, contemporary migration issues shaping our world, and the ways that migration shapes individual and national identity.
Check out 10 resources below designed to help educators address immigration in the classroom with curiosity and confidence:

Immigration and Identity in History

The Legacies of Chinese Exclusion
The Chinese Exclusion Act was the first law to restrict US immigration on the basis of race. The activities below engage students in an exploration of the historical context and consequences of the 1882 legislation, drawing connections between the exclusion era and today. They also invite students to analyze a letter of protest from Chinese immigrant Saum Song Bo and consider how immigrants themselves played a role in shaping notions of democracy and citizenship within a polity that excluded them.
My Part of the Story: Exploring Identity in the United States
My Part of the Story is a collection of six lessons designed to launch a course about United States history, literature, or civic life through an examination of students' individual identities. Adolescence is a time when many young people struggle with issues of independence, trust, freedom, and responsibility. It is also a time when life centers around peer groups and mutual relationships. The materials in this unit support and challenge students in their efforts to define their own identity and their relationship to society as a whole. This approach empowers students to develop their own voices in both the classroom and the world at large, and it engages students in a study of the United States by showing them that their voices are integral to the story of the country.


Contemporary Migrations + Immigrant Experiences
Why Do People Migrate?
This Teaching Idea is designed to help students consider their own connections to migration and to learn about migration from El Salvador to the United States as a means of exploring the immediate and underlying factors that drive migration.
Different Perspectives on Migrant Detention
This Teaching Idea is designed to give students insight into migration and migrant detention through different perspectives⁠—migrants who were detained, an immigration lawyer and advocate, a border guard, and an immigration judge. Examining this issue through different perspectives can help students gain important insight into the situation in detention centers and engage in ethical reflection about the treatment of migrants at the border. However, descriptions of the conditions in some facilities are disturbing, and it is important to review materials to determine if they are appropriate for your students.
The Many Faces of Global Migration
The following teaching idea uses images to help students connect emotionally to the experiences of individuals and groups who choose or are forced to leave their homelands and who place their well-being and safety into the hands of others. The activities also help students consider the scale of global migration and invite inquiry and opportunities for them to engage with and interpret the news about global migration today. Facing History and Ourselves will continue to provide teaching ideas, resources, and strategies to help you explore this topic in more depth throughout the year.
Brave Girl Rising: A Refugee Story
Nasro is a Somali-born girl living in the world's largest refugee camp in Kenya and she is the subject of the extraordinary new film Brave Girl Rising. Produced by the creators of the 2013 film Girl Rising and released to mark International Women's Day, this 17-minute film shares Nasro's story as told by the Somali poet Warsan Shire. Created in partnership with Girl Rising, this Teaching Idea invites students to engage with Nasro's story, examine the challenges she faces, and the strength she discovers. They also explore how an individual's story, told with rich imagery and language, can spark empathy and ethical reflection on an issue whose vast scale can be difficult to grasp.
Teaching Enrique's Journey
Watch this on-demand webinar to explore the young adult version of Enrique's Journey, a powerful biography written by journalist Sonia Nazario for which we offer a robust teaching unit. When Enrique was five, his mother, too poor to feed her children, left Honduras to work in the United States. She promised she would return quickly, but she struggled in America. After eleven years, he set off alone, and without money, to find her. This book, based on a Pulitzer-prize winning series in the Los Angeles Times, chronicles his harrowing journey to be reunited with his mother, providing insight into the realities of immigration and the people who risk so much for a chance to live in the United States.


Critical Perspectives on Immigration from the Blog
Why Teach About Migration? Because It's the Story of Humankind
"...The story of migration is the story of humankind. The genetic and paleontological record of human migration is at least 60,000 years old. Researchers know that all humans can trace their origins to Southern Africa, while some homo sapiens migrated across Africa and stayed, others ventured out to Asia, Australia, Europe, and eventually to the Americas. This is our shared experience. The stories of these ancient journey's testify to our ingenuity as a species, and as we scrutinize them, they challenge us to think about our identities as individuals, groups, and nations. We are a people that have been on the move for a long time..."
Activist Jose Antonio Vargas on Immigration
One figurehead of the undocumented movement is urging young immigrants to be fearless in building their lives here, with or without the right papers. Pulitzer Prize-winning journalist Jose Antonio Vargas presents a challenging call to action, yet he speaks from experience. Since putting his life and livelihood on the line by announcing his undocumented status in a pathbreaking 2011 essay, Vargas has inspired undocumented immigrants around the U.S. to find their voices, and helped U.S. citizens broaden their thinking about immigration and belonging.


--
Facing History and Ourselves invites educators to use register for our upcoming webinars with Dr. Erika Lee and Jose Antonio Vargas on immigration.