Here at Facing History, we see heritage and awareness months as opportunities to deepen our knowledge of and attention to the histories and contemporary experiences of historically marginalized communities. However, the focus on celebrating these communities over one particular month can further marginalize the very experiences we are hoping to elevate. With this in mind, what follows is an invitation to engage with important themes raised by Black History Month this February and throughout all of the months of the year.
Some members of the Facing History staff are exploring these five new books published within the last year, and we invite you to explore them alongside us and share your reactions with us. These 5 titles cover essential topics from Black history with young audiences and address contemporary experiences of young Black people.
Below is excerpted promotional text from each book's publisher and a link to a related Facing History resource to empower educators to bring parallel themes into the classroom: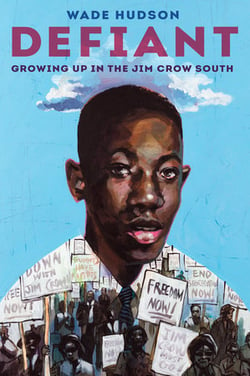 "Born in 1946 in Mansfield, Louisiana, Wade Hudson came of age against the backdrop of the Civil Rights Movement. From their home on Mary Street, his close-knit family watched as the country grappled with desegregation, as the Klan targeted the Sixteenth Street Baptist Church in Birmingham, Alabama, and as systemic racism struck across the nation and in their hometown. Amidst it all, Wade was growing up. Getting into scuffles, playing baseball, immersing himself in his church community, and starting to write. Most important, Wade learned how to find his voice and use it. From his family, his community, and his college classmates, Wade learned the importance of fighting for change by confronting the laws and customs that marginalized and demeaned people. This powerful memoir reveals the struggles, joys, love, and ongoing resilience that it took to grow up Black in segregated America, and the lessons that carry over to our fight for a better future." –Crown Books for Young Readers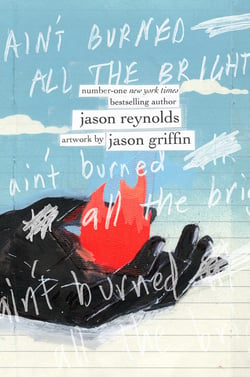 "Jason Reynolds and his best bud, Jason Griffin had a mind-meld. And they decided to tackle it, in one fell swoop, in about ten sentences, and 300 pages of art, this piece, this contemplation-manifesto-fierce-vulnerable-gorgeous-terrifying-WhatIsWrongWithHumans-hope-filled-hopeful-searing-Eye-Poppingly-Illustrated-tender-heartbreaking-how-The-HECK-did-They-Come-UP-with-This project about oxygen. And all of the symbolism attached to that word, especially NOW. And so for anyone who didn't really know what it means to not be able to breathe, REALLY breathe, for generations, now you know. And those who already do, you'll be nodding yep yep, that is exactly how it is." –Atheneum/Caitlyn Dlouhy Books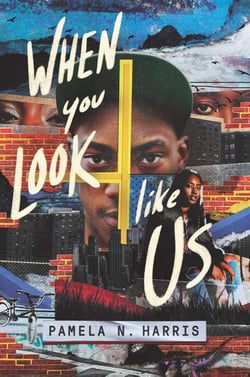 "When you look like us—brown skin, brown eyes, black braids or fades—everyone else thinks you're trouble. No one even blinks twice over a missing Black girl from public housing because she must've brought whatever happened to her upon herself. I, Jay Murphy, can admit that, for a minute, I thought my sister Nicole just got caught up with her boyfriend—a drug dealer—and his friends. But she's been gone too long. Nic, where are you? If I hadn't hung up on her that night, she would be at our house, spending time with Grandma. If I was a better brother, she'd be finishing senior year instead of being another name on a missing persons list. It's time to step up, to do what the Newport News police department won't. Bring her home." –Quill Tree Books

by Marilyn Nelson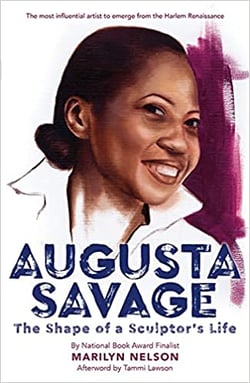 "Augusta Savage was arguably the most influential American artist of the 1930s. A gifted sculptor, Savage was commissioned to create a portrait bust of W.E.B. Du Bois for the New York Public Library. She flourished during the Harlem Renaissance, and became a teacher to an entire generation of African American artists, including Jacob Lawrence, and would go on to be nationally recognized as one of the featured artists at the 1939 World's Fair. She was the first-ever recorded Black gallerist. After being denied an artists' fellowship abroad on the basis of race, Augusta Savage worked to advance equal rights in the arts. And yet popular history has forgotten her name. Deftly written and brimming with photographs of Savage's stunning sculpture, this is an important portrait of an exceptional artists who, despite the limitations she faced, was compelled to forge a life through art and creativity." –Christy Ottaviano Books

The Burning (Young Readers Edition): Black Wall Street and the Tulsa Race Massacre of 1921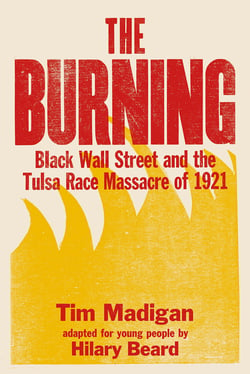 by Tim Madigan and Hilary Beard
"One of the worst acts of racist violence in American history took place in 1921, when a White mob numbering in the thousands decimated the thriving Black community of Greenwood in Tulsa, Oklahoma. The Burning recreates Greenwood at the height of its prosperity, explores the currents of hatred, racism, and mistrust between its Black residents and Tulsa's White population, narrates events leading up to and including Greenwood's devastation, and documents the subsequent silence that surrounded this tragedy. Delving into history that's long been pushed aside, this is the true story of Black Wall Street and the Tulsa Race Massacre, with updates that connect the historical significance of the massacre to the ongoing struggle for racial justice in America." –Henry Holt and Co.


--
Facing History and Ourselves inviters readers to use our Black History Collection.




Pictured above: The front and back covers of Ain't Burned All the Bright (Atheneum, 2022).