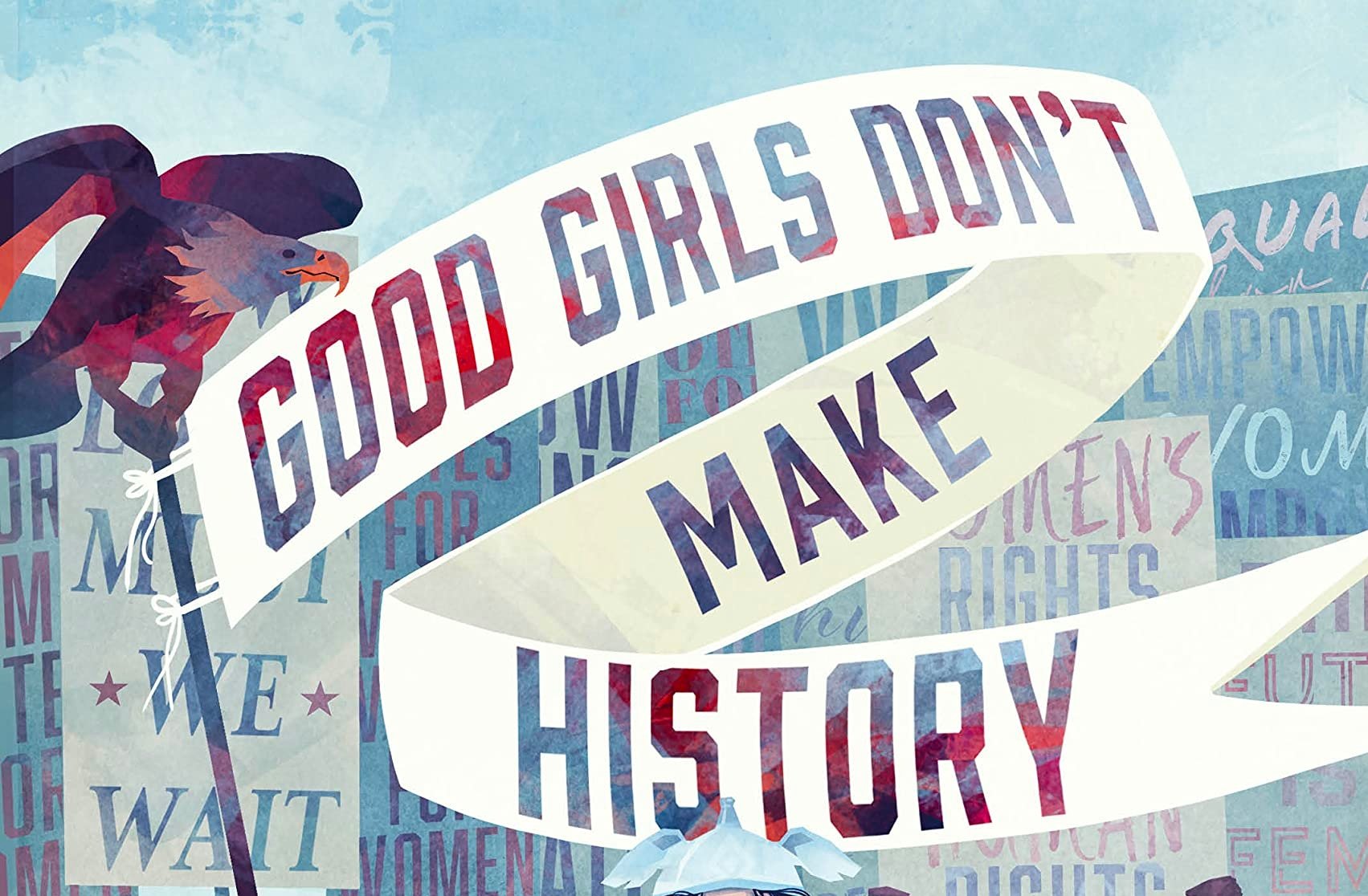 Here at Facing History, we see awareness months as opportunities to deepen our knowledge of and attention to the histories and contemporary experiences of historically marginalized communities. However, the focus on celebrating these communities over one particular month can further marginalize the very experiences we are hoping to elevate. With this in mind, what follows is an invitation to engage with important themes raised by Women's History Month this March and throughout all of the months of the year.
Below are five YA titles that have been released in the last year that make important themes in women's history and contemporary life accessible to young readers. These include the lives and contributions of various women visionaries from politics and journalism to science and grassroots activism. Below is promotional text excerpted from material offered by each book's publisher:

Good Girls Don't Make History
by Elizabeth Kiehner and Kara Coyle
"Good Girls Don't Make History  is an important graphic novel that amplifies the voices of female legends from 1840 to the present day. Reliving moments from the lives of Elizabeth Cady Stanton, Sojourner Truth, Alice Paul, Ida B. Wells, and Susan B. Anthony, these inspiring stories are boldly told from one of the most formative eras in women's history—the fight for the vote in the United States. The tale begins at a modern-day polling station in California with a mother and daughter voting together, then flashes back 180 years to the World Anti-Slavery Convention where the women's movement got its legendary start. The twists and turns take readers across the country and through time, illuminating parallels between epic battles for liberty in the past and similar struggles for justice today. A powerful and important examination of some key figures in the ongoing fight for equality, Good Girls Don't Make History's accounts of bravery, perseverance and courage are truly inspiring for readers of any age." –Wide Eyed Editions


Rolling Warrior: The Incredible, Sometimes Awkward, True Story of a Rebel Girl on Wheels Who Helped Spark a Revolution
by Judith Heumann and Kristen Joiner
"Judy Heumann was only 5 years old when she was first denied her right to attend school. Paralyzed from polio and raised by her Holocaust-surviving parents in New York City, Judy had a drive for equality that was instilled early in life. In this young readers' edition of her acclaimed memoir, Being Heumann, Judy shares her journey of battling for equal access in an unequal world—from fighting to attend grade school after being described as a "fire hazard" because of her wheelchair, to suing the New York City school system for denying her a teacher's license because of her disability. Judy went on to lead 150 disabled people in the longest sit-in protest in US history at the San Francisco Federal Building. Cut off from the outside world, the group slept on office floors, faced down bomb threats, and risked their lives to win the world's attention and the first civil rights legislation for disabled people. Judy's bravery, persistence, and signature rebellious streak will speak to every person fighting to belong and fighting for social justice." –Beacon Press


The Woman All Spies Fear: Code Breaker Elizebeth Smith Friedman and Her Hidden Life
by Amy Butler Greenfield

"Elizebeth Smith Friedman had a rare talent for spotting patterns and solving puzzles. These skills led her to become one of the top cryptanalysts in America during both World War I and World War II. She originally came to code breaking through her love for Shakespeare when she was hired by an eccentric millionaire to prove that Shakespeare's plays had secret messages in them. Within a year, she had learned so much about code breaking that she was a star in the making. She went on to play a major role decoding messages during WWI and WWII and also for the Coast Guard's war against smugglers. Elizebeth and her husband, William, became the top code-breaking team in the US, and she did it all at a time when most women weren't welcome in the workforce. Amy Butler Greenfield is an award-winning historian and novelist who aims to shed light on this female pioneer of the STEM community." –Random House Studio


The Truths We Hold (Young Reader's Edition)
by Kamala Harris
"With her election to the vice presidency, her election to the U.S. Senate, and her position as attorney general of California, Kamala Harris has blazed trails throughout her entire political career. But how did she achieve her goals? What values and influences guided and inspired her along the way? In this young readers edition of Kamala Harris' memoir, we learn about the impact that her family and community had on her life, and see what led her to discover her own sense of self and purpose. The Truths We Hold traces her journey as she explored the values she holds most dear-those of community, equality, and justice. An inspiring and empowering memoir, this book challenges us to become leaders in our own lives and shows us that with determination and perseverance all dreams are possible."
–Bodley Head


Ms. Gloria Steinem: A Life
by Winifred Conkling
"Throughout the years, Gloria Steinem is perhaps the single-most iconic figure associated with women's rights, her name practically synonymous with the word 'feminism.' Documenting everything from her boundary-pushing journalistic career to the foundation of Ms. magazine to being awarded the 2013 Presidential Medal of Freedom, Winifred Conkling's Ms. Gloria Steinem: A Life is a meticulously researched YA biography that is sure to satisfy even the most voracious of aspiring glass-ceiling smashers.
Gloria Steinem was no stranger to injustice even from a young age. Her mother, Ruth, having suffered a nervous breakdown at only 34, spent much of Gloria's childhood in and out of mental health facilities. And when Gloria was only 10 years old, her father divorced her mother and left for California, unable to bear the stress of caring for Ruth any longer. Gloria never blamed her mother for being unable to hold down a job to support them both after that, but rather blamed society's intrinsic hostility toward women, and working women in particular. This was the spark that lit a fire in her that would burn for decades, and continues to burn brightly today." –Square Fish

--


Facing History and Ourselves invites educators to use our Teaching Idea, The Equal Rights Amendment: A 97-Year Struggle in the classroom.



Pictured above: A portion of the cover of Good Girls Don't Make History (2021, Wide Eyed Editions).