Here at Facing History, we see awareness months as opportunities to deepen our knowledge of and attention to the histories and contemporary experiences of historically marginalized communities. However, the focus on celebrating these communities over one particular month can further marginalize the very experiences we are hoping to elevate. With this in mind, what follows is an invitation to engage with important themes raised by Asian / Pacific American Heritage Month
this May and throughout all of the months of the year.


This month, we are sharing eight titles that have been released in the last year that bring important themes in Asian American and Pacific Islander (AAPI) history and contemporary life to the fore. Below is promotional text excerpted from material offered by each book's publisher:
by Tom Coffman
"Following December 7, 1941, the United States government interned 120,000 people of Japanese ancestry evicted from scattered settlements throughout the West Coast states, yet why was a much larger number concentrated in the Hawaiian Islands war zone not similarly incarcerated? At the root of the story is an inclusive community that worked from the ground up to protect an embattled segment of its population. While the onset of World War II surprised the American public, war with Japan arrived in Hawai'i in slow motion. Responding to numerous signs of impending conflict, the Council for Interracial Unity mapped two goals: minimize internment and maximize inclusion in the war effort…
Where most histories have shielded President Franklin D. Roosevelt from direct responsibility for the U.S. mainland internment, his relentless demands for a mass removal from Hawai'i―ultimately thwarted―reveal him as author and actor. In making sense of the disparity between Island and mainland, Inclusion unravels the deep history of the U.S. 'sabotage psychosis,' dissecting why many continental Americans still believe Japan succeeded at Pearl Harbor because of the unseen hand of Japanese saboteurs. Contrary to the explanation of hysteria as the cause of the internment, Inclusion documents how a high-level plan of mass removal actually was pitched to Hawai'i prior to December 7, only to be rejected."
—University of Hawaii Press


by Geetika Rudra
"Today, South Asians are a rapidly growing demographic in the United States, comprising nearly 2 percent of the population. But there was a time in the not-too-distant past when the United States was far less hospitable to South Asian immigrants. In fact, until 1952, only white immigrants could become naturalized American citizens. Yet in the first half of the twentieth century, many states still had thriving communities of South Asians.
In Here to Stay, Geetika Rudra, a second-generation Indian immigrant and American history buff, takes readers on a journey across the country to unearth the little-known histories of earlier generations of South Asian Americans. She visits storied sites such as Oregon's 'Hindoo Alley,' home to many lumber workers at the turn of the century, and Angel Island, California's immigration hub. She also introduces readers to such inspiring figures as Bhagat Singh Thind, an immigrant who had enlisted in the U.S. Army to serve his adopted country in World War I, but who was later denied citizenship and took his case all the way to the U.S. Supreme Court. In turns both serious and joyful, this book vividly reveals how South Asians have always been a vital part of the American tapestry."
—Rutgers University


by Michael R. Jin
"From the 1920s to the eve of the Pacific War in 1941, more than 50,000 young second-generation Japanese Americans (Nisei) embarked on transpacific journeys to the Japanese Empire, putting an ocean between themselves and pervasive anti-Asian racism in the American West. Born U.S. citizens but treated as unwelcome aliens, this contingent of Japanese Americans—one in four U.S.-born Nisei—came in search of better lives but instead encountered a world shaped by increasingly volatile relations between the U.S. and Japan. Based on transnational and bilingual research in the United States and Japan, Michael R. Jin recuperates the stories of this unique group of American emigrants at the crossroads of U.S. and Japanese empire.
From the Jim Crow American West to the Japanese colonial frontiers in Asia, and from internment camps in America to Hiroshima on the eve of the atomic bombing, these individuals redefined ideas about home, identity, citizenship, and belonging as they encountered multiple social realities on both sides of the Pacific. Citizens, Immigrants, and the Stateless examines the deeply intertwined histories of Asian exclusion in the United States, Japanese colonialism in Asia, and volatile geopolitical changes in the Pacific world that converged in the lives of Japanese American migrants." —Stanford University Press


by Jay Caspian Kang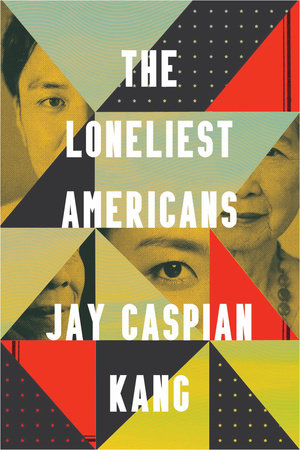 "...The Loneliest Americans is the unforgettable story of Kang and his family as they move from a housing project in Cambridge to an idyllic college town in the South and eventually to the West Coast. Their story unfolds against the backdrop of a rapidly expanding Asian America, as millions more immigrants, many of them working-class or undocumented, stream into the country. At the same time, upwardly mobile urban professionals have struggled to reconcile their parents' assimilationist goals with membership in a multicultural elite—all while trying to carve out a new kind of belonging for their own children, who are neither white nor truly 'people of color.'
Kang recognizes this existential loneliness in himself and in other Asian Americans who try to locate themselves in the country's racial binary. There are the businessmen turning Flushing into a center of immigrant wealth; the casualties of the Los Angeles riots; the impoverished parents in New York City who believe that admission to the city's exam schools is the only way out; the men's right's activists on Reddit ranting about intermarriage; and the handful of protesters who show up at Black Lives Matter rallies holding 'Yellow Peril Supports Black Power' signs. Kang's exquisitely crafted book brings these lonely parallel climbers together amid a wave of anti-Asian violence. In response, he calls for a new form of immigrant solidarity—one rooted not in bubble tea and elite college admissions but in the struggles of refugees and the working class." —Penguin Random House / Crown


by James Kyung-Jin Lee
"The pressures Asian Americans feel to be socially and economically exceptional include an unspoken mandate to always be healthy. Nowhere is this more evident than in the expectation for Asian Americans to enter the field of medicine, principally as providers of care rather than those who require care. Pedagogies of Woundedness explores what happens when those considered model minorities critically engage with illness and medicine whether as patients or physicians.
James Kyung-Jin Lee considers how popular culture often positions Asian Americans as medical authorities and what that racial characterization means. Addressing the recent trend of writing about sickness, disability, and death, Lee shows how this investment in Asian American health via the model minority is itself a response to older racial forms that characterize Asian American bodies as diseased… Throughout his book and these case studies, Lee shows the social, ethical, and political consequences of these common (mis)conceptions that often define Asian Americans in regard to health and illness."
—Temple University Press
by Jenny Wang
"Asian Americans are experiencing a racial reckoning regarding their identity, inspiring them to radically reconsider the cultural frameworks that enabled their assimilation into American culture. As Asian Americans investigate the personal and societal effects of longstanding cultural narratives suggesting they take up as little space as possible, their mental health becomes critically important. Yet despite the fact that over 18 million people of Asian descent live in the United States today — they are the racial group least likely to seek out mental health services.
Permission to Come Home takes Asian Americans on an empowering journey toward reclaiming their mental health. Weaving her personal narrative as a Taiwanese American together with her insights as a clinician and evidence-based tools, Dr. Jenny T. Wang explores a range of life areas that call for attention, offering readers the permission to question, feel, rage, say no, take up space, choose, play, fail, and grieve. Above all, she offers permission to return closer to home, a place of acceptance, belonging, healing, and freedom. For Asian Americans and Diaspora, this book is a necessary road map for the journey to wholeness."
—Hachette Book Group / Balance


"In this honest, inspiring and relatable memoir, newly-minted superhero Simu Liu chronicles his family's journey from China to the bright lights of Hollywood with razor-sharp wit and humor. Simu's parents left him in the care of his grandparents, then brought him to Canada when he was four. Life as a Canuck, however, is not all that it was cracked up to be; Simu's new guardians lack the gentle touch of his grandparents, resulting in harsh words and hurt feelings. His parents, on the other hand, find their new son emotionally distant and difficult to relate to - although they are related by blood, they are separated by culture, language, and values…


Through a swath of rejection and comical mishaps, Simu's determination to carve out a path for himself leads him to not only succeed as an actor, but also to open the door to reconciling with his parents. We Were Dreamers is more than a celebrity memoir - it's a story about growing up between cultures, finding your family, and becoming the master of your own extraordinary circumstance."
—Harper Collins / William Morrow


Eds. Diane C. Fujino and Robyn Magalit Rodriguez
"In the struggles for prison abolition, global anti-imperialism, immigrant rights, affordable housing, environmental justice, fair labor, and more, twenty-first-century Asian American activists are speaking out and standing up to systems of oppression. Creating emancipatory futures requires collective action and reciprocal relationships that are nurtured over time and forged through cross-racial solidarity and intergenerational connections, leading to a range of on-the-ground experiences.
Bringing together grassroots organizers and scholar-activists, Contemporary Asian American Activism presents lived experiences of the fight for transformative justice and offers lessons to ensure the longevity and sustainability of organizing. In the face of imperialism, white supremacy, racial capitalism, heteropatriarchy, ableism, and more, the contributors celebrate victories and assess failures, reflect on the trials of activist life, critically examine long-term movement building, and inspire continued mobilization for coming generations." —University of Washington Press


—


Facing History and Ourselves invites educators to view our On-Demand Webinar Making the Invisible Visible: Exploring and Teaching the AAPI Experience with pioneering AAPI activist and journalist Helen Zia.