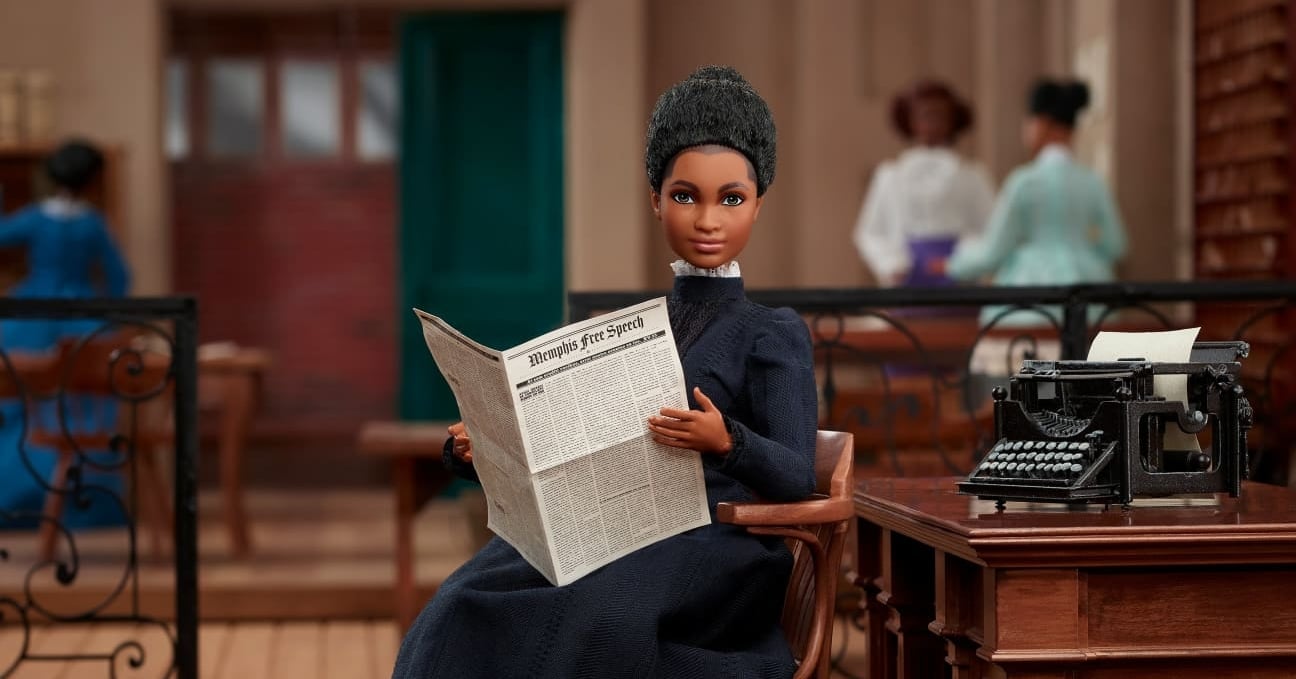 In January 2022, many were surprised to see news reports about a new "Barbie" made in the likeness of Ida B. Wells, the legendary African American journalist and anti-lynching activist. While doll collectors rejoiced to learn that Mattel made a new addition to its Inspiring Women Series of Barbies, many weren't aware that the series even existed. Though this subject may seem tangential to the concerns of middle and high school educators, the emergence and evolution of Barbie provides meaningful insight into changing conceptions of gender, race, and education—as well as the role that educational objects like dolls play in young women's development today.
Bursting onto the shelves in 1959, Barbie has become a towering brand that has won both fierce fans and detractors who insist that the toy promotes unrealistic beauty standards to impressionable young minds. Though a great many critiques have been leveled against Barbie in its 63-year tenure, the introduction of Barbie represented, in many ways, a radical departure from the American toy landscape that preceded it. Prior to Barbie, the dolls commercially available for young girls to play with were all baby dolls and were thus intended to cultivate girls' readiness to nurture and mother. In the 1950s, however, inventor Ruth Handler made a counterintuitive discovery that would disrupt the status quo.
While observing her own daughter and her daughter's friends play with paper dolls, Handler noticed that they appeared to be more interested in imitating a wider array of adolescent and adult social relations than merely mimicking the act of childrearing. Handler's insight would materialize into what has come to be known as Barbie in 1959 when, together with Mattel founder and husband Elliot Handler, the toy made its debut at the American International Toy Fair. In contrast to dolls previously sold in the U.S., Barbie presented an aspirational image of a young, fashionable woman with an identity and physical appeal that were not immediately tied to her capacity to mother. Despite the doubts of early critics, Barbie quickly became highly successful and was one of the first toys to be marketed directly to children via television advertisements. Though the doll's unrealistic, sexualized appearance would set the stage for critiques of Barbie and its impact on young girls' self-esteem, the emergence of Barbie also marked an important moment of cultural transformation.
In contrast to the baby dolls that had previously dominated the toy market for young girls, Barbie effectively validated social relationships for girls that lie beyond the singular function of mothering and stretch into a more varied array of adult friendships and relationships. Further, Mattel began to produce Barbie dolls that reflect women's widening array of professional options and convey the relevance of those options to young girls learning about the world and themselves. The first Barbies held professional roles including fashion model, fashion designer, registered nurse, flight attendant, and babysitter—one that came with books on subjects like how to get a raise and travel. Another important example is Miss Astronaut Barbie which debuted in 1965 two years after Soviet cosmonaut Valentina Tereshkova became the first woman to travel to outer space. Though women were not permitted to join NASA's astronaut corps until 1978, the "Miss" in the name of the doll and its presentation effectively invited young girls to imagine themselves as single career women—a radical development in this period. Mattel continued doll development in this vein and, in 1973, released a new Barbie that worked as a surgeon—a far cry from the candy striper role that Barbie had held only 9 years prior.
Around this time, the company also began to expand the racial diversity of the dolls made under the Barbie brand. In 1968, for example, Mattel released "Christie," a Black doll that served as a friend and counterpart to Barbie. The doll faced criticism, however, from those who were concerned that its design effectively reinforced European beauty standards rather than elevating African ones. To fill this void, Black entrepreneur Diahann Carroll released the pathbreaking Black Julia dolls in the late 1960s—an effort inspired by her own life-changing experience playing with a doll that looked like her. Some years later, Mattel made another try at diversifying its pool of Barbies. Mattel's "Christie" doll was ultimately discontinued and replaced with "Nikki" in 1980—described by some as the first "official" Black Barbie—along with the first Latina Barbie, Teresa.
40 years later, Mattel continues to respond to changing social attitudes and, in 2019, launched its Inspiring Women Series of Barbies. This ten-doll collection highlights distinguished American women of the past including Rosa Parks, Susan B. Anthony, Maya Angelou, Helen Keller, Eleanor Roosevelt, and—as of this year—Ida B. Wells.
As insubstantial as this subject may seem at first glance, the dolls that children play with are significant because they have been shown to have an impact on how they see themselves, interact with others, and understand who and what they can become. This basic truth was immortalized in the landmark court case Brown v. Board of Education in which Psychologists Mamie and Kenneth Clark presented their famous doll study. In this research, they used Black and white baby dolls to study the various ways in which racism (and particularly racial segregation) impacted Black children's self-esteem. Among the findings of the study were the negative self-perceptions that Black children held that were elicited in the study by asking them questions about the Black and white dolls. Though producing dolls that represent children of color positively represents only one part of the equation, this famous study captures some of the ways in which dolls can shape—for good or ill—a child's social-emotional development and can serve as a meaningful lever in our toolbox for driving social change.
This history reveals that more than mere sources of entertainment, dolls and other toys are educational objects that reinforce within young people particular ideas about the world and themselves. Whereas baby dolls previously figured prominently in high school Home Economics classes intended for young women, for example, this focus on nurturance and home making as educational priorities has fallen away in favor of emerging foci on standards-driven education, high-stakes testing, and other educational priorities. Though it is vital that young women are no longer pigeonholed into such coursework to the exclusion of other types of training, this history of dolls as educational objects raises important questions about the impact of the educational experiences we facilitate in and beyond classroom, and the ways in which they can shape how students come to see themselves.
Educators have an opportunity to consider how the objects that we use as learning aids in the classroom can promote the development of certain kinds of aspirations, identities, and self-concepts amongst our students—or undermine them. We can also consider how we help students of all genders cultivate the emotional intelligence traditionally associated with feminine nurturance while also helping them see themselves as capable of participating in society in all of the ways they can imagine. We also ought to ask how we can ensure that students from backgrounds systematically barred from expansive professional opportunities gain educational experiences that help them see themselves as rightful players in the domains of their choosing.
How do you help your students see themselves more expansively in the classroom—what educational objects, lessons, or strategies do you use? Tell us about it in the comments!


–

Facing History and Ourselves invites educators to use our Teaching Idea The Power of Representation: Patsy Takemoto Mink, Shirley Chisholm, and Kamala Harris in the classroom.


Pictured above: Ida B. Wells Barbie® Inspiring Women™ Doll (Mattel, 2022).