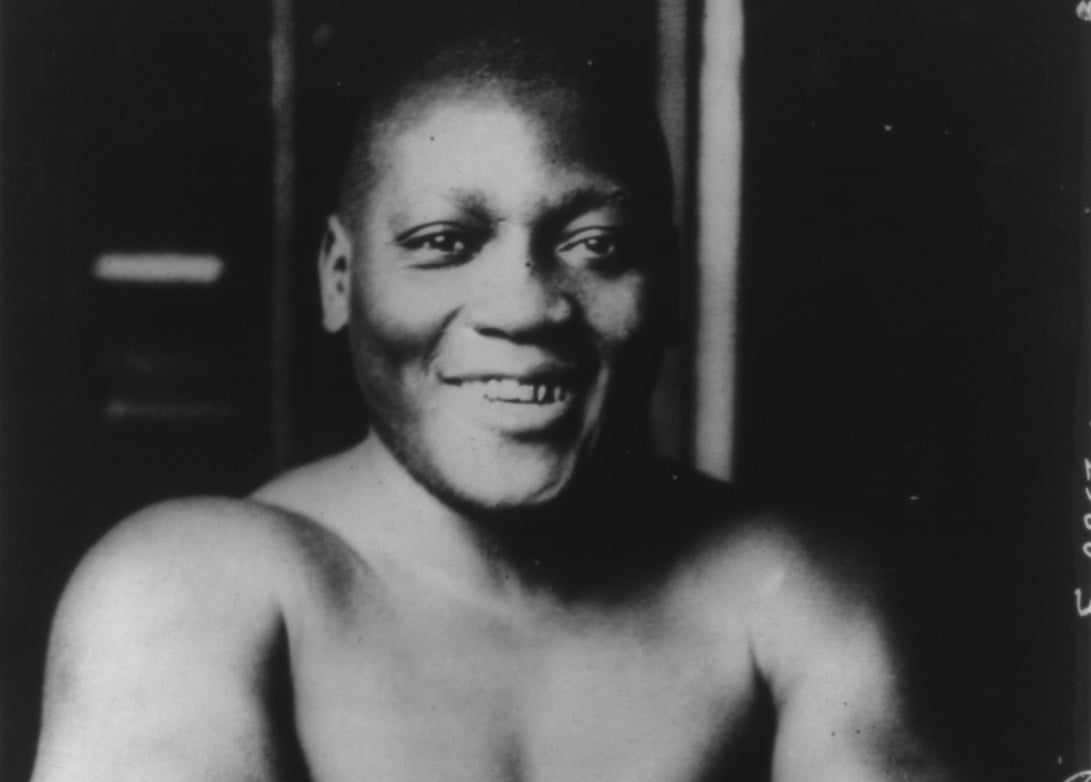 Now during the Olympics, and throughout each academic year, we have the opportunity to explore a number of themes that connect the lives and contributions of Black athletes past and present. Beyond the 1988 Jamaican Bobsled Team immortalized in the film Cool Runnings, Black athletes have played more central roles at the Winter Olympics than many people might realize. As we cheer on the 2022 Black Olympians, Black History Month is a great time to look back on the impact that Black Olympians and other Black athletes have beyond the world of sports.
Given the visibility of various civil rights luminaries of the past—think Dr. Martin Luther King, Jr., Malcolm X, and Rosa Parks—and their centrality to the way that we talk about the arc of Black history, it's easy to underestimate the sizable social and political contributions of Black athletes. These are people who may, on the surface, only seem to function as celebrities who have made a minor impact in the fight for equity and justice. But the history of Black athletes in the U.S. serving as world-class performers, pathbreakers, and powerful activists disrupts this taken-for-granted assumption. As Dr. Martin Luther King, Jr. remarked, "Jackie Robinson made my success possible. Without him, I would never have been able to do what I did." In King's day, as in ours, the line between public figure and political influencer is thin—and Black athletes have long played important roles in advancing equity and justice within their spheres of influence. From paving the way for more favorable representations of Black people in media to staging explicit protests on the field, Black athletes have long transformed their bodies from sites of marginality and violence to sites of agency, joy, and extraordinary skill.
Below are two condensed timelines highlighting a small sampling of Black athletes who made a social impact beyond their respective sports—in this case, boxing and track.


BOXING
Jack Johnson
(1878-1946)
The first Black heavyweight champion whose victories spurred race riots in the early 1900s; considered one of the toughest boxers of all time. The New York Times writes: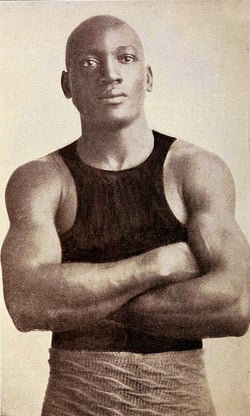 "For more than 100 years, Jack Johnson's legend as the first black heavyweight boxing champion has been undisputed, but his legacy had been tarnished by a racially tainted criminal conviction. His battles against white opponents, in the ring and outside of it, gave rise to 'The Great White Hope' play and movie and he came to be lionized as a barrier breaker. But the criminal conviction from 1913 that most would find abhorrent today — for transporting a white woman across state lines — haunted Johnson well after his death in 1946 and motivated politicians and celebrities for years to advocate for a pardon, however symbolic. On [May 24, 2018] in the Oval Office, Johnson posthumously found an unexpected champion… [President Donald] Trump…signed an order pardoning Johnson. The president called Johnson 'a truly great fighter' who 'had a tough life' but served 10 months in federal prison 'for what many view as a racially motivated injustice.'"


Joe Louis
(1914-1981)
Widely considered to be one of the greatest boxers of all time; emerged as a champion of democracy and civil rights on the international stage; ushered in a new era of Black respectability in boxing. The National Museum of African American History and Culture writes: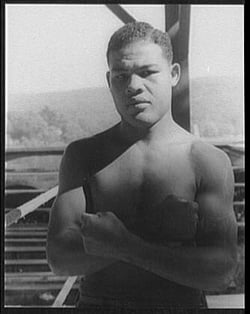 "Louis won 27 professional fights in a row…and was on track to fight 'Cinderella Man' James Braddock for the title. However, Louis' surprising loss to German Max Schmeling on June 19, 1936 temporarily delayed a title shot. Schmeling, who was not a Nazi, was hailed by Adolf Hitler as an example of the superiority of the Aryan race… It was reported that Hitler called Schmeling just before the fight and ordered him to win for the sake of Nazi Germany. Louis, despite America's racial divide, was seen as freedom and democracy's defender… On June 22, 1938…Louis dispatched Schmeling two minutes into Round One… [and] became a hero to Americans of every race and background… President Ronald Reagan said 'Louis was more than a sports legend — his career was an indictment of racial bigotry and a source of pride and inspiration for people around the world.'"


Muhammad Ali
(1942-2016)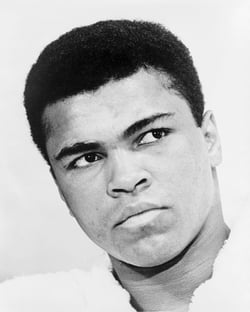 Acclaimed heavyweight boxer; Olympic gold medalist; anti-war activist; and a forerunner of Black Power. Historian Dr. Penial Joseph writes:
"The most visible Nation of Islam member in the aftermath of Malcolm X's 1965 assassination, Ali's resistance to the draft and friendship with civil rights leader Stokely Carmichael made him perhaps the most visible Black Power activist of his generation. In doing so, Ali bridged the worlds between sports, popular culture, politics and activism in unimaginably profound ways. While contemporaries…were outspoken civil rights activists, none matched Ali's youth, charisma and global appeal.


TRACK
Jesse Owens
(1913-1980)
Won 4 gold medals at 1936 Olympics; challenged racialized notions of Aryan athletic superiority. TIME writes: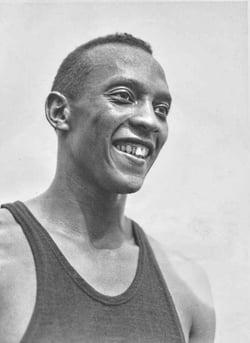 "Not everyone…saw Owens' victories as highlights. Hitler famously refused to congratulate him; …a prominent Nazi theory to explain why the U.S. was beating the host nation so much was 'that Negroes are not really people' but rather an 'auxiliary force' brought in by the otherwise disappointing real (white) American team. Despite the attempt to explain away the wins with such falsehoods, Owens had proved Hitler's theories about race differences wrong. When Owens died in 1980, TIME noted that his time on the track ended up ultimately less important than his timing in history: "At the 1936 Olympics in Berlin, which Adolf Hitler hoped would be a showcase of Aryan supremacy, Owens won four gold medals in track and field events, a feat not equaled since. The sight of the graceful American's soaring victory in the long jump and his Olympic-record wins in the 100-and 200-meter dashes and 400-meter relay put the lie to der Führer's simplistic myths about race."


Eroseanna "Rose" Robinson
(1924-1976)
Track and field star; turned down the chance to compete at the 1960 Olympics in political protest during the Cold War. CNN writes: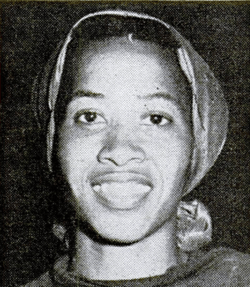 "As part of the US women's track team in 1958, Robinson was invited to compete in the then Soviet Union, when the Cold War was in full swing. Robinson rejected the offer… 'She quite publicly sent the invite back,' said [historian Dr. Amira Rose] Davis. 'She was hypercritical of the government, the treatment of people by the government, but also foreign policy under the Cold War and the United States kind of trying to clean up its image.' …The following year, at the Pan-American Games, when 'The Star Spangled Banner' was played, Robinson remained seated… Davis explains how, to Robinson, 'the anthem and the flag represented war, injustice, and hypocrisy.' This was 57 years before Kaepernick knelt during the anthem to protest police brutality -- and was an unprecedented act of bravery and defiance from a young Black woman."


Tommie Smith
(1944- )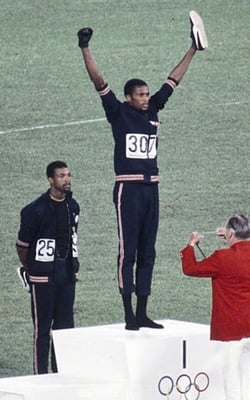 Olympic medalist in track; political activist; famous for iconic Black Power salute staged on the podium at the 1968 Olympics in Mexico City with teammate John Carlos. The Washington Post writes:
"Smith and John Carlos raised those black-gloved fists — in opposition to the racial discrimination they faced back in America, and in solidarity with those fighting for equality — after finishing first and third in the 200 meters at the Mexico City Olympics in 1968. They were booed on the medal stand, but Smith defiantly raised his fist again to make it clear that what he did was intentional — and that he was unapologetic. Smith lived through the backlash, returning to a society that rejected him."
View Facing History's exclusive conversation with Dr. Tommie Smith.

—


Facing History and Ourselves invites educators to use our Teaching Idea, Understanding #TakeAKnee and Athlete Activism.


Featured image above: Boxer Jack Johnson.