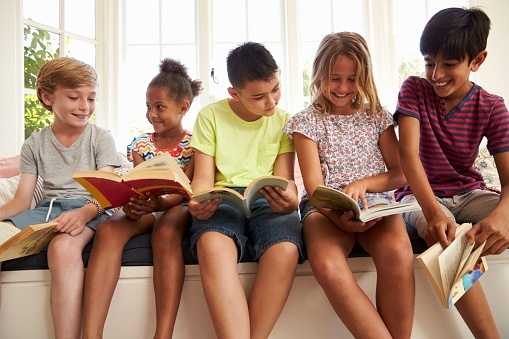 Often, summer is a time for relaxation. However, many of us also seek stories that will immerse us in the experiences of others or will help us stay engaged in making a better world. Here are a few picks that will teach, challenge, and inspire us this summer.
Stella By Starlight, by Sharon Draper
This work of historical fiction is loosely based on the life of the author's grandmother, Estelle. After 11-year-old Stella and her brother witness late-night Ku Klux Klan activity in 1932, word spreads through their segregated North Carolina town of Bumblebee. Stella, a budding writer, is devoted to the journal she writes in by moonlight. She observes how nice the "white" school is and wonders whose parents might be underneath the Klan robes. As Stella's father and other community members resist racist norms by registering to vote, the tension in Bumblebee heats up, and, we see through Stella's eyes the courage, resilience, and persistence needed by the African American community to survive and make change under the oppression of segregation. This book is best for readers in grades 4-8.
Harvey Milk: His Lives and Death, by Lillian Faderman
In this newly released biography, Lillian Faderman, an esteemed historian of LGBT history, takes a fresh look at Harvey Milk, one of the first openly gay American politicians. He was a City Supervisor in San Francisco, and was killed in 1978 in an act of violence fueled by homophobia. He became a martyred hero to a generation of gay activists and the ensuing outcry over his death helped accelerate public awareness of the need for legal and social protections for LGBT people. Faderman looks closely at his childhood and his Jewish identity, effectively making the case that this background shaped his activism, sense of social justice, and his desire for a more inclusive society. This book is appropriate for older high school and adult readers.
So You Want to Talk About Race, by Ijeoma Oluo
So You Want to Talk About Race addresses this politically and emotionally charged topic in an engaging, accessible, and informative manner. Oluo's conversational and empathetic tone, peppered with anecdotes, and at times humor, directly speaks to the "elephant in the room" of racism in America. She speaks personally about how racism has affected her daily life as a woman of color and gives guidance to white readers who seek to examine their perceptions and confront racism in their daily lives. She explores topics such as police brutality, microaggressions, and cultural appropriation, among others. This book is appropriate for older high school and adult readers.
Refugee, by Alan Gratz
This gripping middle grade novel features three distinct yet interrelated tales of refugees, all families forced from their homes by violence, genocide, or war. Josef must escape Nazi-controlled Germany with his mother, sister, and father, who had been imprisoned in Auschwitz. Isabel and her family flee the repression and poverty of Fidel Castro's rule in Cuba on a makeshift raft in the 1990s. Mahmoud, a Syrian boy, and his family seek refuge from the ongoing war and violence in their home city of Aleppo. This book compassionately explores the stark circumstances that cause families to flee their homes, the courage and resilience required to make such a journey, and the common threads that connect all those who seek refuge from violence and oppression to seek a better life. This book is appropriate for grades 5-7.
The Nazi Hunters: How A Team of Spies and Survivors Captured the World's Most Notorious Nazi, by Neil Bascomb
In 1945, at the end of World War II, Adolf Eichmann, the head of operations for the Nazis' Final Solution, disappeared into the mountains of Germany. The Nazi Hunters is a riveting non-fiction account of the search for and ultimate capture of one of the world's most notorious war criminals. Paced and written like a spy novel, it documents the people and places involved in tracking Eichmann to his hiding place in Argentina 16 years after the war's end. The book is richly illustrated with historical photos and is adapted from an adult book entitled Hunting Eichmann. It is appropriate for readers grades 6-12.
The 57 Bus, by Dashka Slater
This non-fiction young adult book is based on a New York Times Magazine story by journalist Dashka Slater about Richard, a young black teen from a low income neighborhood and Sasha, a young white teen from a middle-class neighborhood. While Sasha, who appeared male but was wearing a skirt, slept on the 57 bus, 16-year-old Richard, encouraged by friends, lit Sasha's skirt on fire. The fire badly injured Sasha. Richard was charged as an adult with assault and two hate crimes, and faced life in prison. Slater deeply explores the lives of these two teens, their pasts, their friends and families, and the events that led to that fateful day on the bus. This book challenges readers to resist easy characterizations of people and situations, and instead to reflect deeply on "What is justice?" This book is appropriate for readers grades 8 and up, as well as adults.
Want more great books, resources, and DVDs to explore? Check out Facing History's lending library.