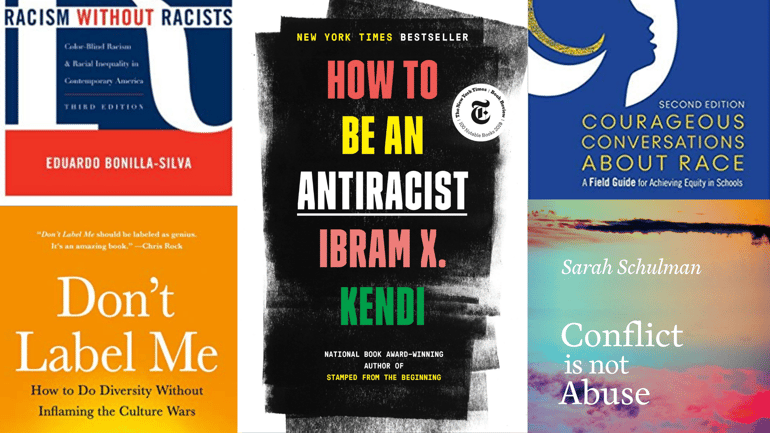 As battles rage surrounding how we narrate history in the classroom, there are broader debates unfolding about how we approach diversity, equity, and inclusion work within our schools and personal lives. Irrespective of the identities we hold, questions abound. Where do we even begin this work in our schools and in other contexts? How do we find common ground? And why is there such enduring disagreement about the definition and significance of keywords like racism, antiracism, intersectionality, microaggressions, and civility? Is there just one answer?
The following list of 5 books captures the perspectives of a group of thought leaders whose perspectives both converge with and diverge from one another. Each has a different focus and mode of analysis but all authors are interested in disrupting patterns that disempower and marginalize. Tell us in the comments below which of these frameworks are most useful to you and how you're using them in your work and life.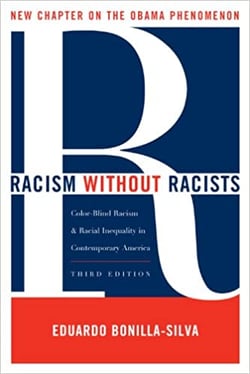 Racism Without Racists: Color-blind Racism and the Persistence of Racial Inequality in America
By Eduardo Bonilla-Silva
"Eduardo Bonilla-Silva's acclaimed Racism Without Racists documents how, beneath our contemporary conversation about race, there lies a full-blown arsenal of arguments, phrases, and stories that whites use to account for—and ultimately justify—racial inequalities. The fifth edition of this provocative book makes clear that color-blind racism is as insidious now as ever. It features new material on our current racial climate, including the Black Lives Matter movement; a significantly revised chapter that examines the Obama presidency, the 2016 election, and Trump's presidency; and a new chapter addressing what readers can do to confront racism—both personally and on a larger structural level." —Rowman & Littlefield

How to Be an Antiracist
By Ibram X. Kendi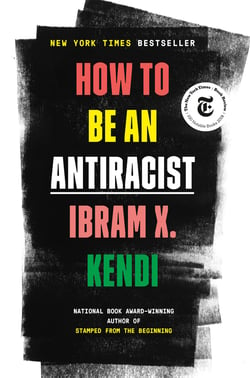 "Antiracism is a transformative concept that reorients and reenergizes the conversation about racism--and, even more fundamentally, points us toward liberating new ways of thinking about ourselves and each other. At its core, racism is a powerful system that creates false hierarchies of human value; its warped logic extends beyond race, from the way we regard people of different ethnicities or skin colors to the way we treat people of different sexes, gender identities, and body types. Racism intersects with class and culture and geography and even changes the way we see and value ourselves. In How to Be an Antiracist, Kendi takes readers through a widening circle of antiracist ideas--from the most basic concepts to visionary possibilities--that will help readers see all forms of racism clearly, understand their poisonous consequences, and work to oppose them in our systems and in ourselves." —One World

By Sarah Schulman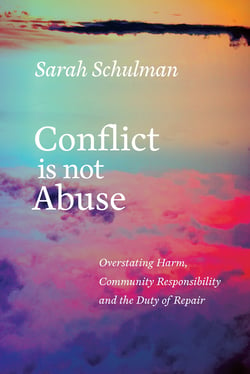 "From intimate relationships to global politics, Sarah Schulman observes a continuum: that inflated accusations of harm are used to avoid accountability. Illuminating the difference between Conflict and Abuse, Schulman directly addresses our contemporary culture of scapegoating. This deep, brave, and bold work reveals how punishment replaces personal and collective self-criticism, and shows why difference is so often used to justify cruelty and shunning. Rooting the problem of escalation in negative group relationships, Schulman illuminates the ways cliques, communities, families, and religious, racial, and national groups bond through the refusal to change their self-concept. This important...book illuminates such contemporary and historical issues of personal, racial, and geo-political difference as tools of escalation towards injustice, exclusion, and punishment, whether the objects of dehumanization are other individuals in our families or communities, people with HIV, African Americans, or Palestinians. Conflict Is Not Abuse is a searing rejection of the cultural phenomenon of blame, cruelty, and scapegoating, and how those in positions of power exacerbate and manipulate fear of the other to achieve
their goals." —Arsenal Pulp Press
Don't Label Me: How to Do Diversity Without Inflaming the Culture Wars
By Irshad Manji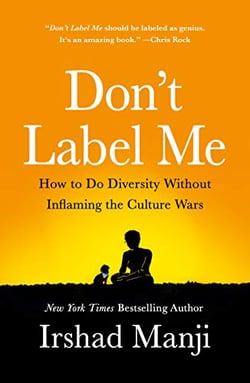 "Diversity, inclusion, antiracism – the hottest topics in America – have become exercises in labeling rather than engaging. Worse, the way they're practiced too often amplifies conflict.
Don't Label Me provides needed guidance that's fresh, relatable, and concrete. Irshad Manji shows how to do diversity without inflaming the culture wars. Educators, employers, and everyday citizens will learn to create cultures in which diversity of viewpoint is part and parcel of diversity itself, so that public listening becomes as important a skill as public speaking. Manji reveals the strategic value of not taking offense at every turn and unlocks the mystery of how to be heard by those who passionately disagree with us. Along the way, she combines cutting-edge scholarship with the time-tested power of story to present an action plan for moral courage—one that equips us all to uncover common ground even as we stand our ground."
—IrshadManji.com
Courageous Conversations About Race: A Field Guide for Achieving Equity in Schools
By Glenn E. Singleton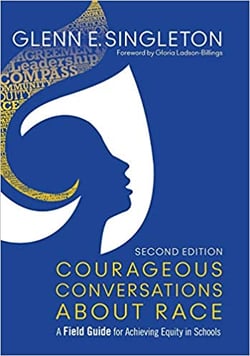 "Schools, like all organizations, face a nearly insurmountable hurdle when addressing racial inequities―the inability to talk candidly about race. In this timely update, author Glenn Singleton enables you to break the silence and open an authentic dialogue that forges a path to progress for racial equity. The third edition offers new coverage of the structural inequities in schools and society that have been exposed by the pandemic as well as heightened public awareness of racial injustice. Courageous Conversations about Race allows you to deepen your personal understanding of race and its impact on all students...This guide empowers you with practical tools and insights to successfully challenge racist policies and practice in schools and beyond. It is your call to leadership―one that will impact student achievement and drive systemic transformation." —Corwin

--


Facing History and Ourselves invites educators to register for our two-day online learning experience Teaching for Equity and Justice scheduled for early October.