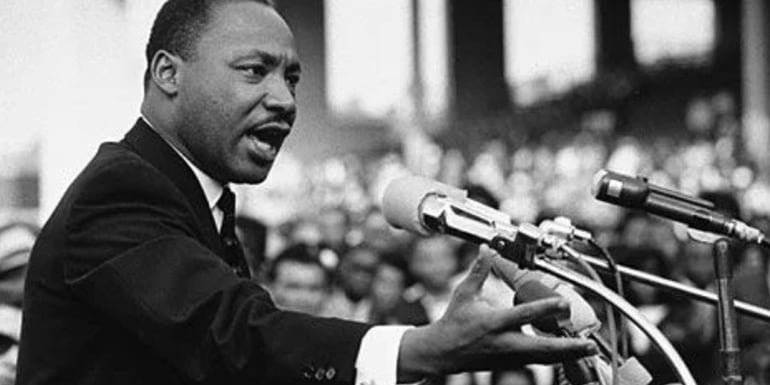 Today, Americans across the country are observing Martin Luther King Day. It's a moment for reflection and service; for considering the life and legacy of an extraordinary individual; and for recommitting ourselves to the unfinished work he championed. At a time of extraordinary bigotry and violence, Dr. King challenged all Americans to confront our history of racial discrimination, to open our eyes to injustice, and to be intentional about building a better future. His message – of clear-eyed understanding and unlimited possibility – is as resonant today as it was when he lived more than half a century ago.
Sadly, we celebrate Dr. King's legacy in the immediate aftermath of the Dallas synagogue hostage incident, making painfully clear that antisemitic bigotry and violence in our society continue even today. In addition, on Saturday, New Yorkers also witnessed yet another incidence of anti-Asian hate, when a woman died after being pushed off a subway platform. Even as we pause to reflect on King's deep wisdom, as a nation, we remain divided about whether or how to teach the lessons – of history, of acceptance, of fairness, and of love – he prescribed. Over the past year, we have witnessed an increasingly polarized debate over how secondary schools should address the impact of race in lessons about American history. Some have called on legislatures to restrict teaching about the history of racism in America, while others have sought to ensure that young Americans gain a full understanding of our national experience – even when it is uncomfortable or even painful.

As history itself is under attack, educators have increasingly found themselves at the center of the conflict, called upon to avoid instruction on "race-related" topics, to remove certain books from school libraries, or to contain classroom discussions to "just the facts."

This approach is deeply misguided. Learning about history isn't just a matter of memorizing dates and events. It's about understanding and contextualizing the realities of our interwoven pasts in order to build a better common future. In some cases, that may involve stories of transformational freedom and proud achievements that served to strengthen our country and our communities. In others, it may involve stories of discrimination and suffering that betrayed our highest ideals and undermine democracy. All of these stories and experiences have shaped our country's identity and national character, and teaching about them gives us insight into who we were, who we are, and who we aim to be.

This national holiday emphasizes that point. Celebrating Dr. King's revolutionary life means each of us standing up against the injustice that he was seeking to confront: racist incidents, and in our own day, antisemitic incidents, anti-Asian incidents, in fact all identity based hatred. Observing a day meant to honor his legacy means explaining to ourselves and our children what that legacy entails. If we are willing to celebrate Dr. King's contributions to American history and contemporary life, then we must be willing to talk about and teach about the injustices he sought to address, the legacies of which we are still struggling to overcome today.

When we take the opportunity to examine and understand the choices that individuals and communities have made, we can better understand that we all have the ability to make choices that will shape the course of human events. Teaching history may be nuanced and complex, but with the guidance of caring educators who are trained to do this work with empathy and analytic skill, our full history is well within the ability of all our students both to understand and to act upon.

It's a lesson that Dr. King would embrace – and one that I am proud we are teaching together.