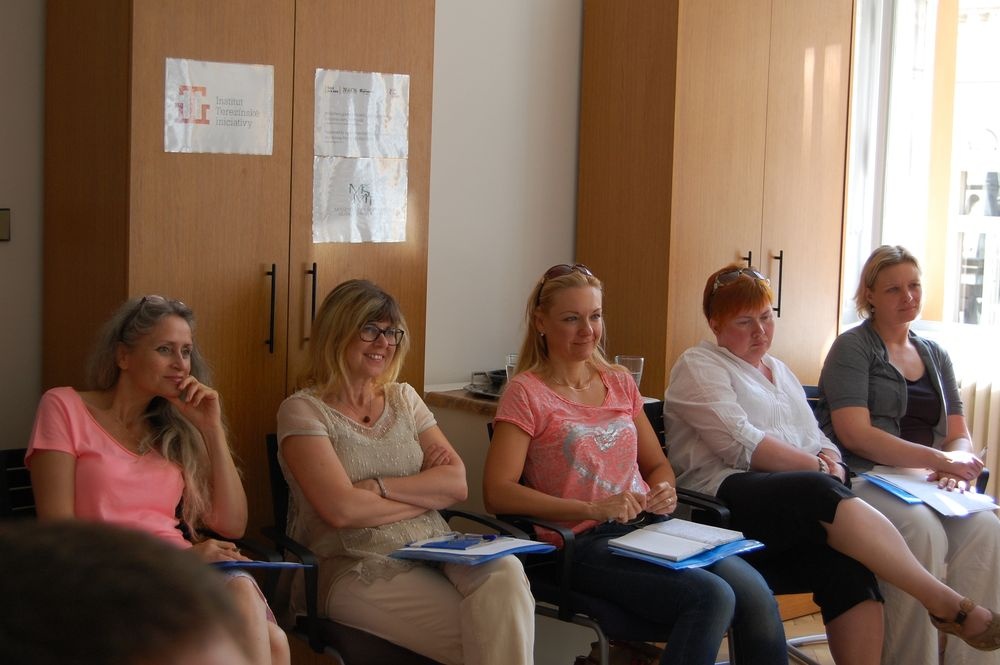 Teachers all over the world are grappling with how to address today's divisive climate with their students. The same is true for Petr Sokol and Roman Anyz, trainers at the Terezin Initiative Institute in the Czech Republic. They have been partnering with Facing History to teach about democracy, the Holocaust, and the treatment of the Roma while facing uncertain political times in their country today. Sokol and Anyz, who is also a middle school teacher, share how they are helping teachers consider how they can encourage young people in the Czech Republic to think critically about what is happening around them. New concerns over populism rising in the country makes this task feel more important than ever.
What is the current political climate like in the Czech Republic? What are some of the issues that teachers, students, and citizens overall are grappling with?
The current political climate in the Czech Republic is volatile. Most of this is propelled by the xenophobia surrounding the Syrian refugee situation. We, as public school teachers, are struggling to get our students to look beyond the inflammatory headlines (especially about immigration) and think more critically about the issue of tolerance, which is now under greater threat than at any time since the fall of Communism.
Describe your work with Facing History? What type of activities have you implemented in schools?
The very first Facing History presence in the Czech Republic was in 1994 when Auggie and Bev Zemo began including a few Czech public school teachers in a Facing History seminar that they hosted in Switzerland. This was part of some of the wider work happening in former Soviet states tied to democratization and teaching about the history of the Holocaust. It was a life changing experience for us! It was not only the quality of resources and conceptual thinking behind Facing History's teaching approach that made such a great impact on us as educators. It was also Auggie and Bev's emphasis on an interactive and truly constructivist way of learning that equipped us to help our students and pupils think about history and its connection with our own lives.
At that time, we would use primarily readings and lesson plans based on the resource book, Holocaust and Human Behaviour. In the following years we started to work with the Jewish Museum in Prague and Terezin Initiative Institute, which has developed into a project funded by the European Union. This enabled us to develop new resources and lesson plans that would be "site specific." The funding also covered a series of interactive workshops for teachers that would introduce the resources. At the moment, AISIS and Terezin Initiative Institute run a follow-up project including new workshops and development of resources more focused on the modern history of Roma minority in the Czech lands.
What type of impact has it had on teachers, students, and overall civil society?
Teachers who have attended our workshops several times have shared their positive experiences using our lesson plans in their classrooms. One teacher came up to the two of us and said, "You have opened so many questions for us, yet you still haven't answered any of them." Then she paused and said, "And that is so great." We both realized at that moment that we as teachers tend to feel we need to know the answers for all questions but that is so difficult when it comes to 20th century issues. And it may be one of the reasons to teach it. There are no simple answers to complex questions and that is okay. This approach has a much bigger potential to form a civil society than the conventional history education that is quite common in Czech schools. We believe we have influenced some really good teachers who have another tool to help their students think more deeply about the world.
How has it helped educators address past histories like the Holocaust and treatment of the Roma? How has it shaped teaching on democracy and civil society?
For a long time, the traditional approach to teaching history in the Czech Republic was based on passing down knowledge and repeating it afterwards. Facing History's approach showed us that it is possible to handle these topics differently and that it increases student involvement. The key part of this approach is based in the Scope and Sequence. The idea of going from "Individual and Society" to "Choosing to Participate" offers you a tool to choose appropriate topics from the history and raise relevant questions. This is what we consider really unique and it differentiates our lesson plans and workshops from the other programmes. Based on the Scope and Sequence approach, we are able to prepare a series of steps that are interconnected and help teachers and students to build lessons for longer periods of time rather than one-off activities. We are seeing teachers bringing history alive beyond dates and events, while students make connections to their own lives.
Why is addressing these issues so important now in the Czech Republic?
The Czech Republic is now at a crossroads, with democracy and Vaclav Havel's "civil society" on one side and the populist hysteria of "strong man" politics on the other. Our aim, using the Facing History principles and curriculum, has been to support public school teachers in opening up their classrooms to genuine dialogue and critical thinking. This is where the next generation of Czech voters and leaders will come from.
Facing History's footprint is global. Check out our international work in countries like France, the United Kingdon, Northern Ireland, Canada, and China, among others, to see how we're helping educators around the world.
Photo Caption: A July 2016 weekend workshop with a member of the Roma community.