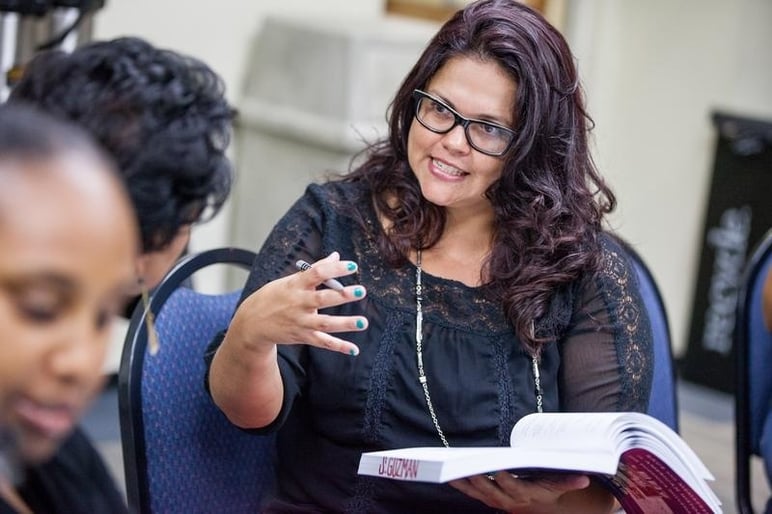 In the aftermath of the mass shooting in Orlando, Florida, we are having difficult conversations all over the world. About race. About identity. About the meaning of democracy and where we go from here. Tanya Huelett shares what she learned from leading difficult conversations as a program associate at Facing History and Ourselves. These guiding principles can help us both in and out of the classroom as we all try to navigate this latest tragedy.
Difficult conversations are a big part of my life. For almost eight years I've helped educators learn and teach about atrocities and injustices in the past and present. I should have felt prepared when asked to facilitate a webinar on "navigating difficult conversations" for classrooms in Baltimore City Public Schools. Instead I felt overwhelmed and hesitant.
In the wake of Freddie Gray's death in police custody, the subsequent city-wide unrest and the trials to come, the school system wanted to equip their teachers with the tools and resources needed to create safe spaces for students to discuss the events around them. Facing History's theories and practices for doing this are strong and effective, but I was unsure how well they would hold up under the weight of such profound, painful, and local events.
I was cautious about conflating larger national conversations surrounding similar events with the particular experiences of people in Baltimore. Moreover, I wondered how to talk about justice in ways that inspired students to appreciate the importance of civic participation without unduly influencing their responses to local events. And yet I knew that many teachers genuinely wanted advice and suggestions for how to bring in the conversations that dominated the world outside of their classrooms. I also knew that many teachers felt a responsibility to provide calming and constructive outlets for students who were experiencing a range of emotions.
As my colleague and I talked through these challenges, I found comfort and clarity in four guiding principles for approaching difficult conversations of all sorts, including the recent tragedy in Orlando, Florida.
TRUST YOURSELF AND YOUR PARTNERS: Teachers know what's best for their students, classrooms, and communities. From a distance I couldn't know the personal connections to these events. I had to trust that Facing History's frameworks and strategies for creating safe and productive classroom spaces would be used by teachers who did know the local climate and could use their judgement to adapt our resources where necessary.
THINK CRITICALLY: We must think critically about the messages we send to students. For this webinar we considered resources on justice, nonviolence, and stereotyping. The materials on nonviolence could provide students with examples of how to address injustice through nonviolent direct action. But we worried that students would see these resources as a presumption that violence might be a part of their reaction to events in their city. We shared these concerns with the teachers and reminded them to examine the messages that might be embedded in the resources they introduce to students.
FIND APPROPRIATE RESOURCES: We should constantly update our teaching toolboxes. The teachers leading these difficult conversations should evaluate their go-to practices, and make sure that they have the right tools for each unique job. This self-examination ensures the best possible circumstances for students to process difficult events and emotions.
PRACTICE: Students - and teachers - must regularly practice the habits of building and honoring a learning community so they are better prepared to discuss topics that may pull more heavily on their hearts and minds in a productive way. We need practice having these conversations with our students and with one another so we can better see where the need for structure and sensitivity is and more easily guide young people through these conversations.
Creating this webinar paralleled how it sometimes feels to lead a difficult conversation. I agonized over the preparations and convinced myself that I wasn't prepared to do it well. But, eventually I had to jump in with both feet. There were false starts, stumbles, and awkward moments, but the end product was useful for everyone involved. This webinar wasn't the definitive method for teachers to learn everything about addressing challenging topics with their students. Rather, it was a strong addition to the toolboxes of educators who do some version of this work every day.
How do you navigate difficult conversations in your classroom or in your own life? What lessons have you learned? Share them with us!
We have the tools to help you navigate the difficult conversations that come up in your classroom. Check out our professional development offerings. From webinars to workshops to courses and seminars, you'll find something that meets your needs and schedule.