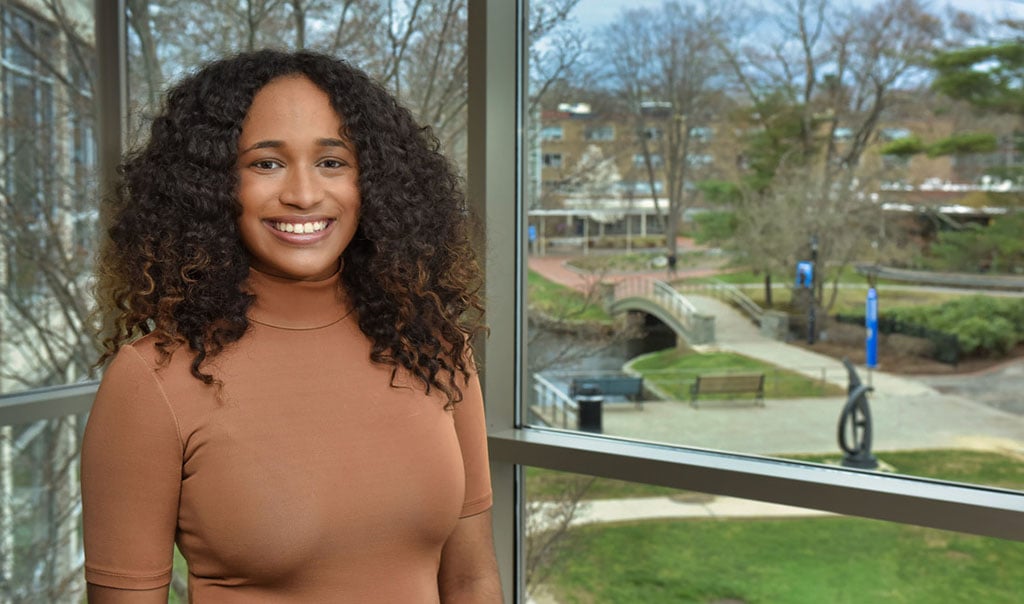 Formed in collaboration with Facing History and Ourselves in 2005, The Facing History School is a public high school deeply informed by Facing History pedagogy within the New York City Public Schools. In a recent interview, I spoke with Yenny Bautista—alumna and Fulbright English Teaching Fellow to Brazil—about how the Facing History experience stirred her call to teach.

KS: Can you speak to specific components of your personal background that have inspired you to pursue a professional career in education?
YB: I grew up in Inwood in Upper Manhattan…[and] when I was younger, it was a predominantly Hispanic neighborhood and obviously with all that's changing in the world, the neighborhood is also changing… In transitioning from being in classrooms where teachers may or may not look like me to ones where teachers don't look like me, it was definitely important to find a teacher or a professor who genuinely cared about seeing success in my future… Something that definitely inspires me to become an educator is having that passion for helping students and making sure they know they have someone outside of their home life counting on them to make a difference...
KS: How do you feel that Facing History's curriculum has impacted your development?
YB: ...To this day, I've always lived by trying to remove the stigma surrounding "we" and "they." ...As an educator, I want to make sure students know there isn't a division in the classroom. There's not a "we" and "they," there's an "us." …When I think about projects that I did in high school related to "we" and "they," it was a lot of thinking about my own background and my own identity. In reflecting upon the Facing History curriculum, I have questioned the stigma that often arises around "we" and "they" in our society and how I can think critically about my own identity.
In addition to "we" and "they," I won't forget the end of the year project, Choosing to Participate… You chose a topic or an issue to research and you tried to figure out a way to participate in changing it or bringing it to light... I did a human trafficking piece and that was really important to me. We focused on minorities who...were forced into human trafficking all around the world [and] how they are marginalized further in terms of "we" and "they."
KS: Were there particular moments in your schooling as a Facing History student that you feel have had the greatest impact on your development?
YB: If I had to choose one moment, it would have to have been with my advisor, Paul… I didn't have the most confidence in the world when I was in high school. I really struggled with writing papers. Paul just told me, you need to believe in yourself. You need to remind yourself that you can do this… It was just having those reminders from Paul, him not doubting my abilities, him motivating me to actually believe in myself, to stop doubting myself. Those were his big goals...and I'm glad that now I've gained some confidence. I wouldn't say I'm 100% but I'm working on it.
KS: I understand that with the help of the Bea Kovich Award—sponsored by Facing History donor Sue Zamkow—you just graduated from Wheaton College. What has been your course of study at Wheaton and what are your career aspirations for after graduation?
YB: I took a summer class after my freshman year and it was to Tanzania. It was an anthropology course and I had two weeks of teaching at the end of that trip and that's what really changed my whole experience. Afterward, I decided to become an English teacher because I was passionate about English...my second language. I was passionate about reading and learning about all types of literature (mostly multi-ethnic literature) so I started taking English classes, learning about the evolution of English, and finally met my advisor who is just amazing… My junior year after I came back from studying abroad…I completed a teaching fellowship in Boston and that has been the highlight of everything. Every time I speak about why I am becoming a teacher, I shout out the course, "Tanzania: Education & Development." I feel like that was my second core experience with teaching that really sparked my passion...
I decided that I wanted to apply for a Fulbright and...I, again, didn't have the confidence for it and thought "there's no way I'm getting this" [but] a month before graduation, I got the email that I was accepted. I didn't know what I was going to do but definitely decided to accept it and my family is super proud and nervous… I am now headed to teach English in Brazil. And while I do not know where I will be located yet, I do know that I'm teaching at secondary university level...and the focus will be on helping students practice their English through discussion of social issues.
Facing History and Ourselves invites you to access our seminal case study, Holocaust and Human Behavior, which includes a chapter devoted to "We and They."