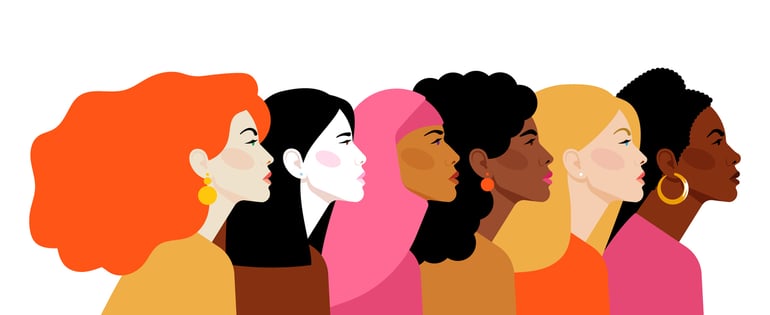 The value and relevance of women's history was in the news in late December 2020 when we learned that a new bill passed, approving the development of what will be the first women's history museum on the National Mall. The long process that led to this approval, including considerable controversy surrounding the penultimate bill, raises compelling questions about how women's history is valued and understood, as well as the significance of spaces like museums and monuments in shaping public memory.
Since 1998, New York Congresswoman Carolyn B. Maloney has been leading the effort to establish an official women's history museum. It was then that Maloney, along with Senators Marsha Blackburn (TN), Barbara Mikulski (MD), and Susan Collins (ME), sponsored a bill intended to form a Congressional Commission to investigate erecting a women's history museum. Over 15 years later in 2014, Congress would finally pass their legislation. After 18 months of in-depth investigation, the bipartisan coalition that comprised the American Museum of Women's History Congressional Commission (AMWHCC) submitted its final report. There, they issued their unanimous conclusion: that Americans need and deserve a women's history museum.
In collaboration with Reps. Brian Fitzpatrick (PA), Brenda Lawrence (MI), and Eleanor Holmes Norton (DC), congresswoman Maloney would then introduce The Smithsonian Women's History Museum Act (H.R. 1980) to establish a women's history museum on the National Mall. The Senate companion bill was sponsored by Sens. Susan Collins (ME) and Dianne Feinstein (CA).
The bill was not without resistance, however, and was blocked by Utah Senator Mike Lee who asserted that "[t]he last thing we need is to further divide an already divided nation with an array of segregated, separate-but-equal museums for hyphenated identity groups." It is important to note that this particular bill called not only for the establishment of a women's history museum but for a Latinx history museum, as well.
The implication that women's history and Latinx history need not be singled out in this manner echoes parallel debates surrounding celebrations of various heritage months like Women's History Month, Hispanic American Heritage Month, and others. On the one hand, designating particular times and spaces to center particular histories may fail to drive the integration of that content into all of the other places where it belongs. On the other hand, creating space for particular histories and public conversations through monuments, museums, and time-bound celebrations remain important levers of change and repair at the level of public memory. These are spaces where perspectives on what counts as history and who can be a legitimate subject of history can be seen, explored, and redefined.
The AMWHCC's report revealed a profound lack of celebration of women's experiences and contributions in the Smithsonian's extant collections, reinforcing their conviction that the addition of a museum focused on women's history is essential.
Despite conflicting opinions on the proposed women's history museum on the floor of Congress, Maloney's bill was passed by the House of Representatives on February 11, 2019 and ultimately signed into law on December 27, 2020. The Washington Post reports that the Smithsonian now has two years to select the museum's precise locations from a roster of options on the National Mall. In the meantime, the Smithsonian is sharing an array of offerings to begin meeting the need and demand for women's public history through the American Women's History Initiative.
The questions raised by this story are not unique to the museum space, however. Educators might ask: What are the barriers to centering women's history in my own school? How do my colleagues and I understand the role and significance of women's history in the subjects we teach? How can attending to women's history strengthen all our students' experiences?
--
Facing History and Ourselves invites educators to use our lesson After Charlottesville: Public Memory and the Contested Meaning of Monuments.