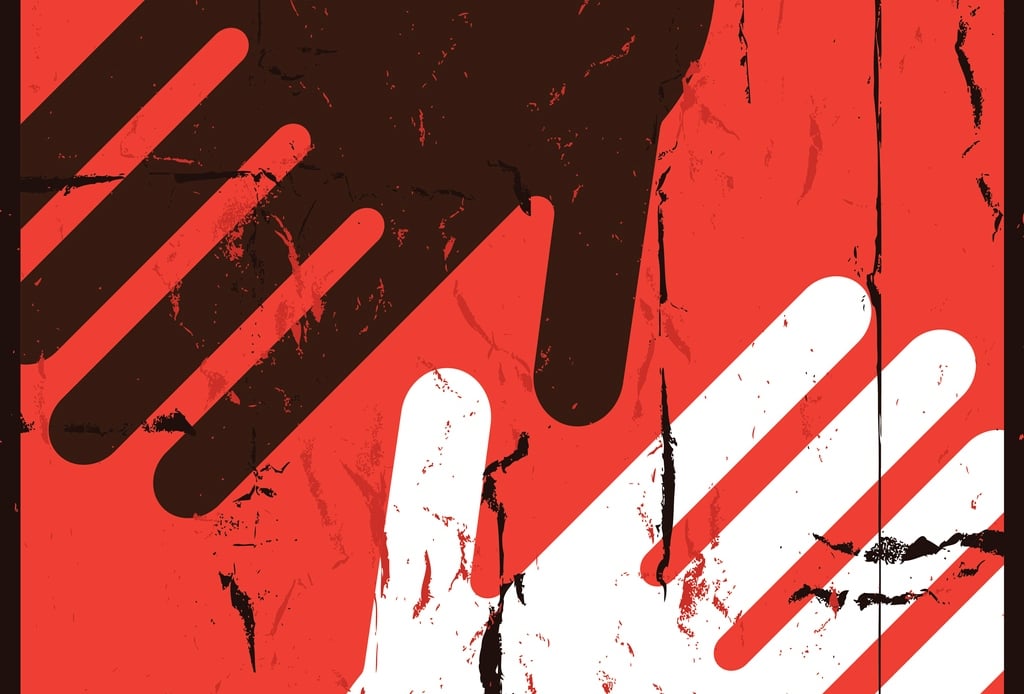 Tonight sees the third episode of the BBC's adaptation of Malorie Blackman's book Noughts and Crosses. The first two episodes received incredibly positive reviews - even from many who found it uncomfortable viewing - alongside, perhaps predictably, negative ones: a minority of reviewers even went so far as to say it was 'anti-British' and 'anti-white' and 'a masterclass in 'race-baiting'. The series release comes at a time when people in the UK are finally starting to talk about race: the hounding of Meghan Markle by the tabloid press, the rise in racism since the Brexit vote, the BBC's treatment of Naga Munchetty and the subsequent fall out, and the work of writers such as Reni Eddo-Lodge are just some of the things that have pushed combating racism higher on the agenda. It is no longer easy to look the other way and feign ignorance about the structural racism operating in society, which prioritises the needs, experiences and interests of white people at the expense of people of colour, but there is still so much work to do. The TV series has arrived at a critical time and its existence will no doubt contribute to the dialogue about race, encouraging the action that we need if we are to create a fair, just society that serves all of its citizens.
For those unfamiliar with Noughts and Crosses, it is the first book in a series aimed at young adults (though it is definitely appropriate for the more aged among us) and is set in an alternate reality in a country called Albion. Albion, which is representative of Europe, is a country with a troubled history – several hundred years before the story is set, it was invaded by Aprica, and its inhabitants were enslaved. This legacy plays out in modern Albion society, which is divided along racial lines: the Crosses are the black ruling class who wield the power, whilst the Noughts are the white underclass and the descendents of the former slaves. In this setting, fraught with racial tensions and in which Crosses and Noughts are forbidden to interact socially, two people fall in love: a Cross woman and a Nought man.
Blackman's ingenious tale is as engaging as it is thought-provoking: her reversal of reality shines a light on our colonial history and the racial injustice that continues to thrive in modern day society, whilst her engaging prose sweeps readers away in the tale of forbidden love.
Below, we - Facing History UK team members Amran Farah and Aneira Roose-McClew - share our impressions of Nought and Crosses, and explore how it connects with our own personal experiences as people with black and white racial backgrounds:


Amran
The first time I felt discriminated against, I was fourteen and sitting in my year 9 history class. My teacher had asked me a question. Not quite hearing what he had said, I asked him to repeat himself, to which he replied "is your hijab on too tight that you can't hear me?" It's taken me years to find the language for the embarrassment I felt that day. Suddenly and rather obtrusively, I was reminded that I was different to my peers. At fourteen, this was not what you wanted to feel. A decade later, I was at a work event when a friend of a senior staff member had confused me with another intern. I had been working there for a while. After we had established who I was, he then made the remark "you know what they say, all blacks look the same."
As an adult, I understood the weight of his words this time round, though in an instant I was back to feeling like that tongue-tied fourteen year old. The British stiff upper lip has meant that for so many people of colour, conversations around racism are too uncomfortable to have, that it's better left swept under the carpet. I've often observed that, in many instances, actual acts of racist abuse are seen as less problematic than the discomfort that arises from naming them. As a direct result of this, I feel silenced - my experience is denied - and ultimately, I am discouraged from speaking up against it in the future. My experience as a visibly Muslim, black woman entails having to navigate significant racism in my life - whether it is instances of receiving anxious texts from my mother, telling me to be careful on my commutes after a terrorist attack, to feeling as though I have to work harder than others to get my foot in the door. To say that racism is a daily barrier would be a grave understatement.
What I find so powerful about Noughts and Crosses is that it offers a story validating the experience of people of colour in this country, like myself, and exposes our collective struggle: from everyday mispronunciations of our names to the consequences of a lack of representation. Perhaps one of Blackman's greatest skills is her ability to provoke meaningful discussions about race beyond the original book series - discussions that will continue with this TV series. It is no secret that talking about racism can be exhausting. For me, this has certainly been the case: It is difficult to convince someone of their privilege if they are unwilling to see it, and even more difficult when their privilege affects you so profoundly. But the fact that, today, this show is on the BBC - a mainstream network - means a whole generation of young people of all races will be thinking about race in a more productive way. Hopefully, in the face of microaggressions or racism, teenagers across the country can have the language to articulate their thoughts and feelings in a way that I was not able to. Today, we need this more than ever.


Aneira
I cannot remember exactly when I first read Noughts and Crosses, but I can remember being overcome with a range of emotions, unable to put the book down: I wanted Sephy and Callum's love to prevail and I sensed the injustice about the social structures tearing them apart. But to say I was racially aware would be a complete lie. I did not understand how privileged I was on account of the colour of my skin, nor that I had been dealt a winning card in a lottery that I had not even entered, but which meant that I was validated daily because the white of my skin was regarded as the norm. I am only just beginning to understand this, to understand the absurdity of the term "objective" that slyly gives precedent to the white perspective, to realise the injustice of the structural racism that pervades our society and which has shaped me, whether I realise it or not, into associating white with 'right'. Having felt side-lined on account of my gender, I understand what discrimination feels like, but I honestly cannot fathom how it must feel to continously never see people who look like me in positions of power, in stories in books, films or on TV; to be repeatedly mistaken for a cleaner or an assistant as has happened to so many women of colour in senior roles; and to feel invalidated daily because my words, experiences and identity are discredited by difference. Blackman's book is so powerful because it reverses the roles and helps white people like me get a small glimpse of what raging against injustice on a daily basis must feel like. The TV series is coming at a time when hopefully white people are starting to realise that saying we are not racist is not enough. As people who benefit from the system that was created in our image, we need to work to dismantle it. Our silence aids only oppression.
To discuss race in your classroom, consider teaching Facing History's lesson, The Concept of Race, from our unit Teaching Holocaust and Human Behaviour.