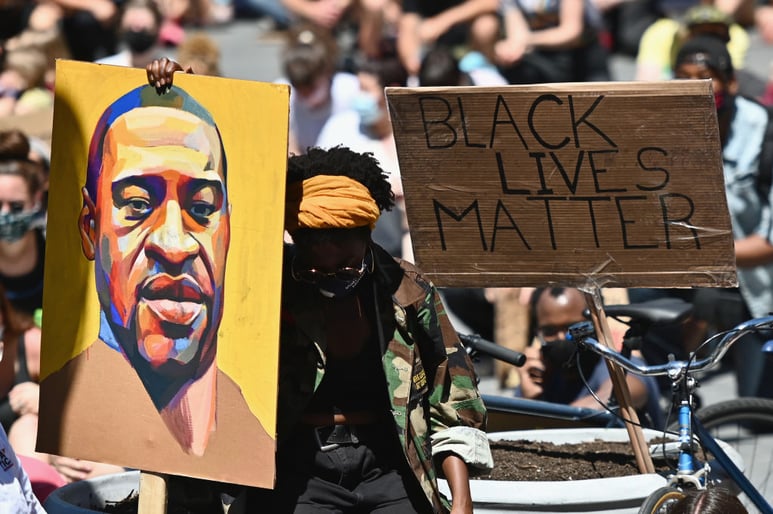 On Tuesday evening, it was announced that former Minneapolis police officer Derek Chauvin has been found guilty of all charges leveled against him in connection with the death of George Floyd in May 2020. The twelve-person jury reached the unanimous verdict that Chauvin committed second-degree murder, third-degree murder, and second-degree manslaughter against Floyd nearly a year go. As we exhale in the wake of this decision, we must remain present to the unending stream of historical and contemporary violence that surrounds this guilty verdict.
We live in a country where the bodily integrity and sheer humanity of Black people have been persistently denied, and where the law has consistently failed to hold police officers accountable for murdering Black people. And as deeply painful as this is, the endurance of these problems is unsurprising when viewed in the light of history. As historical scholarship shows, modern policing grew out of the slave patrols of the antebellum South—groups that assembled to maintain an economic and social structure that was predicated on accumulating and extracting life from Black bodies. In the absence of a significant transformation of or departure from existing modes of policing, it would be naive to expect any meaningful transformation of outcomes.
Any seeming or brief departure from this grim historical and contemporary reality prompts us to rejoice—and it should. The conviction of Derek Chauvin for murdering George Floyd is immensely significant and may pave the way for parallel convictions in some of the countless similar cases of murder by police officers. But as we rejoice about this victory, we shouldn't ignore the fact that it is the vast field of Black death and injustice stretching back for centuries that makes Chauvin's guilty verdict so momentous in the first place. And this single legal victory is but one small drop in the bucket of healing, repair, and transformation that our nation dearly needs. This need for profound healing and transformation surfaces in a number of areas of social life, but nowhere is it more evident than in the stream of police murders of Black people that has continued unabated since the murder of George Floyd in Minneapolis last year.
Just ten days ago in Minneapolis, 20-year old Daunte Wright was murdered by police. And within hours of the release of the Chauvin verdict, 15-year old Ma'Khia Bryant was shot and killed by police in Columbus, Ohio. We are also learning that Caron Nazario—a Black army officer threatened and assaulted by two police officers during an illegal traffic stop in Virginia last December—is now seeking justice through the legal system.
In addition to securing justice for all of these victims, the structural forces that permit this depth of violence to persist must be dismantled. And we must remain aware of how often small steps forward can be negated by two or more steps back. From the history of Reconstruction to the overt white supremacy that has surfaced in the political sphere over the last several years, we have seen how manifestations of racism and racist violence can become even more visible and virulent in the aftermath of an apparent step forward. These words may be sobering, but it is only in the light of reality that we can hope to bend the arc of history toward justice.
Tell us how you are sitting with these events and committing to disrupting anti-Black violence in the comments.
---
Facing History and Ourselves invites educators to use our new Teaching Idea, Accountability, Justice, and Healing After Derek Chauvin's Trial, in the classroom.