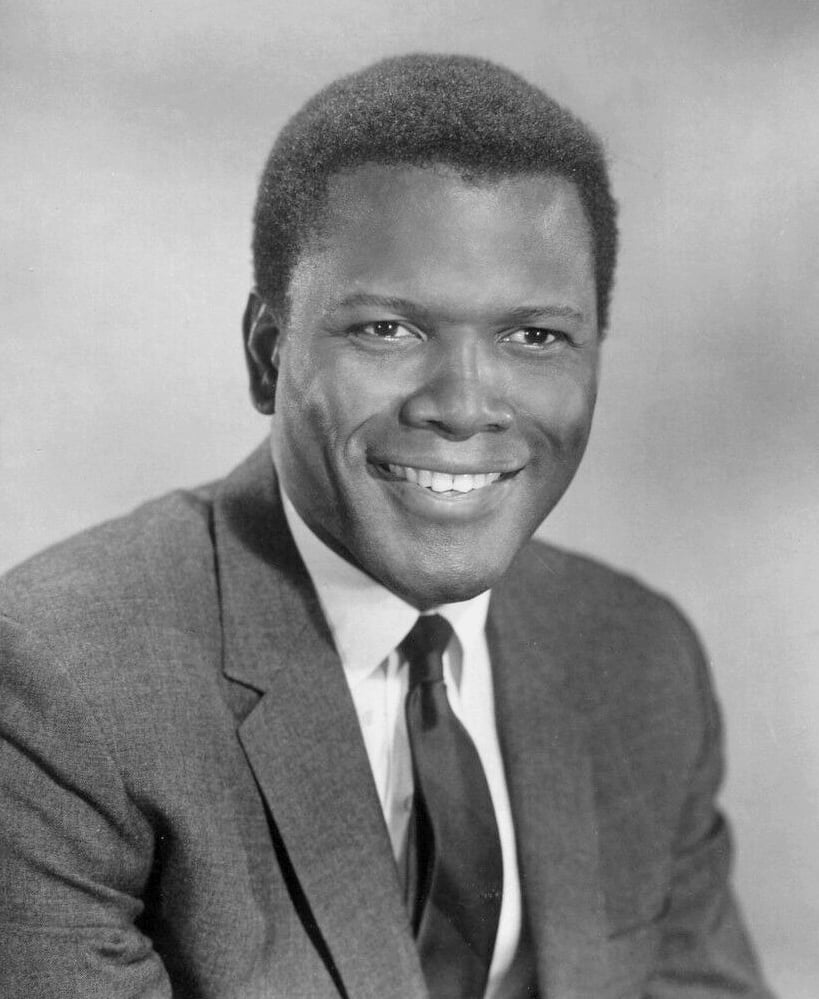 In January, the nation stood still as we learned that renowned actor Sidney Poitier passed away at 94 years old. But his passing is not only significant to cinephiles but to anyone interested in grasping the arc of social change in the United States over the last 75 years. A pioneering Black actor, Poitier's acting career broke significant barriers in entertainment through a series of singular performances, but his social impact reflects more than just his acting chops. Poitier was both an actor and an activist—and despite a mixed array of perspectives over the years on the ways that he represented Black people in film—he undoubtedly played a leading role in African Americans' fight for civil rights and more positive media representations from the silver screen to the streets.
In 1963—the same year that Dr. Martin Luther King, Jr. delivered his iconic "I Have a Dream" speech at the March on Washington—a related dream long held by Black performers was realized: Poitier became the first Black actor to receive an Academy Award for best actor for his portrayal of Homer Smith in the film Lilies of the Field. Though this may seem like an insignificant milestone, social and political conditions in 1963 were such that this outcome was truly remarkable.
From the Sixteenth Street Baptist Church bombing and the violent riots that followed to the killing of NAACP field secretary Medgar Evers, this was a period of considerable and ongoing anti-Black violence, even as it was met with Black resistance and mass mobilization beyond the Black community alone. It was not until the following year that the 24th Amendment was passed thus abolishing poll taxes that had long disenfranchised Black voters, and that President Lyndon B. Johnson signed the Civil Rights Act of 1964 into law which outlawed segregation of public facilities and employment. In this social and cultural landscape, seeing a Black man be recognized for his skills as an actor in a dignified role—and not in a minstrel show or some other degrading spectacle—was significant and is remembered as a watershed moment in evolving the nation's ongoing conversation about race.
American audiences would become even more closely acquainted with Poitier when he portrayed Detective Virgil Tibbs in In the Heat of the Night, followed by John Prentice in Guess Who's Coming to Dinner?, both released in 1967. Laying bare some of the most fundamental racial anxieties that prevailed during the era, Poitier's performances provided abundant fodder for discussion and represented Black men in ways that defied racist tropes and stereotypes, opting for a demeanor that responded to prejudicial treatment with an unflappably peaceful demeanor.
Despite Poitier's discernible impact as a public figure who broadened the array of representations of Black figures in media, his work also attracted criticism from some of his contemporaries. Poitier was described by some Black figures of his time as an "Uncle Tom"—a pejorative term used to describe a Black figure who exists to placate white people and is derived from the titular character of Harriet Beecher Stowe's abolitionist novel Uncle Tom's Cabin (1852).
Despite these accusations, Poitier's rationale for his approach reflected a deliberate strategy that he articulated in numerous interviews. In Poitier's time, there were a great many non-Black people who did not realize that Black people could take on the roles that Poitier portrayed on the screen from doctors and police detectives to dock foremen. Poitier once remarked that he felt "as if I were representing 15, 18 million people with every move I made." When asked to describe how he selected his acting roles, Poitier said: "If the fabric of the society were different, I would scream to high heaven to play villains and to deal with different images of Negro life that would be more dimensional. But I'll be damned if I do that at this stage of the game." As Poitier articulates so explicitly in these interviews, he bore the burden of representing a large population in media and played an important role in reshaping people's perspectives. Despite these clear contributions, he represented the race in ways that, years later, were critiqued by some as incongruent with the more militant visions of Black resistance that had emerged by that time.
Even as Poitier faced criticism as the political climate shifted, he also left a clear track record of moving beyond superficial expressions of support for civil rights by taking courageous action on the ground. From the 1957 Prayer Pilgrimage to the 1963 March on Washington, Poitier often went beyond his role as an actor to lend crucial behind-the-scenes support to the broader movement. In 1964, he even endangered his own life to support Freedom Summer, an activist campaign led by a coalition of organizations including the Student Nonviolent Coordinating Committee (SNCC), Congress of Racial Equity (CORE), and Council of Federated Organizations (COFO) dedicated to registering as many Black voters as possible in Mississippi during a time of profound voter suppression and related anti-Black violence.
When SNCC executive secretary James Forman informed Black actor Harry Belafonte that the Freedom Summer volunteers would soon run out of money, Belafonte leveraged his own celebrity to raise $70,000 in two days and convinced Poitier to accompany him in transporting the cash to campaign headquarters in Greenwood, Mississippi by airplane. Once on the ground in Mississippi, Belafonte and Poitier were ambushed by the Ku Klux Klan but escaped capture with the help of a fleet of SNCC vehicles. Though Freedom Summer did not achieve all of its aims, its visibility would also be instrumental in raising national consciousness about the experiences of Black Mississippians and the need for systems change across the country. It was not long before the Civil Rights Act of 1964 and the Voting Rights Act of 1965 passed, establishing a new standard to which citizens could begin holding their states and municipalities accountable across the country.
As we remember Poitier's legacy in film and beyond it, we can perceive the ways that Hollywood was forever changed by his performances; the ways that Americans' conceptions of who Black men are and can be have been altered; and how his contributions to Freedom Summer and other civil rights efforts have helped to bend the arc of American history toward justice.
--
Facing History invites educators to use our webinar, Unsung Women of the Civil Rights Movement, to learn more about Fannie Lou Hamer and Freedom Summer—one of the campaigns to which Poitier lent crucial support during his life.