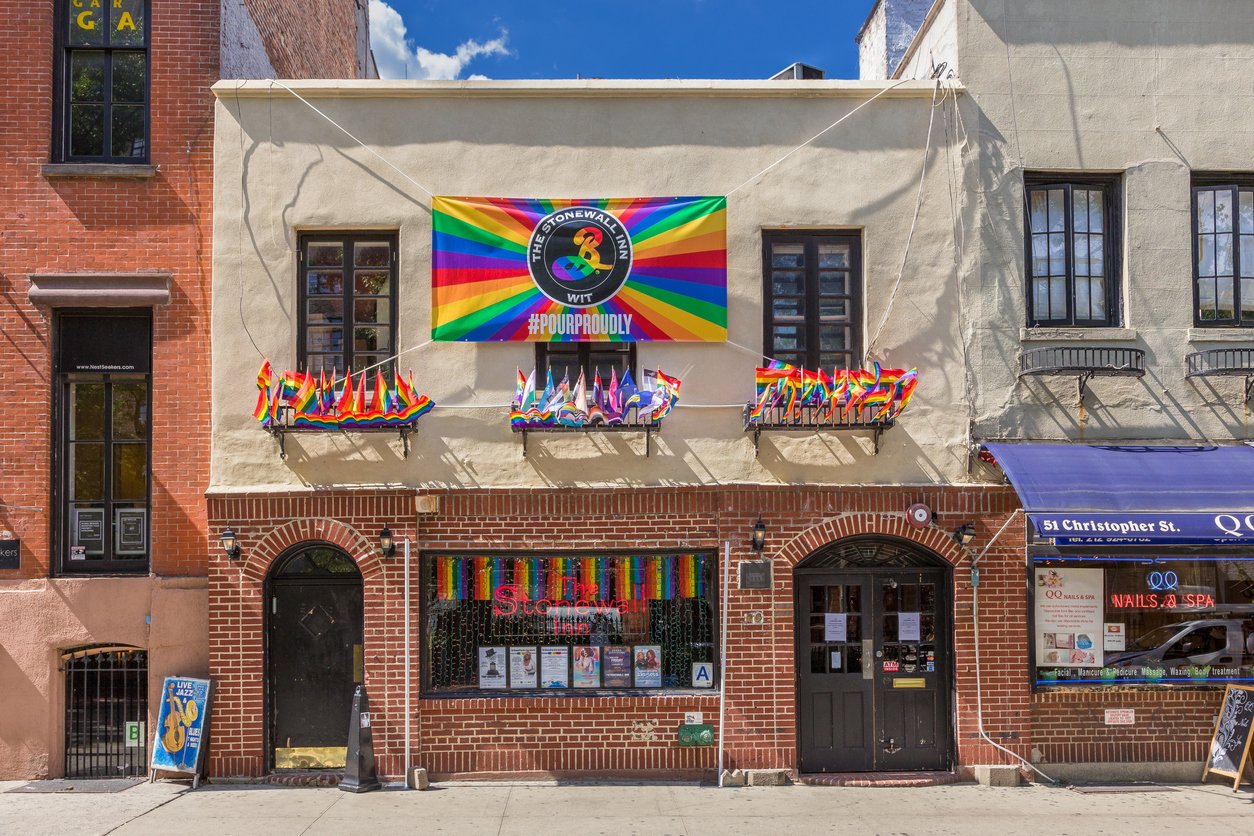 Widely considered the event that inaugurated the modern gay rights movement, this Friday, June 28th marks the 50th anniversary of the Stonewall Riots.
Stonewall was the culmination of a number of efforts that had been bubbling just beyond public perception for decades and finally burst into view when a group of LGBTQ people facing ongoing police brutality and economic exploitation fought back at New York City's Stonewall Inn.
Increasingly, two transgender activists of color—Marsha P. Johnson and Sylvia Rivera—have been highlighted as leaders within this history and will soon be memorialized in what will be the world's first public, permanent monument honoring transgender women. The city of New York's decision to memorialize Johnson and Rivera constitutes an important milestone in efforts to broaden our understanding of LGBTQ history, and it also invites us to examine the gulf between symbolic gestures of gay pride and the systemic change that LGBTQ communities sorely need.
The details of what actually unfolded on that fateful night at Stonewall remain the stuff of myth. As the desire to offer more inclusive accounts of LGBTQ history has grown, some claim that Johnson and Rivera played key roles in igniting the rebellion—even as Rivera and others recount conflicting narratives. Prominent black transgender performer Peppermint explains: "[T]he story of Stonewall was very whitewashed for so long, and now we're going backward and people are deliberately reviewing the stories of people like Marsha P. Johnson and Sylvia Rivera." But due to the limited scholarly attention that LGBTQ history received for a long time, we must now parse an array of conflicting first-hand accounts. Regardless of who did what and when, Johnson and Rivera's contributions to the movement did not end that night.
Johnson and Rivera challenged white, middle-class peers in the gay rights movement to begin conceiving of issues like racism, homelessness, poverty, and war as ones that were bound up with the community's own immediate concerns. "All of us were working for so many movements at that time," Rivera later said, "everyone was involved with the women's movement, the peace movement, the civil rights movement."
Rivera pursued this broader political agenda with the Gay Liberation Front and the Gay Activists' Alliance where she encountered immense resistance. As Rivera insisted that the movement address the unique needs of people of color, the homeless, and the incarcerated among their ranks, both organizations began to publicly denounce and ignore her. Determined to carve out a space in which her and others' needs could be addressed, Rivera co-founded STAR, or Street Transvestite Action Revolutionaries, with Johnson in 1970 to provide safety and shelter to homeless LGBTQ youths.
But when the Gay Rights Bill that Rivera had helped to develop finally passed in New York in 1986, it became even more apparent that the movement she had supported so tirelessly was willing to abandon her—and other transgender people—to advance their cause. Rivera had supported the initial version of the bill because it included language that called for the protection of transgender people. But by the time the bill was actually passed, the terms had changed substantially. The gay figures who had led the negotiations agreed to omit protections for transgender people in a back-room deal intended to win protections for others. It would not be until 2002 that "gender identity" was added to the bill as an area of protection.
Given this tumultuous history, the monument of Johnson and Rivera will constitute an important milestone in an effort to recollect LGBTQ history in more inclusive ways. And yet, this monument also comes at a time when there is increasing concern that celebrations of gay pride are often so commercial that they fail to mobilize people to address the most pressing challenges facing many in LGBTQ communities. If a city memorializes figures like Johnson and Rivera without making the policy decisions required to address the problems they fought against—including threats to safety, employment, and housing for LGBTQ people—is a monument a signal of progress or merely a Band-Aid?
Any monument is a powerful assertion of who belongs within a given community's universe of obligation, but we must also go beyond symbolic gestures to operationalize this sense of obligation at the level of policy and how we treat one another in our daily lives. Moving from an abstract embrace of LGBTQ people—be it a monument or a rainbow-laden "ally" t-shirt—to deeper understanding and action is urgent.
Whether we reside in New York City or in countless other communities around the globe, let us commit to upholding more expansive histories that include a wider array of voices as we exit Pride Month. And as we prepare for Johnson and Rivera's memorialization, let us continue to consider how to meet their legacies with action on behalf of LGBTQ people in our schools and communities.
Facing History and Ourselves invites educators to use our lesson, "LGBTQ History and Why It Matters," to help students engage with this history and uncover the extent to which it has been omitted from textbooks.