Next week marks Yom HaShoah, or Holocaust Remembrance Day. While Yom HaShoah affords us the opportunity to honor the memory of those we lost during the Holocaust, it's also a time to commemorate and celebrate the vibrancy and diversity of the lives and communities decimated during this dark moment in history.
Jewish life existed before the war. It's vital we remember that Jewish life—and a strong, resonant Jewish voice—existed during the war as well. And that voice, battered and bruised but defiant, survived to speak after the war concluded. As we prepare to honor all those voices during Yom HaShoah, here are six resources to use, inside the classroom and out.

1) Diaries of Young People Who Lived During the Holocaust

Salvaged Pages: Young Writers' Diaries of the Holocaust, an amazing compilation of diary entries from young people aged 12-22, is a resonant look inside the heads and hearts of youth struggling during the Holocaust. The 2008 MTV documentary I'm Still Here brings together select entries from Salvaged Pages, as well as personal photos and archival footage, in an affecting way. I'm always moved by the way this well-produced film weaves together imagery, music, and text.

For many students, Anne Frank is the singular adolescent voice from the Holocaust they relate to. I use the film and its accompanying Facing History study guide to help students connect with other young men and women not much older (and in some cases, younger) than they are, and experience the wider range of voices, emotions, and creativity present in their powerful stories.

2) Video Testimony

Video testimony helps students build media literacy skills and develop their ability to be empathetic and active listeners. The USC Shoah Foundation's IWitness educational website brings together over 1,300 video testimonies, multimedia activities, and digital resources and provides a new way for us to engage with survivor testimony in the classroom. Whether you're looking for testimony related to life in the Warsaw Ghetto or stories of Jews resisting Nazi persecution using art, music, prayer, and education, the site's enhanced search feature is an extremely helpful tool for finding the exact type of content you're looking for.

We will only have the honor of welcoming survivors into our classrooms for so long; IWitness gives us the opportunity to hear survivor voices, and share their stories, long after they have gone.

3) A Facing History and Ourselves Guide to Exploring Survivor Testimony

Before we bring a survivor speaker into our classroom, we have to create a safe and reflective space for both our students and our honored guest. Facing History's Guide to Exploring Survivor Testimony provides an extremely useful check-list for educators, as well as lesson ideas, teaching strategies, and resources for making the experience of engaging with testimony as rich and meaningful as possible.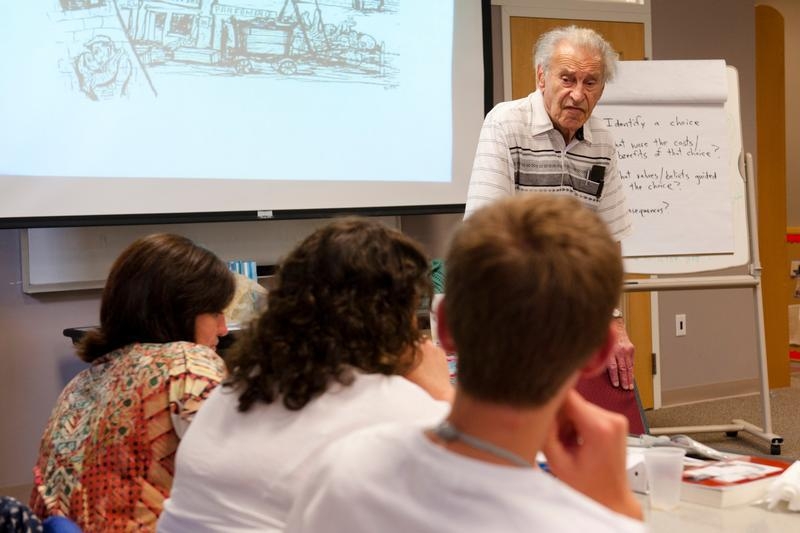 4) Challenge of Memory

This video was created to accompany Night, Holocaust survivor Elie Wiesel's account of his survival as a teenager in the Nazi death camps. While the six sections of the video parallel scenes from the memoir, it can be used independently of the book. One of my favorite clips features a moving exchange between Holocaust survivor Rabbi Joseph Polak and Wiesel about the power of memory.

5) Holocaust and Art

There are many ways a Holocaust survivor can share his or her story. Samuel Bak shares his through his paintings. Bak's creativity will resonate with students who express themselves through art, music, and other creative forms; his work speaks to the necessity and healing power of art. Facing History's online resource collection on Bak offers resources for a deep exploration of his work.

6) Watchers of the Sky: Films and Activities

We often talk about leading our students safely into and out of challenging material. The What can we do now? can weigh heavily on us and on our students after examining the Holocaust. This new Facing History resource is a wonderful way to help students see the power of a singular voice to affect great change. One of the three video segments focuses on Benjamin Ferencz, who at age 27 was the lead prosecutor of the Nuremberg Trials. From a young soldier to prosecuting attorney to a man who dedicated the rest of his life to the prevention of genocide, Ferencz truly embodies the definition of "upstander," as do the other people featured in the film.

Wiesel once wrote, "My greatest disappointment is that I believe that those of us who went through the war and tried to write about it, about their experience, became messengers. We have given the message, and nothing changed." Whether it's exploring testimony from survivors of the Rwandan Genocide, commemorating the 100th anniversary of the Armenian Genocide, or sharing current events with young people that highlight atrocities being committed in countries across the world today, we look to expand our students' worldview and sense of connectivity every day, not just on days of remembrance and reflection. Yom HaShoah is an active challenge to us all, as we remember and honor those lost during the Holocaust, that we also remember "Never Again' means never again for us all.