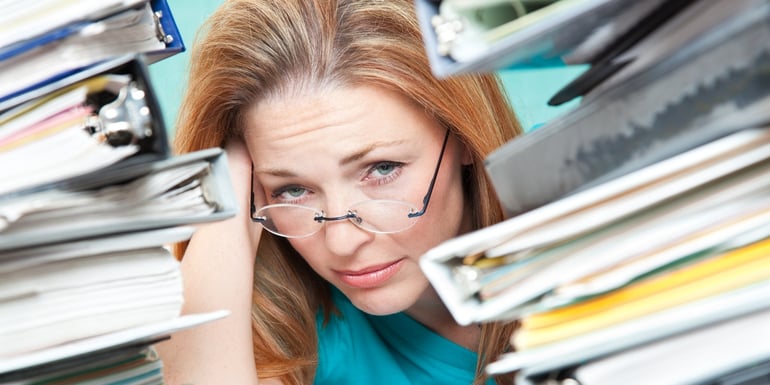 For teachers who don't hold additional jobs, summer vacation offers an opportunity for a hard reset—a time to recharge from the madness of the academic year and prepare for the rigors of the next one. But it's hard to find solace in the slowed pace of summer when it's only a matter of time before we will, again, feel the stressors of the classroom. The chronic stress at the heart of teacher burnout follows us all year long, and the consequences may be more far-reaching than we think. Though declines in teachers' health and students' academic performance are among the major consequences of teacher burnout, the emotional intelligence of our students is also at stake.
The stressors facing K-12 educators might seem benign, or even shared amongst the general population, but the research says otherwise. In a 2012 Gallup report, K-12 teaching tied with nursing as the most stressful professions in the United States. The report also found that nearly 70% of teachers are not engaged in their jobs, with more than half of those surveyed being "not emotionally connected to their workplaces" and a smaller but sizable subset being "actively disengaged." Though the researchers note that teachers' level of "active disengagement" is actually slightly lower than that of the general U.S. working population, teachers face the unique emotional burden of seeing how their own disengagement may impact their students.
A 2016 study conducted at Penn State University identified four major sources of teacher stress:
Lack of a supportive, collegial environment from top down
Escalating job demands related to high-stakes testing and student behavioral problems
Limited compensation and resources essential to preserving teacher agency
Lack of support for developing the social and emotional competence necessary to cope with the demands of the job
Though much has been written about the effects of teacher stress on students' academic performance, we must also be concerned with the consequences for students' emotional intelligence. One key component of emotional intelligence is empathy which, as Dr. Judith V. Jordan explains in Relational-Cultural Therapy, is a complex skill that "allows us to 'know' (resonate, feel, sense, cognitively grasp) another person's experience." And more than an academic abstraction, empathy is actually essential to the act of teaching. Drs. Jordan and Harriet L. Schwartz explain: "Empathy that produces change and growth in both people goes far beyond a warm and fuzzy feeling of closeness or being understood. It is the vehicle for deep learning and acknowledgment of the power of relationship."
The problem is that we're not all able to feel empathy all of the time, especially when chronically stressed. And teachers, with their peak levels of stress and crucial roles, are of particular concern. In "Radical Empathy in Teaching," Jordan and Schwartz insist that though teachers do not like to imagine themselves as people who struggle to empathize with their students, "empathic failures and disconnections are undeniably part of the human experience." Despite the barriers that teachers face, the authors assert that "[p]racticing and modeling self-care and self-empathy is not only important for our students but also for our own well-being."
Since 1976, Facing History and Ourselves has been committed to helping teachers deepen students' capacities for empathy and upstanding behavior in the face of phenomena ranging from school bullying to hate-driven violence. And we do this through industry-leading curricula and pedagogy designed to drive these outcomes. And yet, we acknowledge that modeling the empathy and upstanding behavior we want our students to exhibit can be hard when teachers are, themselves, running on empty and feeling chronically unsupported in their own workplaces.
Try these evidence-based strategies to access more empathy in the classroom or help your teachers deepen their emotional engagement with students:
For Teachers
Jordan and Schwartz recommend the following three steps to teachers when they experience disconnection and lack of empathy in the classroom:
Notice (and name the feelings arising within you)
Pause (and reflect about the drivers of disconnection in you)
Reconnect (after finding empathy or resonance with the student)
Facing History recommends our "Creating a Classroom Contract" lesson from our Back-to-School Toolkit for building an inclusive classroom culture with empathy at the center. Additional strategies recommended by Jordan and Schwartz are consulting confidentially with a trusted colleague, exercise, and meditation.
For School Leadership
Given significant barriers to educational reform at the national and state levels, Gallup researchers urge local and school-level leadership to do what they can to address teachers' needs. Education advocate and Gallup researcher Dr. Shane Lopez recommends the following steps for school leadership eager to combat teacher disengagement:
Help teachers feel valued by soliciting (and implementing) their feedback on curriculum, pedagogy, and scheduling.
Build morale by devising opportunities for the most engaged staff to collaborate on student-centered projects.
Help the most disengaged teachers rediscover their passion for teaching through continuing education away from the classroom (and eliminate barriers to engagement before they return).


Facing History and Ourselves invites educators to use our free Back-to-School Toolkit—a one-week unit designed to develop social-emotional skills and build a supportive classroom culture during the first days of a US History course.