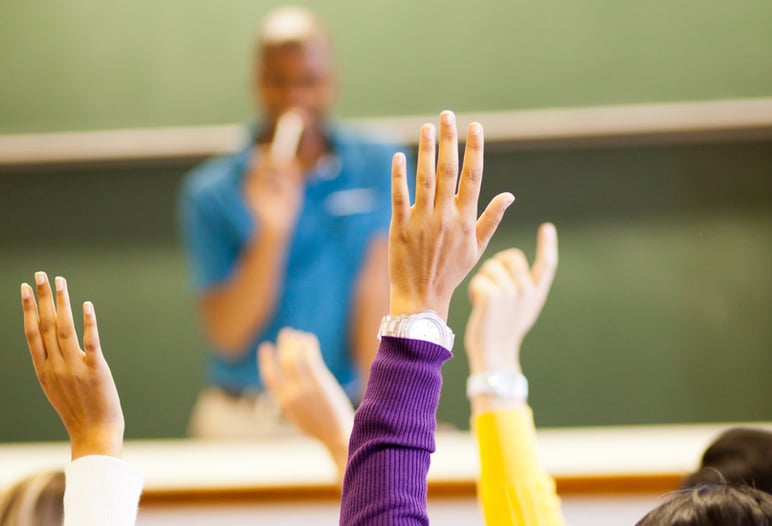 As February and Black History Month draw to a close, educators' opportunities to teach Black history will continue throughout the year. Below, a multiracial group of Facing History teachers from around the U.S. share their thoughts on Black History Month, weigh in on how they approach teaching Black history, and share some of their cherished classroom resources.
Do you engage Black History Month in the classroom and why or why not?
"While I do engage in Black History Month, I feel it is very important that students understand that Black history is American history. I think Nikki Grimes said it best: 'Black history is American history. February is just the highlight reel.' One of the methods I use to include Black history into my English Language Arts class is to have students participate in a Black Poetry Project where they research Black poets throughout history (1700s to current-day poets), choose one who inspires them, and write a paper that includes a biography, chosen poem, and analysis of that poem."
- HM, New Jersey
"Even though I understand the why of African American History Month, I look forward to the day when the telling of America's story will be inclusive enough so that we will no longer have to rely on a month in February to ensure that our story gets told. I also look forward to the day when African American History Month will become a month to merely recognize and celebrate Black excellence, not a month when a separate history is taught. Since African American History is American History, to separate the two gives the impression that other Americans were doing one thing while Black Americans were doing something else. Hence, it looks as if there are parallel histories here in America. From here, it can become easy for many white folks to believe that since African Americans have a history that is different from theirs, America is not their country."
-GG, Ohio

"Most of my approach with teaching U.S. History is me incorporating lots of Black History in the course because Black History is American History. During the Month of February, I engage Black history by providing daily Black History Trivia and will have classes compete with one another for a prize (a pizza party). This year, students were given the opportunity to create some form of art that represented or symbolized why black history mattered to them. Students were able to make videos, posters, poems, songs, or a written piece." -DB, Tennessee
"I do engage Black History Month in the classroom—my middle school has made a commitment to Black Lives Matter at School curriculum which we use in our advisory lessons. We've also made a commitment this year to center BIPOC stories and voices in our Humanities classes so Black History Month fits into what we are doing throughout the year. It's important to me that students understand that we talk about the contributions of Black folks in every unit and every month so that they understand how integral Black History is to American History." - TG, New York


Are there favorite texts, films, other pieces of media, or practices that you find yourself returning to again and again as you teach Black history?
"Gloria Naylor's 'The Meaning of a Word,' The Lunch Date, and lots of images from the Race and Membership journey. Images, especially the virtual school world, are so powerful and engaging for my students. If I were in person, I'd do gallery walks..." [Note: Use this Facing History teaching strategy to conduct virtual gallery walks]
- KW, Ohio

"One of the activities I absolutely love to use involves the analysis of King's 'I Have A Dream' speech and John Lewis' 'Patience is a dirty and nasty word' speech, both given on the same day, the same stage. After doing a close reading of each text and viewing the speeches, they complete a Soapstone graphic organizer and then write a comparative analysis of the two speeches." - HM, New Jersey
"The text that I would use repeatedly would be the 1619 Project essays and the Equal Justice Initiative reports. I used and would continue to use Eyes on the Prize and documentaries about redlining." - GG, Ohio


Are there any particular FH resources that have been especially helpful in this endeavor?
"I use parts of the Eyes on the Prize unit, and the 10-week-long digital lounge group on this topic that I participated in over the summer was also very helpful. I have also used the lesson, Dr. King's Legacy and Choosing to Participate as a follow-up to the work on King and Lewis." - HM, New Jersey
"I am partial to the Literature-related resources provided by FH because they are so clearly organized and make instruction meaningful and thorough... I also appreciate the workshops available because the consistency of the meaningful information is valuable… One knows she or he will leave with something that can be applied in daily practice."
- MG, Ohio
"Facing Ferguson is a unit I have been using for the last 4 years in my classroom. This year, I used The History of Slave Patrols, Black Codes, and Vagrancy Laws for the first time. My students found it really interesting and I plan on using it next year. Understanding #TakeaKnee and Athlete Activism is also something I use because many of my students are athletes." - KW, Ohio
"I've been especially impressed with the resources Facing History has created over the past year and I use ideas from Facing Today to help guide my lesson planning. We will be doing a mini-unit on slavery in the early American Republic soon and I plan to use the How Did We Get Here?: Policing and the History of Racial Injustice resource."
- TG, New York
--

Facing History invites educators to use our Black History Month Resource Collection in the classroom this February and throughout the year.