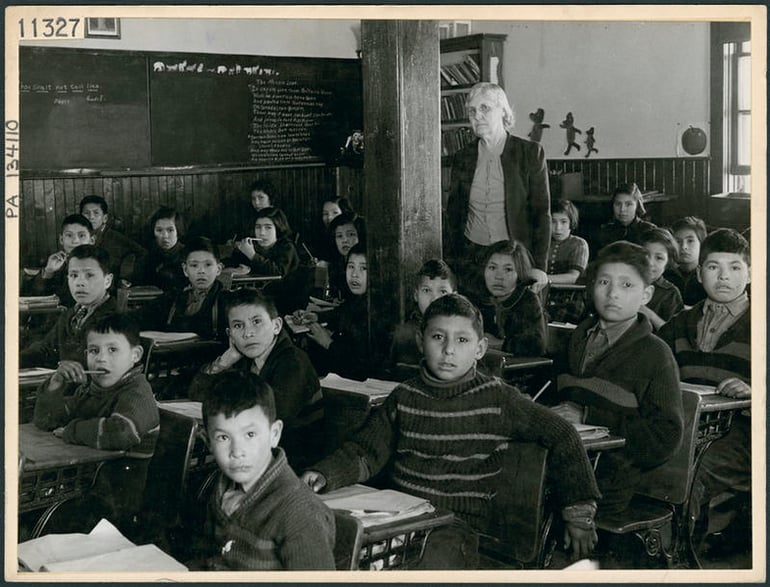 Photo Caption: Cree students at their desks with their teacher in a classroom, All Saints Indian Residential School, Lac La Ronge, Saskatchewan, March 1945 (Credit: Bud Glunz / National Film Board of Canada. Photothèque / PA-134110).
In a recent interview, I had the opportunity to speak with Jasmine Wong—Senior Program Associate for Facing History Canada—about her team's groundbreaking work on their case study and curricular program Stolen Lives: The Indigenous Peoples of Canada and the Indian Residential Schools. In this conversation, she discusses the origins of this offering, the wins and challenges her team has encountered while executing this work, and takeaways that educators beyond Canada can consider as they explore how to address settler colonialism in their own contexts.
KS: How would you describe the genesis and evolution of Stolen Lives?
JW: We have to go back 10 years ago to the beginning of Facing History's Canada office. Leora Schaefer, who now serves as our Executive Director, was delivering a workshop and outlining Facing History's approach to teaching history. She paused to ask if there were questions - and typically there are none. This time, a courageous woman raised her hand and said, "How dare you call yourselves 'Facing History and Ourselves' and not have any resources that look at our history?" So the genesis of the resource was this question posed by a First Nations educator from Curve Lake and, simultaneously, we began to ask "what is going to anchor us to our own history?" This educator's question really forced us to look at the history of colonization here in Canada.
Leora began building relationships with First Nations and Métis educators and scholars, and deepening our understanding of the history. Early on in the development of the resource, she was introduced to residential school survivor Theodore Fontaine whose teaching and encouragement helped her continue developing the resource. What started as a narrowly focused resource on the Residential Schools that was to be focused on language, language loss, and language revitalization—a phenomenon we now call "linguicide"—in Canada became a different resource as we realized that you can't just tell the story of linguicide in Canada without telling a much fuller story of the history of residential schools. At the time, there wasn't really a resource for high school students that looked at primary voices and primary documents. Despite our concern that we may not be the right group to offer this work, Theodore urged us on and said "this is a resource that needs to be published. This is a history that needs to be told."
The way we now understand our place as a non-Indigenous education organization is that this history is our history; it's the history of Canada and Canadians so it is our responsibility to know it and ensure that the next generation of students knows it. Where it is not our role is to talk about Indigenous cultures, stories, knowledges, and ways of knowing and thinking. For this, we have to turn to those authentic voices, and this has always been the common thread as we have published Stolen Lives: how do we build enough contextual history so that students can encounter those primary voices themselves. And so we continue in that vein of partnering with Indigenous elders, knowledge keepers, scholars and educators to ensure that those questions and stories are coming from appropriate sources.
And yet, when we look back on this process with what we know now, we know we could have done things differently. As we work on new resources, one of the things that we have really worked to be mindful of is starting with partnership and really working with those partners throughout the writing process. So it is an exercise in relationship building, trust building, asking where our place is, and offering our voice but always in partnership and fully in collaboration with Indigenous educators who are guiding our work throughout.
KS: How has your team navigated the difficulties inherent in challenging non-Indigenous educators and students to confront histories of colonization and violence?
JW: It's always hard to know where our place is in talking about a history that isn't "our own." Our colleague, Steve Becton, advised us to start every session by talking about our hopes and fears for our students learning these histories. We de-center ourselves and we focus on why it is so important that this history is taught. And for so many educators, it's also about recognizing the story of colonization in Canada, and residential schools is a story and a history and a truth that many of us didn't ourselves know. And learning this history - it's not about getting stuck in guilt or anger, it's about claiming the responsibility to move toward greater justice. It's about seeking reconciliation, seeking a different relationship between Indigenous and non-Indigenous people in Canada.
In surfacing our hopes and fears, it also makes space for Indigenous educators who have been harmed and silenced by the system to say what their fears are, which may be "I fear that my story will be appropriated, that what is taught will not be reflective of the strength and resilience and the diversity and joy of Indigenous people."
There have been seminars where the guest speakers have been really angry and where our relationship with the speaker enables us to acknowledge the validity of those emotions, but also address that non-Indigenous educators are feeling shut down. When the speaker then elaborates, "this is where I'm coming from; this is why I'm angry. It's not to shut you down. It's because of the experiences of injustice that are ongoing in my life," it helps educators contextualize, empathize with and depersonalize those emotions. The intent is not for educators to carry guilt and be burdened by that guilt such that they can't teach anymore, but rather for us to work through that guilt if we should have it and think instead about our responsibility for change.
KS: What responses have you gotten from students and educators to Stolen Lives?
JW: We've had such incredible responses. I think the large majority of educators and students are excited to create change once they learn this history. Many educators feel betrayed or angered that they didn't know and weren't taught this history. They are curious and motivated to change the way their schools look and to partner with Indigenous educators who add a whole new dimension to their learning practice.
A couple years ago, we ran a project that brought together students who had studied Stolen Lives to hear contemporary testimony from Kim Wheatley, Shkoden Neegaan Waawaaskonen, whose parents had attended residential schools. She shared a personal story from her youth; as a young person going through thirteen different schools in Southwestern Ontario, she felt a lack of belonging and place of shame about her identity. The students who heard her testimony were so empathic. Stolen Lives prepares educators and students to recognize that histories have legacies, and invites us to always be thinking about where our agency is today. So when students heard Kim's testimony, they could make the connection between the history of residential schools, and the legacies of erasure in classrooms and schools today. They heard Kim's testimony and said "let's think about how we can create change." How can we hear this story and recognize its resonance today and work with Indigenous knowledge keepers and elders to create visible signs of change, places of welcome? How can we invite Indigenous educators and community members to work with us to decolonize and re-Indigenize our schools?
KS: What insights would you share with educators outside of Canada who are interested in confronting their own nation's histories of settler colonialism?
JW: I would say that for non-Indigenous educators to be courageous and to begin learning the history from Indigenous voices and scholars, and then when you're ready to start creating change, reach out and be in relationship because meaningful relationships are necessary to ground, sustain and guide that change. And when you teach the history of colonization, we should keep close the words of abolitionist educator Bettina Love, who teaches that "there has to be love and strength and resilience" as part of all these stories. I think, too often, when we teach difficult histories, we focus on the pain and the suffering that have happened because it often motivates us to seek justice and recognize the impacts of history and contemporary injustices. But we can't do that at the expense of offering a full picture of the humanity of any group of people...that there can be pride in identity. Part of our role as equity-minded educators is to create courageous spaces where students can be curious about, and can express their cultural and ancestral identities. If we don't do that, we are reiterating the past wrongs. We are continuing to silence and victimize young people who deserve to be able to celebrate their full selves.
For Indigenous educators or Indigenous students, I hope our story encourages hope that change is possible, that there are non-Indigenous people who see injustices and want to walk alongside; who want to do better. That we will make mistakes, but we will fall forward because we know that the world will be a better place when there is an equal recognition of what a diversity of knowledges, languages, voices, and histories brings for all of us.
--
Facing History and Ourselves invites educators to explore Stolen Lives: The Indigenous Peoples of Canada and the Indian Residential Schools.