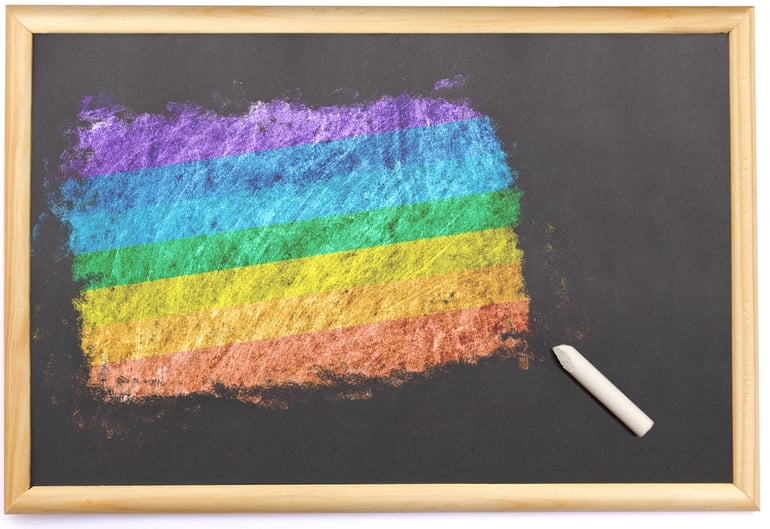 In a recent interview, I spoke with educator Emily Haines—teacher and literacy coach at the Laboratory School of Finance and Technology in the South Bronx. A founding teacher at the Facing History School in Manhattan, Haines discusses her experience being an out lesbian, white, middle-class teacher over her 22-year career, as well as approaches she recommends to LGBTQ educators she coaches and how she deploys intersectional thinking to support members of her school community.

KS: Can you tell us about what first inspired you to get into teaching?
EH: I always tell my kids the story of why I became a teacher—that I started out studying math and physics and then realized that what I really wanted to study was why our society got so screwed up and what we can do about it. I grew up in the Bronx and it was really clear to me sometime in elementary school that my teachers looked at me like I was smart and capable because I looked like them and spoke like them. Students in my school were tracked and some of my really good friends got moved into lower tracks so I assumed that was because the teachers didn't think they were as smart as me. And I was like, "Just because they don't look like you or they speak with accents, it doesn't mean that they're not super capable and talented." So that was really what inspired me to get into teaching, not just the desire to give kids the tools that create change in their own lives, but the desire to also address the systems of oppression and injustice that exist.
KS: Can you talk about how you identify in terms of your sexual orientation and gender identity, and share some preliminary thoughts about what it's been like to navigate your teaching career with these identities?
EH: I identify as a lesbian and I'm married to my wife and we have a six-year-old son. Since I first started teaching, I've been very lucky to have administrators and students in my schools who have been very supportive. My first three years of teaching were in San Francisco and in my first year of teaching, I was at a really big high school where there were a number of other lesbian teachers. When you're reading stories about teachers who are being fired because of their identity or facing other significant challenges, I'm always very conscious of my privilege, especially being white and middle class. That gives me a responsibility to try to change things and try to help people be aware of the systems that are in place. So as I've become a coach of teachers, it's been very important to me to make sure that I'm creating spaces where teachers can be themselves. And I've had a number of teachers that I mentor or coach who have been gay or lesbian. I think that's that idea of just being really honest about who I am, whether it's being white or middle class or queer and using that honesty to create space for other people to feel comfortable being who they are, whoever they are, is what's most important to me.
KS: How do you advise your LGBTQ teachers to navigate coming out in the classroom?
EH: I think it's so important that teachers make their own decisions about when and whether and what to share with their students and their administrators and their colleagues. And that those decisions are respected, whatever they are. I think sometimes in the queer community, there's been pressure on certain people, whether they be celebrities or teachers or whoever, to come out to make things better for everyone else. And I think that's totally inappropriate. The most important thing is that we respect that everybody's situation is different. As Facing History's slogan says, "people make choices and choices make history"...and some choices people have made in history have had really bad consequences, but we also can't judge the choices that people make to protect themselves. And we can't ever judge anyone for not putting their lives on the line; that's not a reasonable or a realistic expectation of anyone.
And yet, it's personally important to me to be honest about who I am. I think about an article a few years ago in Teaching Tolerance called "Don't Say Nothing" and it was about the killings of African Americans by police and by vigilantes. It said that if teachers come into class the next day and we're silent, that silence speaks volumes. And so whatever it is, whether it's being honest about who we are, or being honest about what's happening in the world, our silence can be really damaging. Even in my own life, there have been a lot of times when it's been more important for me to name injustices that are about race, class, and gender than about sexual identity, just because you can be queer like me and still have a ton of privilege. And a lot of people, even in the marriage equality movement, were people who had a ton of privilege and if we're not talking about the issues in this more nuanced way, then we're not being honest about what's happening. There are so many other things that need to happen to facilitate real equality, especially for people of color and women of color who experience intersectionality in ways that give them different choices than I have, for example. I think it's important for teachers to talk about these things with kids.
KS: Can you recommend strategies for supporting LGBTQ educators and strategies that LGBTQ educators can use to support themselves?
EH: I think a challenge that every teacher faces is answering the question: "How do I deal with life and be the best human being I can for these kids in front of me?" Teachers need that space to be a full human being. For example, one of the queer teachers I mentor went through a really rough breakup last year and he was comfortable going through that with me. I don't know that he would have felt comfortable if I wasn't who I am. There isn't enough support for teachers generally, much less for those who are LGBTQ-identified or teachers of color. I think that people who support teachers need to be aware of those things because we can't be the best for our kids if we don't feel supported as whole human beings...and if the ways that things are different for us are not acknowledged.
I always say that part of why I love teaching is because it's the most challenging thing I could think of doing with my life. It's intellectually challenging, it's emotionally challenging. It's like there's nothing that I could do that would challenge me to be a better human being every day than this. And sometimes it's helpful to process those challenges that we face in the classroom each day through writing. This year before school buildings closed, I was getting to school at about 6:15 in the morning and so I would sit in my car and meditate for 10 minutes before I walked into the building and that was really helpful. When I was teaching all day, there was a lunch period and I always had kids in my room at lunch to support them. And this is a really silly self-care thing but I realized one day that if I put my feet up on something, even while I was interacting with kids, that just helped a whole lot.
KS: How do you balance exposing students to broader structural inequities and nurturing a sense of possibility?
EH: My kids used to write these cover letters at the end of this world history class that I taught where I asked them: What did you learn? What did you learn about yourself? And this one kid quoted back to me that I said "I'm going to teach you how and why our society and our world is so messed up." ...I think Facing History really helped me in thinking about making sure that we also focus on the upstanders and the ways that people create change, both large and small. That even in the little things you do day to day, those actually aren't little things. Those are huge. And so that's an important part of how and what I teach—I'm thinking about the injustices, but also thinking about what people do about it, whether it's through literature or through history. And thinking about what are the lessons that we can then take away for our lives and always having it come back to the kids themselves.
Our 11th graders last year wanted to have a spirit day and our principal is very restrictive about dress code but they came up with this really great proposal where they were going to get their classmates to wear t-shirts of the different colors of the rainbow for Pride Month and then line up to take a picture. And I was like, "How are they going to get all the 11th graders to go along with this?" You know teenagers, they do what they want. But they did it, and it was so beautiful because it was something that was completely of the student's creation. I was like, "Wow, kids do the most amazing things." And they're really such an inspiration. And when we let them express themselves and really listen to them, it's incredibly powerful.
--
Facing History and Ourselves invites you to use our lesson "LGBTQ History and Why it Matters" in your physical or virtual classroom.