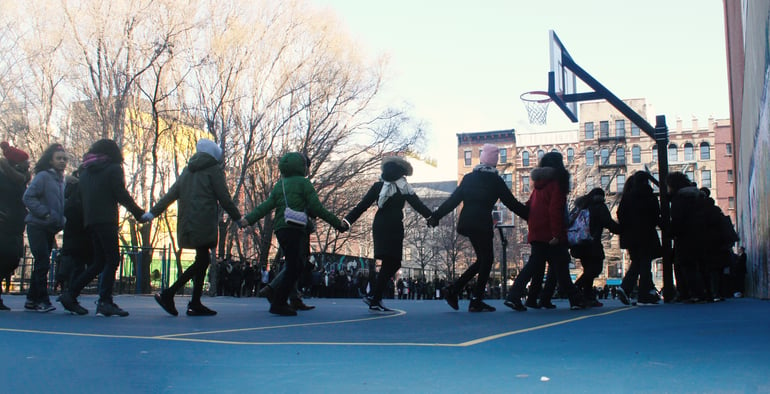 This Saturday, students from across the nation will join the March For Our Lives in Washington DC while others gather at regional marches to demand their schools are safe places to learn. This includes protesting for changes in gun control laws. The march comes after the national walk out from schools one month after the Parkland, Florida shooting. At Facing History, we continue to be impressed by the display of civic engagement from these young people. Our hope is that all students feel empowered to find their voice and use their voice in a way that brings positive change to their communities, no matter what the issue is.
As the news of Parkland unfolded, many of us were not expecting a movement of such magnitude to form. As it coalesced, teachers began to see a real-life civics lesson materialize right in front of their eyes. But when the lesson happens in real-time, it can feel unpredictable, because, well it is.
As the movement progresses, there will be a multitude of complex perspectives and cultural nuances students will be forced to consider and to interact with when it comes to gun violence in the United States. What's important is that they use their energy to exercise the important democratic values of civil discourse and civic engagement. But in order to help them do this, teachers need to feel equipped to support them.
That's why we brought you two new lessons, "After Parkland, Students Choose to Participate," and "Youth Taking Charge! Placing Student Activism in Historical Context." We also brought you different perspectives of teachers like you who are exploring the impact of violence along with reflections from civil rights activists on today's movement, and the voices of students who are participating.
Also try these other great resources you can turn to:
Nine Ways to Help Students Discuss Guns and Violence - Laura Tavares, Facing History's associate program director for staff development shares her expertise with Greater Good Magazine.
Youth In Front - this community-created online resource for youth activists and allies provides a diverse array of beliefs about public policy, the tactics and strategy of protest, and how adults can best and most appropriately support students.
In many ways, this is more than just about Parkland. Teachers will need to commit to civic education as a continuous lesson that can position students to understand how to move from protests to lasting change. We may not know the twists and turns that will come but with the right skills, tools, and resources, we can all help guide our students who are in the process of making history.
As you discuss this movement, and other difficult topics, with your students, consider using our resource, Fostering Civil Discourse: A Guide to Classroom Conversations. It will prepare you to create a safe and reflective classroom where students learn to exchange ideas and listen respectfully to each other.