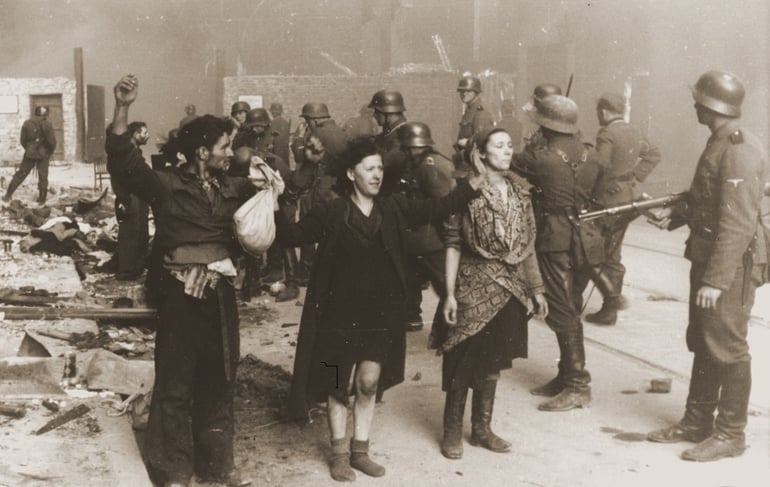 What does the word "resistance" mean to your students? When we look to examples of history, we can see that resistance comes in many forms. As students strive to make sense of challenging histories like the Holocaust, understanding acts of resistance can provide perspective on the choices individuals made even when options were severely limited. While many of those persecuted by the Nazis lacked meaningful choices, others were able to resist physically and spiritually, by taking up arms in some cases, or striving to preserve their own dignity in others. Here are three examples of resistance during the Holocaust that you can use to jumpstart discussions in your classroom.
Unit: Resistance During the Holocaust: An Exploration of the Jewish Partisans
During the Holocaust, there were approximately 30,000 Jews actively involved in partisan resistance groups in 10 countries throughout Europe. Jewish partisans were often young women and men who escaped ghettos and camps and fought in predominantly non-Jewish, but occasionally in all-Jewish, partisan groups. Fighting back meant different things to different partisans. Some set their primary goal as saving Jewish lives; some hoped to slow down the Nazi assault in preparation for an Allied attack; others fought in the name of honor, justice, and revenge.
Featured Collection: Music, Memory, and Resistance During the Holocaust
Music continued to be a part of Jewish life even during Nazi oppression and under appalling living conditions. While some individuals and groups resisted Nazi tyranny by taking up arms, many others resisted using "weapons of the spirit," including music. For some, music became a spiritual and physical defiance during the Holocaust.
Reading: A Basic Feeling of Human Dignity
While all prisoners in every concentration camp were subject to extreme hunger, deprivation, torture, abuse, and often death, their specific experiences varied widely because of the large number of camps and the variety of purposes they served. For some, like Hanna Lévy-Hass, a Yugoslavian teacher imprisoned in the Bergen-Belsen concentration camp in Germany, they tried to restore the loss of human dignity by keeping religious and cultural traditions alive, especially for the children. Her diary entries in 1944 reveal the types of activities she tried to implement and shed a light on a more subtle form of resistance.
These three examples provide a diverse look into the many forms resistance can take but there are many more. Help your students think critically about resistance throughout history by prompting them to consider the context of each act of resistance: What options were available to individuals at the time? What options weren't? By understanding the range of options available to people during a given time, we can better assess what it means to resist, what was at stake, and the ultimate impact of the choice to resist.
Help your students understand what resistance meant to Jewish partisans with our lesson, "Understanding Resistance." Part of our unit in partnership with the Jewish Partisan Educational Foundation, this lesson provides students with the background to understand, identify, and investigate the stories of the partisans and the choices they made.