Facing History and Ourselves is exploring "What Makes Democracy Work?" in conversation with people whose insights from history, politics, literature, and civic life help us consider what it takes to sustain democracy in our societies today. In the first installment of our series, we spoke with Ben Railton, Professor of English Studies and American Studies at Fitchburg State University in Massachusetts who tells us about two enslaved people who successfully sued for their freedom in the early years of the American republic.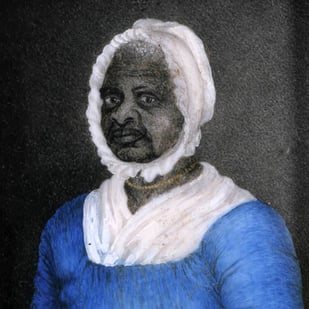 In this 7-minute podcast, Railton shares the surprising stories of Elizabeth Freeman (also known as Mumbett) and Quock Walker to illustrate his idea that democracy works best when individuals lay claim to a nation's laws and ideals to assert their own rights and freedoms. Listen and join us on social media with #DemocracyAndUs to share your response: How do these stories resonate in our world today?
Want to use stories like these in the classroom? Explore our new lesson plan, "Taking Ownership of the Law," which asks, "How can individuals use the law to claim their rights within a democracy?"
Photo Caption and Credit: Mum Bett, aka Elizabeth Freeman, aged 70. Painted by Susan Ridley Sedgwick, aged 23. Watercolor on ivory, painted circa 1812. Photo courtesy of Massachusetts Historical Society, BostonPublic Domain, https://commons.wikimedia.org/w/index.php?curid=11809996