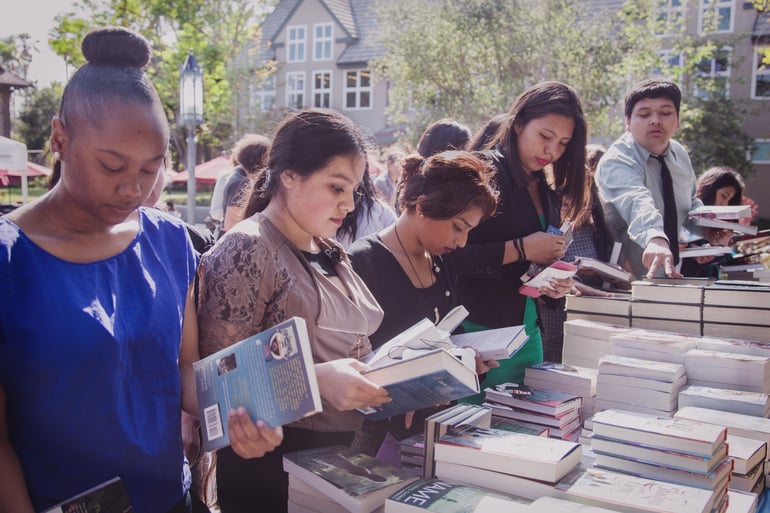 The right book can bring a school community together. That's why we encourage whole-school reads. The book itself will offer a powerful theme, an inspiring character, or a memorable moment that can bring everyone together and help students and teachers strengthen their bond as a community. The process of reading and discussing the book as a school builds shared understanding, reference points, and memories. They even help open up difficult conversations. Even though this school year is winding down, consider how you can organize a whole-school read for next year by checking out these 10 easy steps!
Identify project leads. Who has the required creativity, organizational skills, and follow-through?
Define your goals and audience. It may only take 10 minutes, but it's invaluable!
Select the book(s). Here's an opportunity for broad involvement—or the curatorial wisdom of your librarian or an experienced teacher. Would you consider memoirs or non-fiction?
Establish the reading timeline. Is this a summer read for discussion upon the start of the school year? Or a great winter read? Is there time during the school day for reading? For schools that already embrace a Drop Everything and Read (DEAR) practice each day for 10-15 minutes, students could opt to read the chosen book.
Determine logistics for ordering and distributing the books. How many books do you need and how much will it cost for purchase and shipping? Is it possible to borrow a class set of books?

What is your school's standard process for distributing books (e.g., book numbers)? Or, is there a generous benefactor willing to give the books to the students?

Write a letter to parents. Why was this book selected? Provide a plot summary and identify issues and themes, as well as a little background on the author. How might parents read the book with their child? Offer some discussion questions for parents.
Assemble resource packets for teachers and student leaders. Include the reading timeline. Suggest activities (identity charts; sections to read aloud; scenes to enact; discussion questions, passages for close reading; connections to other texts, themselves, and to the world; predictions; trivia questions with answer key; and other contests/games).
Prepare the teachers and student leaders. The expectation is that all of the discussion leaders will have read the book before this training. Engage them in some of the activities so they can more readily replicate them with their own reading groups.
Design a whole-school activity. Hold an assembly with students sharing their thoughts and work. Invite guest speakers from the community. Take the whole-school to the movies. Ask reading groups to dramatize a scene from the book.
Reflect on the whole process. Survey students and faculty for insights into how the book affected them personally. Ask for suggestions for other books and for improving whole-school reads the next time around. Share with the reading group leaders: Did the school meet its goals of the whole-school read?
Need inspiration for a whole-school read? Consider our free whole-school read planning guide for the book, Wonder. This guide provides direction on how to structure classroom discussions and includes pre- and post-reading activities. It also features a "write your own precept" template for use in a final school-wide activity.