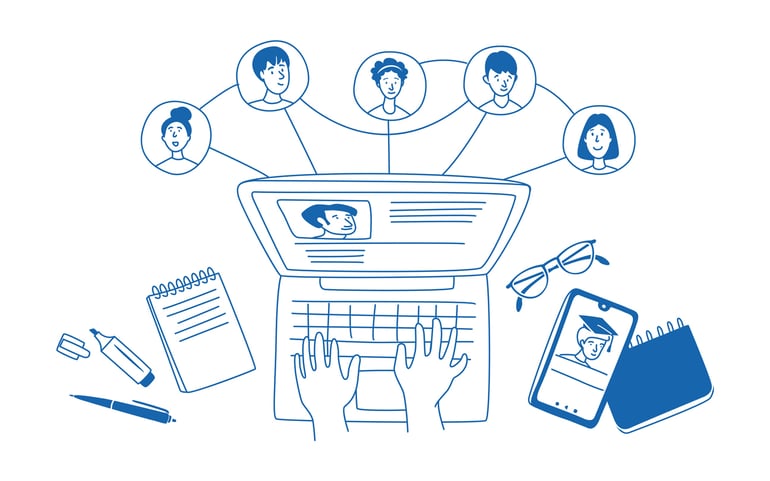 A year into the COVID-19 pandemic, we know that many educators are continuing to teach partially or fully online, even as more schools in the United States are slowly shifting towards in-person learning. Hybrid and remote teaching requires educators to navigate new ways to connect with students during an immensely challenging and uncertain time in our communities, when students' (and teachers' own) social-emotional needs are just as critical as academic goals. We have adapted a collection of teaching strategies to support online learning, with a focus on sustaining community, supporting students, and creating engaging, meaningful learning experiences.
Assigning Roles for Group Work (Remote Learning)
When students are learning remotely, it is especially important for them to have clearly defined roles and tasks to guide their group discussions when they are learning remotely.
Identity Charts (Remote Learning)
Identity charts are a graphic tool that can help students consider the many factors that shape who we are as individuals and as communities. Use identity charts to deepen students' understanding of themselves, groups, nations, and historical and literary figures.
Gallery Walk (Remote Learning)
Use this strategy to offer students a way to share their work with each other, build class community, or introduce students to new sources.
Big Paper (Remote Learning)
Use this strategy in remote settings to help students explore a topic in-depth, slow down their thinking, and focus on the views of others.
Contracting for Remote Learning
Contracting is an effective strategy for building a reflective and respectful community, especially in remote or hybrid learning environments.
Graffiti Boards (Remote Learning)
Use this strategy in remote settings to help students "hear" each other's ideas and gives them space to process emotional materials.
Journals in a Remote Learning Environment
Consider how you can bring a practice of student journaling into your remote or hybrid classrooms.
Learn to Listen, Listen to Learn (Remote Learning)
Designed for remote settings, this discussion strategy is especially useful when having conversations about controversial topics.
Save the Last Word for Me (Remote Learning)
Use this strategy in remote settings to facilitate online small-group discussions where students practice speaking and listening.
Wraparound (Remote Learning)
Use this strategy in remote settings to invite all students to share brief responses during a synchronous session or asynchronously.
Taking Found Poems Online11 Strategies for
This strategy helps students review material and synthesize their learning by creating a found poem.
--
Facing History and Ourselves invites educators to access our featured collection Support for Teachers During the COVID-19 Outbreak. Go there to find an ever larger array of resources for remote learning, community connections, and engaging conversations about this complex moment.