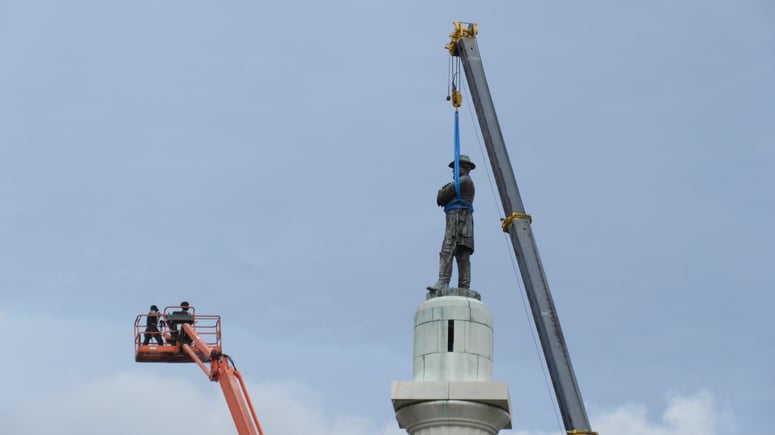 Up until late last May, the bronze statue of Confederate General Robert E. Lee, was featured prominently in the center of Lee Circle in New Orleans, Louisiana. Now, the nearly 60-foot column it rested upon is bare and empty after the city removed the last of its Confederate era monuments. Sparked by Mayor Mitch Landrieu after the 2015 massacre of nine black churchgoers in Charleston, South Carolina, the effort to remove these monuments has ignited emotionally charged responses and debates all across the country: Are we erasing the past by removing them? Or are we upholding legacies of racism and discrimination by keeping them?
An ongoing dialogue has revealed three important perspectives from this controversy.
Mayor Landrieu defended his decision to remove the monuments in a recent speech:
"These statues are not just stone and metal. They are not just innocent remembrances of a benign history. These monuments purposefully celebrate a fictional, sanitized Confederacy; ignoring the death, ignoring the enslavement, and the terror that it actually stood for...
This is ... about showing the whole world that we as a city and as a people are able to acknowledge, understand, reconcile, and most importantly, choose a better future for ourselves making straight what has been crooked and making right what was wrong. Otherwise, we will continue to pay a price with discord, with division, and yes, with violence."
Meanwhile, Alabama Governor Kay Ivey argued to preserve Confederate statues and monuments, recently signing into law protections for them. Giving the rationale for this law, Senator Gerald Allen, who sponsored the bill, stated:
"Contrary to what its detractors say, the Memorial Preservation Act is intended to preserve all of Alabama's history—the good and the bad—so our children and grandchildren can learn from the past to create a better future."

Then, there's a third argument: Others suggest adaptations with contextual information, framing the event as it was understood then and as it is understood now. Charlottesville, Virginia Mayor Michael Signer suggests:
"Reimagining our parks by building new monuments as a powerful counter-narrative to their Jim Crow-era celebration of the Confederacy—neither forgetting the past nor accepting its grasp on our present and future."
So what role do monuments and memorials play in the way we think about history? The answers will require deep and meaningful reflection about the dark legacies of race and equality brought about by the Civil War and the ensuing Reconstruction era. This debate surrounding Confederate monuments has the potential to push Americans to do just this. Discussing how we understand and memorialize history is a crucial part of Facing History's exploration of difficult pasts and how we connect with them today. If we look back—from slavery to the Reconstruction era to Jim Crow segregation, to the Civil Rights Movement, and even to the Black Lives Matter Movement today—we can see the persistent challenges of race and racism in our society.
We ask teachers and students to grapple with these issues. You can use the different viewpoints above to guide your discussions in the classroom, or at home with your own children. The important thing is to face these societal tensions and come to an understanding about how the past shapes who we are as individuals and as a nation so we can work to move forward together.
Here are more resources to explore this topic:
Explore our featured collection, Reconstruction and the Fragility of Democracy, to engage your students in a discussion about the legacies of slavery and Reconstruction and the ideas surrounding citizenship and democracy in the United States today.
Photo Credit: By Infrogmation of New Orleans - Own work, CC BY-SA 4.0, https://commons.wikimedia.org/w/index.php?curid=59237771
[Please note: An edit was made to an earlier version of this post on June 5, 2017.]