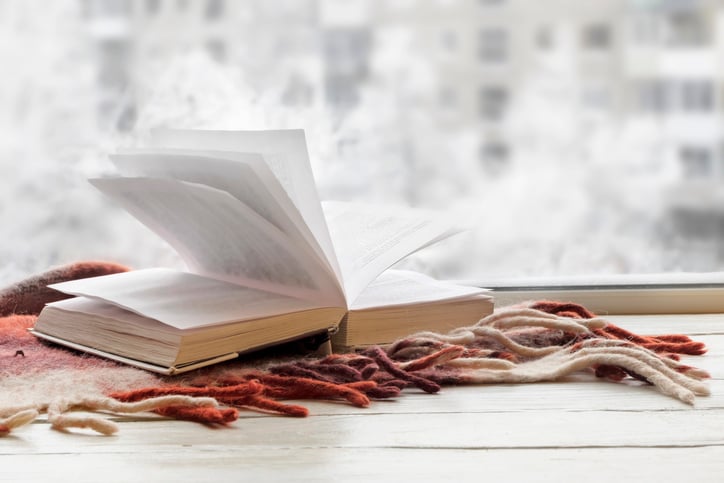 Studies have shown that reading, particularly memoir and fiction, can increase a person's ability to empathize with the experiences of others. Reading diverse books matters, and can educate and transform us in important and lasting ways. This group of books highlights several different voices and lived experiences. We hope that you are able to find yourself and others in these books.
Heavy: An American Memoir by Kiese Laymon.
Recommended for readers 15 and up.
Heavy is about the weight that we carry, literally and figuratively. It is about the relationship between our emotions and our bodies, ourselves and others, and the power of people to think that they can define us because of what they see on the outside, particularly if we are black in America. Laymon writes with incredible honesty and clarity about the gifts and challenges of coming of age as an African American man in Jackson, Mississippi. His mother, a brilliant college professor and exacting parent, pushed him to develop his writing skills, and to excel academically in order to be twice as good as his white peers. However, this push to excel and be better was not without costs to Laymon, nor his mother; and this is where the memoir, well, excels.
The complexity of Laymon's mother's fierce love, and her drive to make him the best he can be sometimes results in controlling or even abusive behavior. However, we understand her actions are driven by her urgency to ensure her son's safety in a society that might just as easily see him as expendable.
This beautifully written and painful memoir shines a light on the narrow range of choices that American society offers to parents of African American children, and the costs endemic to individuals and families in pursuing black excellence. In Heavy, Laymon speaks his truth to his mother, to America, and to the reader...and we are the better for it.
For resources to help students think more deeply about identity, check out My Part of the Story: Exploring Identity in the United States.

My Survival: A Girl on Schindler's List by Rena Finder and Joshua Greene.
Recommended for readers 11 and up.
Rena Finder was only eleven when the Nazis forced her and her family into the ghetto in Krakow, Poland because they were Jewish. Rena was forced into slave labor, and became increasingly terrified and hungry. After a time, Rena and her mother ended up working for Oskar Schindler, a German businessman who employed Jewish prisoners in his factory and provided them food and safety. But the worst was not yet over: Rena and her mother were then sent to Auschwitz, where their lives were in peril every day. In My Survival, Rena shares the extraordinary actions that Schindler took to save their lives, and the lives of many others.
Rena's compelling and personal memoir of tragedy and survival includes pictures from her personal collection as well as historical photos. Rena has spoken to students in Facing History classrooms for over 40 years, and continues to educate people about the Holocaust, and the dangers of hatred and bigotry.
Watch this short video to hear Rena talk about how young people can make a difference in today's world.

Tell Me Who You Are: Sharing Our Stories of Race, Culture, & Identity by Winona Guo and Priya Vulchi.
Recommended for Readers 14 and up.
This visually and emotionally engaging book features powerful photographs and edited interviews of 150 people from across the United States. Winona Guo and Priya Vulchi have captured the promise, hope and complexity of the lived experiences of a remarkable group of interesting, resilient and diverse residents of the United States.
Spurred by the realization that they had nearly completed high school without hearing any substantive discussion about racism, the two authors and activists deferred college for a year and embarked on a cross-country tour to collect first-person accounts of how inequity and racism play out in the U.S., and how it impacts those who experience it.
In Tell Me Who You Are, Guo and Vulchi show us that stories really do matter, and demonstrate the importance of listening to the people around us. They believe that listening to the stories of others is one of the first and most crucial steps each of us can take to help counter bias and inequity in American culture. By opening ourselves up to each others' experiences, we start to break down the barriers of silence, oppression and isolation.
For more information about the project that led to this book, read this about the authors.

They Called Us Enemy, by George Takei, Justin Eisinger, Steven Scott and Harmony Becker.
This book is recommended for readers 12 and up.
Although known for his role as Sulu in Star Trek, George Takei has continued to be an extraordinary real-world influencer because of his strong civil rights advocacy and support for democracy.
Now, in his graphic memoir, They Called Us Enemy, Takei shares the story of his family's incarceration during the internment of Japanese Americans during World War II. A United States citizen, Takei was only 5 years old when the government forced his family to leave their home and possessions and move to a concentration camp. The story alternates between Takei's perspective as a child and his perspective as an adult where he is able to convey a deeper understanding of how greatly his parents suffered as a result of their internment. One particularly poignant aspect of the story details how Takei's father maintained his faith in the democratic system, even as the American government failed him. The illustrations are well-done, and deepen emotional engagement with the experiences depicted while not being overly graphic.
Although this book examines a troubling and unjust chapter in American history, it also serves to remind readers of the importance of raising their voices to insist that we treat fellow human beings with fairness and dignity.
To learn more about teaching about Japanese-American internment, explore these resources.


Facing History and Ourselves invites you to peruse our lending library complete with a rich array of books and DVDs for the middle and high school classroom—a continuing benefit available to any educator who does professional development with us. Haven't taken a seminar yet? Learn about our upcoming offerings here.