This May is Asian Pacific American Heritage Month. It is a fabulous time to ensure that we are actively engaging with the histories, literatures, and contemporary life experiences of Asian and Pacific Islander American peoples. Below are five new books released in the last year that range in format from historical scholarship to intergenerational memoir to novel. Spanning communities that hail from across the Asian continent, these accounts can be great learning companions for educators and other adults eager to deepen their engagement with these important themes.

Illegal Immigrants/Model Minorities: The Cold War of Chinese American Narrative

by Heidi Kim



"In the Cold War era, Chinese Americans were caught in a double-bind. The widespread stigma of illegal immigration, as it was often called, was most easily countered with the model minority, assimilating and forming nuclear families, but that in turn led to further stereotypes. In Illegal Immigrants/Model Minorities, Heidi Kim investigates how Chinese American writers navigated a strategy to normalize and justify the Chinese presence during a time when fears of Communism ran high.
Kim explores how writers like Maxine Hong Kingston, Jade Snow Wong, and C. Y. Lee, among others, addressed issues of history, family, blood purity, and law through then-groundbreaking novels and memoirs. Illegal Immigrants/Model Minorities also uses legal cases, immigration documents, and law as well as mass media coverage to illustrate how writers constructed stories in relation to the political structures that allowed or disallowed their presence, their citizenship, and their blended identity..." ―Temple University Press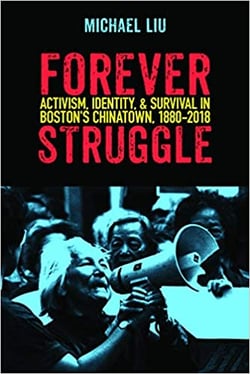 "Chinatown has a long history in Boston. Though little documented, it represents the city's most sustained neighborhood effort to survive during eras of hostility and urban transformation. It has been wounded and transformed, slowly ceding ground; at the same time, its residents and organizations have gained a more prominent voice over their community's fate.
In writing about Boston Chinatown's long history, Michael Liu, a lifelong activist and scholar of the community, charts its journey and efforts for survival—from its emergence during a time of immigration and deep xenophobia to the highway construction and urban renewal projects that threatened the neighborhood after World War II to its more recent efforts to keep commercial developers at bay… The documented courage, resilience, and ingenuity of this low-income immigrant neighborhood of color have earned it a place amongst our urban narratives. Chinatown has much to teach us about neighborhood agency, the power of organizing, and the prospects of such neighborhoods in rapidly growing and changing cities." ―University of Massachusetts Press


by Shirley Ann Higuchi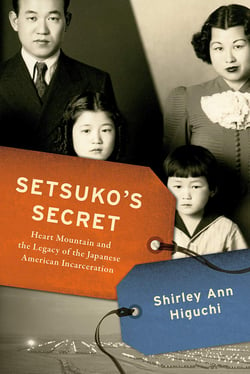 "As children, Shirley Ann Higuchi and her brothers knew Heart Mountain only as the place their parents met, imagining it as a great Stardust Ballroom in rural Wyoming. As they grew older, they would come to recognize the name as a source of great sadness and shame for their older family members, part of the generation of Japanese Americans forced into the hastily built concentration camp in the aftermath of Executive Order 9066. Only after a serious cancer diagnosis did Shirley's mother, Setsuko, share her vision for a museum at the site of the former camp, where she had been donating funds and volunteering in secret for many years. After Setsuko's death, Shirley skeptically accepted an invitation to visit the site, a journey that would forever change her life and introduce her to a part of her mother she never knew.
Navigating the complicated terrain of the Japanese American experience, Shirley patched together Setsuko's story and came to understand the forces and generational trauma that shaped her own life. Moving seamlessly between family and communal history, Setsuko's Secret offers a clear window into the "camp life" that was rarely revealed to the children of the incarcerated. This volume powerfully insists that we reckon with the pain in our collective American past."
―University of Wisconsin Press


by Ayad Akhtar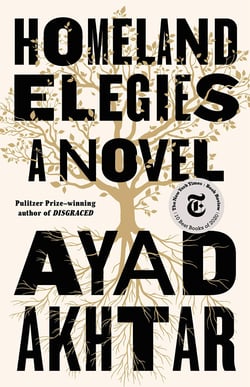 "A deeply personal work about identity and belonging in a nation coming apart at the seams, Homeland Elegies blends fact and fiction to tell an epic story of longing and dispossession in the world that 9/11 made. Part family drama, part social essay, part picaresque novel, at its heart it is the story of a father, a son, and the country they both call home.
Pulitzer Prize-winning author Ayad Akhtar forges a new narrative voice to capture a country in which debt has ruined countless lives and the gods of finance rule, where immigrants live in fear, and where the nation's unhealed wounds wreak havoc around the world. Akhtar attempts to make sense of it all through the lens of a story about one family, from a heartland town in America to palatial suites in Central Europe to guerrilla lookouts in the mountains of Afghanistan, and spares no one—least of all himself—in the process."
―Little, Brown and Company


By E. J. Koh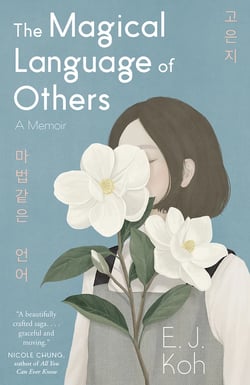 "The Magical Language of Others is a powerful and aching love story in letters, from mother to daughter. After living in America for over a decade, Eun Ji Koh's parents return to South Korea for work, leaving fifteen-year-old Eun Ji and her brother behind in California. Overnight, Eun Ji finds herself abandoned and adrift in a world made strange by her mother's absence. Her mother writes letters in Korean over the years seeking forgiveness and love―letters Eun Ji cannot fully understand until she finds them years later hidden in a box.
As Eun Ji translates the letters, she looks to history―her grandmother Jun's years as a lovesick wife in Daejeon, the loss and destruction her grandmother Kumiko witnessed during the Jeju Island Massacre―and to poetry, as well as her own lived experience to answer questions inside all of us. Where do the stories of our mothers and grandmothers end and ours begin? How do we find words―in Korean, Japanese, English, or any language―to articulate the profound ways that distance can shape love? The Magical Language of Others weaves a profound tale of hard-won selfhood and our deep bonds to family, place, and language, introducing―in Eun Ji Koh―a singular, incandescent voice."
―Tin House Books

―


Facing History and Ourselves invites educators to use our guide Teaching Farewell to Manzanar in the classroom.

Pictured above: A portion of the cover of Setsuko's Secret (University of Wisconsin Press, 2020).