As a result of the vision and tireless mobilization of a large network of Indigenous activists across the United States, many communities now celebrate Indigenous Peoples' Day instead of or alongside Columbus Day on the second Monday of October each year. In addition to being an occasion that invites a deeper reckoning with the violence at the heart of the nation's founding, Indigenous Peoples' Day is also a time to witness and engage with the resilience, insights, vision, and ongoing struggles of Indigenous peoples in contemporary America. Alongside the array of local and regional gatherings that may be taking place near you, there are many rich virtual opportunities for learning, unlearning, and celebration on and around Indigenous Peoples' Day.
Consider the following 5 free virtual events

—

film screenings, panel discussions, and educational presentations

—

designed to engage participants in the work of bringing Indigenous experiences and truths from margin to center.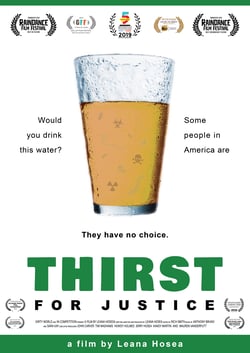 Thirst for Justice Film Screening and Conversation
Sunday, October 10, 2021 3:00 PM – 5:00 PM EDT
This event is a film screening of Thirst for Justice followed by a conversation with filmmaker Leana Hosea and members of Eastern Navajo Diné Against Uranium Mining. Thirst for Justice tells the story of two separate communities enlisting the help of scientists to prove their suspicions that their water had become dangerously contaminated. Registration required.

Co-sponsored by the Museum of Indian Arts & Culture and the New Mexico Environmental Law Center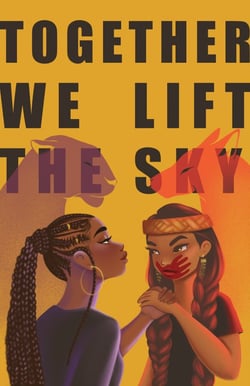 Youth in Action: Indigenous Peoples' Day—Black-Indigenous Youth Advancing Social Justice
Monday, October 11, 2021 1:00 PM - 2:00 PM EDT
Part of the Smithsonian's Youth in Action series, this event asks: "How are Black-Indigenous youth working to advance social justice?" This Indigenous Peoples' Day program "highlights youth of blended Black and Native heritage who use art, activism, and policy to advance Black and Indigenous solidarity and affect positive change in their communities…" The program will feature young Native activists and changemakers from across the Western Hemisphere who are "working towards equity and social justice for Indigenous peoples." Advanced registration is required.

Hosted by the Smithsonian National Museum of the American Indian.


Columbus in America Film Screening and Panel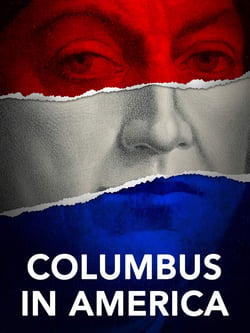 Monday, October 11, 2021 7:00 PM – 9:00 PM EDT
The film's producers write that "Columbus in America explores the history of what transpired in 1492 and after, and how Columbus has been used throughout U.S. history to legitimate the marginalization of Indigenous peoples. However, the film is ultimately hopeful, as it focuses on how the victims of Columbus and those who came after have themselves targeted Columbus in America to assert their humanity, their history, and their rights."
The Indigenous Peoples' Day Planning Committee of Rochester is sponsoring this film and panel in order to educate their community about the history of Columbus with the goal of replacing Columbus Day with Indigenous Peoples Day in the City of Rochester. Following the film, there will be a speak-back panel featuring Indigenous representatives, local educators from the Anti-Racism Curriculum Project, and members of the Italian American Heritage Committee.
Co-sponsored by Showing Up for Racial Justice Rochester, The Pachamama Alliance of the Rochester Area (PARA), and the Italian American Heritage Committee, among others.


Presentation: Indian Boarding Schools in the U.S. and Canada
Monday, October 11, 2021 7:00 PM – 8:00 PM EDT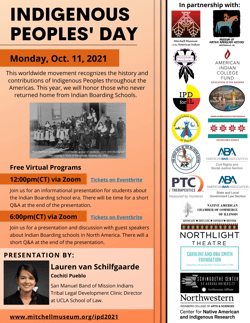 This presentation by the Mitchell Museum of the American Indian will outline this history in which thousands of Native American children were removed from their homes and forced to attend government and church-run boarding schools across the U.S. and Canada in the 19th and 20th centuries. "The forced assimilation and attempted eradication of Native people through compulsory 'residential schools' with a policy of 'kill the Indian, save the man' resulted in the loss of life, the loss of a generation of relatives, language speakers, and culture bearers," event organizers explain.
Further, the event will address more contemporary events in this story and the respective responses of Canada and the U.S. They write: "In 2007, the Truth and Reconciliation Commission of Canada was established because of the largest class-action settlement in Canadian history, the Indian Residential Schools Settlement Agreement. Here in the United States, U.S. Interior Secretary Deb Haaland announced the Federal Indian Boarding School Initiative. The Department of the Interior will identify boarding school sites, locations of known and possible student burial sites located at or near school facilities and identify the children and their tribal affiliations to bring them home. Recently, 1,500+ mass unmarked graves have been found at Residential schools across Canada. In the United States, the Rosebud Sioux Youth Council worked for six years to bring home 9 of their relatives from Carlisle Indian School. After more than 140 years away, they were welcomed home in July of this year. The work to bring the relatives home has just started, we celebrate and honor those who have not made it home yet."
This event features guest speaker Lauren van Schilfgaarde (Cochiti Pueblo) - San Manuel Band of Mission Indians Tribal Legal Development Clinic Director at UCLA School of Law."
Hosted by the Mitchell Museum of the American Indian.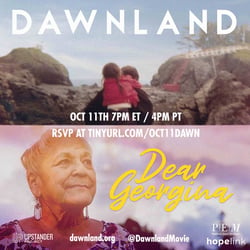 Monday, October 11, 2021 7:00 PM – 9:00 PM EDT
This event will screen the films Dawnland and Dear Georgina followed by a conversation featuring Truth and Reconciliation Commission commissioner gkisedtanamoogk (Mashpee Wampanoag), film participant Dawn Neptune Adams (Penobscot), linguist Roger Paul (Passamaquoddy), and Dawnland filmmaker and Upstander Project director Adam Mazo.
Below are overviews of the themes of each film to be screened as described by the event hosts:
"For decades, child welfare authorities have been removing Native American children from their homes to save them from being Indian. In Maine, the first official 'truth and reconciliation commission' in the United States begins a historic investigation. National News & Documentary Emmy® award winning film Dawnland goes behind the scenes as this historic body grapples with difficult truths, redefines reconciliation, and charts a new course for state and tribal relations."
"In Dear Georgina, a Passamaquoddy elder journeys into an unclear past to better understand herself and her cultural heritage."
Co-sponsored by the Peabody Essex Museum, Hopelink, Alan Day Community Garden, and Upstander Project.


--
Facing History and Ourselves invites educators to explore our curricular resource about the Indian Residential Schools of Canada, Stolen Lives.