Stories matter. The stories we tell have the power to effect history. By sharing stories with students, we help them to see themselves as part of the human story, as individuals who can change the narrative by making positive choices and contributing to their communities and the world. Below are eight memoirs that left an impression on us here at the Facing History library for their ability to engage and challenge us to confront history in all of its complexities.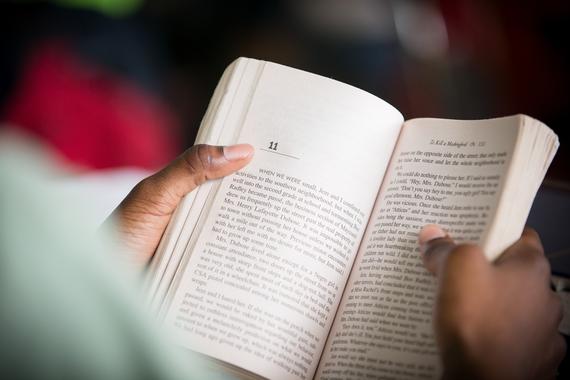 1. Armenian Golgotha: A Memoir of the Armenian Genocide, 1915-1918
By Grigoris Balakian, translated by Peter Balakian and Aris Sevag
On April 24, 1915, the Turkish government arrested priest Grigoris Balakian along with some 250 other intellectuals and leaders in the Armenian community of what was then known as Constantinople. In this eyewitness account, we learn about the beginning of the Ottoman Turkish government's systematic attempt to eliminate the Armenian people during the Armenian Genocide. Sensitively translated by Grigoris' great-nephew Peter, a member of Facing History's Board of Scholars, the memoir not only sheds light on one person's experience, but also provides deep insight into an event that led to the deaths of over one million Armenians – a genocide that the Turkish government still has not acknowledged almost 100 years later.
Download our free resource today – Crimes Against Humanity and Civilization: The Genocide of the Armenians.
2. Red Scarf Girl: A Memoir of the Cultural Revolution
By Ji-li Jiang
In 1966, Ji-li Jiang was 12 years old. An outstanding student and leader in her school, she had brains, ability, the admiration of her peers, and hoped for a shining future in her native China. All that changed with the advent of the Cultural Revolution, when intelligence became a crime and a wealthy family background invited persecution or worse. For the next few years Ji-li and her family lived in constant fear of arrest. With the detention of her father, Ji-li faced the most dreadful decision of her life: denounce him and break with her family, or refuse to testify and sacrifice her future in China.
Download a free copy of our guide to accompany Red Scarf Girl for journal and discussion questions, historical documents, timelines, and suggested activities for literature and social studies classroom.
3. Bending Toward the Sun: A Mother and Daughter Memoir
By Leslie Gilbert-Lurie with Rita Lurie
This joint memoir tells the story of a unique family bond forged in the wake of the legacy of the Holocaust. Weaving together the voices of three generations of women, Facing History Board of Trustees member Leslie Gilbert-Lurie and her mother, Holocaust survivor Rita Lurie, provide a powerful perspective on survival, resilience, and the enduring reach of history across generations.
Learn more about Rita and Leslie's stories.
4. The Lost: A Search for Six of Six Million
By Daniel Mendelsohn
Growing up, author Daniel Mendelsohn was always told that he looked just like his great uncle Schmiel Jaeger, who was killed in the Holocaust. In The Lost, Mendelsohn shares his epic journey of discovery as he researches what happened to Schmiel and his family. The memoir explores themes of memory, identity, and history in ways both personal and universal.
Find resources that explore the history of the Holocaust and develop skills of ethical reasoning, critical thinking, tolerance, and empathy.
By Melba Pattillo Beals
Following the landmark 1954 Supreme Court ruling Brown v. Board of Education, Beals found herself a key player in the raging civil rights battle playing out across America. Warriors Don't Cry is her autobiographical account of the integration of Central High School in Little Rock, Arkansas in 1957. This book, an important one for middle-school readers on up, explores not only the power of racism but also such ideas as justice, identity, and choice.
Explore this history further with Facing History's Choices in Little Rock resource.
6. I Promised I Would Tell: Her Poetry and Testimony During the Holocaust
By Sonia Weitz
Through poetry and testimony, Holocaust survivor and educator Sonia Schreiber Weitz gives life to the millions of children, men, and women murdered during the Holocaust. Born in Krakow, Poland, Weitz was 11 when Nazis herded her family and other Polish Jews into ghettos. Of the 84 members of her family, she and her sister Blanca were the only ones to survive the war after years in ghettos and concentration camps.
Watch Sonia Weitz read one of her poems, "Icicles."
By Gene Luen Yang
This graphic novel, appropriate for teens or adults, presents three poignant and sometimes humorous interrelated stories of young, first-generation Chinese Americans as they explore their identities in relation to mainstream American culture. A 2006 National Book Award Finalist for Young People's Literature, American Born Chinese was a 2007 Bank Street - Best Children's Book of the Year award-winner.
Explore more about the Chinese-American experience with our free study guide Becoming American: The Chinese Experience.
8. I am Malala: The Girl Who Stood Up for Education and Was Shot by the Taliban
By Malala Yousafzai and Christina Lamb
This remarkable memoir shows the powerful change that can take place when one person acts as an upstander and stands up for their rights – and the rights of others. Malala Yousafzai was just 15 when Taliban insurgents shot her in the head as she rode the bus home from school. A young advocate for the right of women to receive an education in Pakistan, Malala made a remarkable recovery, and went on to share her story in communities around the world. This powerful read from the youngest nominee ever for the Nobel Peace Prize illustrates how one person's courage and determination can galvanize hope and inspire others to make a positive difference in the world.
When you shop for these titles on AmazonSmile, a portion of your purchase can go directly to support Facing History.
Find ideas for helping young students choose to participate in their communities.