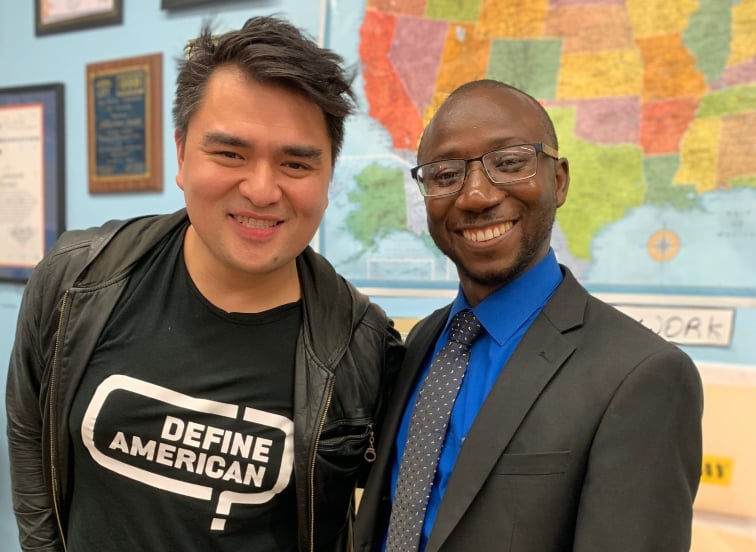 As people living on American soil await a decision from the U.S. Supreme Court on the fate of DACA—the immigration policy that has permitted some 700,000 undocumented youth to remain in the U.S. after being brought here as children—one figurehead of the undocumented movement is urging young immigrants to be fearless in building their lives here, with or without the right papers. Pulitzer Prize-winning journalist Jose Antonio Vargas presents a challenging call to action, yet he speaks from experience. Since putting his life and livelihood on the line by announcing his undocumented status in a pathbreaking 2011 essay, Vargas has inspired undocumented immigrants around the U.S. to find their voices, and helped U.S. citizens broaden their thinking about immigration and belonging.
Vargas was born in the Philippines where he lived until his mother sent him to live with his grandparents in California when he was 12 years old. He learned that he was undocumented for the first time at the age of 16 when he was applying for a driver's license and was denied. One might wonder why—upon making this realization—Vargas wouldn't simply "get in line" for U.S. citizenship. But there is no such line for the vast majority of people, and there is also not a way to correct undocumented status.
The three primary paths to U.S. citizenship are employer-based immigration, family-based immigration, or when the immigrant qualifies for asylum. And until the Defense of Marriage Act was overturned in 2013, not even the family-based option was available to Vargas (by marrying an American citizen) because Vargas is gay. After learning about journalism a year later, Vargas began to see journalistic success as an alternative path to secure his future in the U.S. And Vargas' journalistic skill and determination would win him roles at The Washington Post and The Huffington Post, as well as the Pulitzer Prize for Breaking News Reporting in 2008.
But Vargas' career took an unexpected turn in 2010 during a fateful interview with Mark Zuckerberg for The New Yorker. In the course of their discussion, Zuckerberg asked Vargas where he was from, prompting an existential crisis for Vargas and provoking an irrepressible need to come clean about his citizenship status. The following year, Vargas released his story to the public in "Outlaw: My Life as an Undocumented Immigrant" in The New York Times Magazine. This act of bravery thrust Vargas into the national spotlight, bringing an unprecedented level of attention to the experiences of the roughly 11 million undocumented people in the U.S. and the immense political questions that their experiences raise.
In the years that followed, Vargas founded Define American, a nonprofit media and culture organization that "uses the power of story to transcend politics and shift the conversation about immigrants, identity, and citizenship in a changing America." Vargas also authored a best-selling memoir, Dear America: Notes of an Undocumented Citizen, and co-produced Heidi Schreck's acclaimed Broadway play, What the Constitution Means to Me.
In a recent engagement at International Community High School in New York City, Vargas addressed the students of Alhassan Susso—Facing History's 2019 New York Upstander Award recipient who immigrated to the U.S. from Gambia as a teenager. Vargas urged Susso's students—all of them recent immigrants—to banish fear and find courage despite the present uncertainty about the future of DACA. Vargas, who was too old to qualify for DACA, urged students to remain committed to building their lives in accordance with their own aspirations irrespective of the Supreme Court's ultimate ruling. Sharing a lesson derived from his own life experience, Vargas said: "My life is dependent on what freedom I allow myself."
In October 2019, Vargas served as a keynote speaker at our New York Benefit Dinner where attendees had the opportunity to celebrate his incalculable bravery, leadership, and contributions to public discourse on immigration and the experiences of undocumented people. He has created the grounds for vital dialogue, and helped U.S. citizens develop a more informed, empathetic understanding of the experiences of the millions of undocumented people often living hidden lives across the country.
Facing History invites educators to bring the kinds of questions that Vargas has raised for us into the classroom with our Teaching Idea, "The Continuing Debate Over Immigration." In it, we suggest resources for helping students explore the complex question of what it means to "be American" and how immigration has been debated in the past.

PICTURED ABOVE (from left to right): Jose Antonio Vargas and Alhassan Susso.