Facing History in New York, in partnership with WNYC Radio's Radio Rookies program, helps public high school students develop digital storytelling skills through the Neighborhood to Neighborhood project. Each year, students in the program tackle complex questions about identity, race, education, and crime and violence in their communities. Using interviewing skills and multimedia tools, the students produce original visual and audio pieces. This post is the first in a five-part series introducing their finished pieces. Each post will include connection questions you can use in your classroom to discuss the works or to start your own project. First up: A group of students at East Side Community High School tackle homophobia. Check back next Tuesday when we look at using music and writing to express voice and identity. Follow along!
At East Side Community High School, homophobia isn't tolerated.
Kids say that teasing and bullying are rare, and when they do happen, teachers and fellow students get involved. The school has an active gay-straight alliance club, Rainbow Bright, and teachers strive to be inclusive in their curricula and language. But not all schools are so supportive of lesbian, gay, bisexual, transgender (LGBT) students and creating all-embracing learning communities. Watch and/or listen as Four East Side students find out what actually helps homophobic people change their minds to become more accepting.
[youtube http://www.youtube.com/watch?v=IDtbUEL-FAE?feature=player_embedded&w=640&h=360]
Connection Questions:
The students in the video acknowledge that, while their school does a lot to make all students feel safe, it still is not an ideal place for LGBT students. What factors might help to create an ideal school for LGBT (and all) students? How can you contribute to this ideal in your own school?
What does it mean for a school to be a safe space? What is the responsibility of students in maintaining a safe space?
How does your school work to promote inclusion?
What support and/or preparation do students need in order to become upstanders?
According to this story, why are gay-straight alliance (GSA) clubs like Rainbow Bright a positive addition to schools? Does your school have a GSA? If not, check out these 10 suggestions from the GSA Network for how to start one.
In this piece, Rookie Reporter Jackson says, "The teachers in our school don't assume a boy has a girlfriend or a girl has a boyfriend." Why might this be a good thing? How might it help promote respect and/or inclusion?
"I would want to help them, but it can be difficult," one of the Rookies said in response to a question about what would happen if she witnessed someone as the victim of homophobia and/or bullying. "It depends on the right kind of person at the right moment and someone who's ready to listen for change to happen." Do you agree with this statement? How would you respond to the original question?
Danielle's knowledge and support of LGBT rights evolved a great deal in a short period of time. What did it take for Danielle to change her assumptions and beliefs when she had so much pressure from external forces to think in a certain way?
The power of friendship was exemplified through the story of Bree and Danielle. How did Bree help Danielle become more inclusive and accepting?
All of the stories in the "Neighborhood to Neighborhood" project are available in two formats: audio only and audio-visual. Try listening to the story in both formats. How do the images (or their absence) shape the way you experience the story?
Why do you think the series is called "Neighborhood to Neighborhood"?
How might this story be different if reported by adults?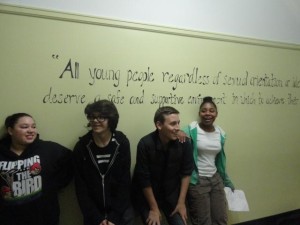 Go Deeper: Explore Facing History's Resources on Creating Safe and Engaging Schools
The Neighborhood to Neighborhood Project was made possible by the Hive Digital Media Learning Fund in The New York Community Trust and The MacArthur Foundation.