In March, the Beacon Academy Class of 2014 took a trip to Washington, D.C. with the Close Up Foundation. Over the course of four days, 19 students from the class of 2014 had the opportunity to explore the most important sights in the city – places that gave us the chance to think, reflect, and learn about the United States' democratic ideals and historical realities.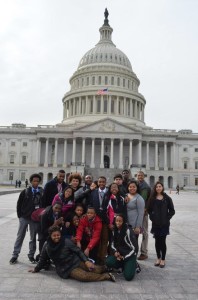 We visited museums, such as the Smithsonian Museum of American History and the United States Holocaust Memorial Museum to see exhibits pertaining to World War II and other events they spent the year studying. They saw memorials such as the Lincoln Memorial and the National World War II Memorial, which commemorate key figures and events in America's history. The class also visited landmarks of the U.S. government, including Capitol Hill, the Supreme Court, and the Library of Congress. We used our visits to these different places, memorials, and museums as opportunities to connect what we saw to themes we studied in Facing History class this year, such as the differences between being a bystander and an upstander, the importance of choosing to participate, and the obligation to fight back against oppressive forces.
At the beginning of this school year, we asked each student to write about their identities (in 140 characters or less!). After the trip, we again asked students to reflect, but this time we asked them to think about the Washington, D.C.site or experience that had been the most significant to them. Some turned to poetry, others wrote personal statements, and one group created a video. It was an exercise in relating personal experience and to history. The following are just some of the students' reactions:
"I Question My Freedom" by Zenobia Houston

I sat looking over the United States. I was searching for a sign, a sign of acceptance or approval. I was looking for what I would never find. But instead, determination sang out to me and whipped its golden lasso at me. Now I stood. I stood parallel to the feet of Abraham Lincoln who, so many years ago, freed the slaves, and I wondered. I wondered why this feeling of freedom bypassed me? It is because I'm not free. I still have so much harder to work to free myself not only physically, but mentally and emotionally. I need to free myself from the European shipped to America, to now be called American, standards which don't accept me, but neglect me. I stand at the Lincoln Memorial, my soul crying onto the ice cold stone, my heart bleeding onto the lie that freedom was released by the emancipation of slavery almost 200 years ago. But then why does my brother hate his darkness, and why does the world hide it? Why do I go home to see many people who look like me suffering and struggling in their skin, and some because of their skin? Why can't I walk into a store and not be followed? I wonder, where does this hidden freedom that one refuses to speak of start? I look up at Mr. Lincoln as he signals that this freedom starts with me.
"Headed Home" by Renaldo Payne
I'm on the Red Line headed home,
Hundreds of people are making their way on the train,
I feel uneasy,
I smell the putrid breath of other people--I get sick to my stomach
At this point, I'm only thinking about getting home,
Not having to worry about these other people, who are tightly next to me.
I look at the glass window, for it faded from snow into bright sunlight.
The Holocaust Museum has me pondering.
It's blistering; sweat streams down my greasy face,
I feel dizzy, wobbly--I'm dehydrated.
Victims, especially myself, want to see their family.
They send us off.
Where to? I think.
I'm worried, hoping that this isn't the day that I will die,
The cattle cart halts abruptly.
Every person has to get off--something has gone wrong.
As I step out of the cart, I realize its Shawmut Station.
I wonder why no one leaves with me.
On this snowy, rainy day,
I was fortunate enough to see my family once more.
"Hidden Nightmares" by Cobey Johnson

When I first stepped into the Holocaust Museum, I already knew it was going to be a chilling and educational experience. The thing that struck me the most out of everything else was the architecture of the building. I found the architecture to be so striking because it was built to look and feel like an actual concentration camp. So, even though each person can keep moving through each part of the museum, visitors cannot evade the fact that they're walking in a concentration camp - and I think that is how the Jews felt when they were in those concentration camps: that they could not leave without remembering everything they witnessed. The architects of the Holocaust Museum force visitors to understand that what they're seeing was real.
A Beacon Academy Video Reflection on a Trip to Washington, D.C.
"Blinding Darkness" by Kajayla Boyd

At the Newseum, I faced a sight that to this day instills fear in us. A sight that, though I had only heard about it, paralyzes me: a Ku Klux Klan uniform. There the long white robes stained with the piercing screams and cries of my people sit. There the pointed hood pricking into my memory sits. There the eye holes that revealed the eyes of the person that holds the purest hate for me, and people who look like me, sit. These costumes represent the commitment that the suit's owner makes to murder and damage to my race. The people who bore these very uniforms on their backs encouraged stereotypes and perceived notions that blacks are less than humans. These uniforms stare back at me as I gaze into the robe's darkness. These weapons break me.
What lessons can only be learned through travel? What is the value of experiential education? Comment below!