National Anti-Bullying Week takes place in the United Kingdom 17th to 21st of November. This year's theme is "let's stop bullying for all."
Here at Facing History and Ourselves, we are proud to offer several resources that can help you address bullying year-round, including a Bullying and Ostracism resource collection and teaching strategies to help create safe and engaging schools. Here are a few videos, multimedia study guides, and online readings to consider as you prepare to talk about this important topic with students, young people, and educators.

Teaching for Safe and Inclusive Classrooms: Free Webinar for UK Educators

While there is no quick fix for preventing bullying in our classrooms and schools, research suggests that bullying is less prevalent in environments that promote democracy and value student voices. Prepare for National Anti-Bullying Week by joining us 4 November for a free one-hour webinar, in which we will think critically about the dynamics and impact of bullying in schools and communities, and explore how young people and adults can stand up to this behaviour and learn how to prevent it. This webinar is recommended for educators teaching Key stages 3, 4, 5, guidance councillors, administrators, or coaches.

BULLY: A Look at the Impact of Bullying and Tools to Build Safer Schools

The 2011 documentary BULLY follows teens and families from across the United States as they deal with the realities of bullying, name calling, and physical and mental threats at school, on the bus, and on the playground. The film can be a powerful tool to use in discussions with educators and students about the importance of creating a safe school environment. Check out Facing History's guide to the film BULLY, which has teaching strategies to promote active learning and help students find their voices, make ethical choices, and transform communities. The BULLY movie and Educator Toolkit on DVD is designed to help audiences confront the stories in the film, and the guide has been revised to support both the full-length documentary and a new, shorter version for younger audiences.

Bullying: A Case Study in Ostracism

How can young people and adults make better choices to help create and sustain schools that are safe for everyone? This question is explored in "Bullying: A Case Study in Ostracism," a multimedia resource that looks at issues of bullying and ostracism through a particular incident that occurred at a middle school, primarily involving a group of girls. What started as a small event turned into a serious situation. This resource contains written and audio testimony from students and staff involved with the incident as well as video resources.

Not in Our School: Students Stand Up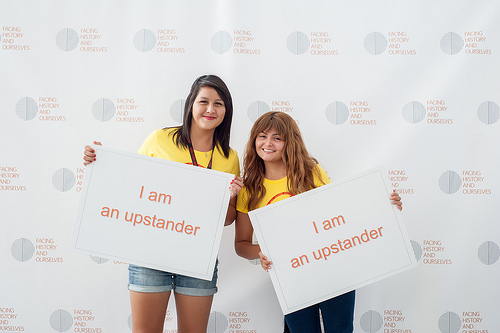 Not In Our School is a national movement of teachers and students joining together to create safe schools. In this series of videos, accompanied by lesson plans developed in partnership with Facing History, students demonstrate innovative ways to raise awareness about issues of bullying at their school. Check them out for ideas you could bring into your own community:
Using Multimedia Student Reporting to Raise Awareness
Students at New York City's East Side High School used multimedia reporting to look at their school's culture around teasing and bullying. Watch and/or listen as they ask questions about what actually helps homophobic people change their minds to become more accepting. Here are some tips for "Reporting Your Own Story" to help educators and students think about how to use digital media to discuss issues taking place at schools and in communities.
Connection Questions:
As you think about issues of safety, tolerance, and difference during Anti-Bullying Week and throughout the year, here are some questions you might consider:
What does it mean for a school to be a safe space? What is the responsibility of students in maintaining a safe space?
How does your school work to promote inclusion?
What support and/or preparation do students need in order to become upstanders?
Comment below – What is your school doing to foster a safe and tolerant environment?