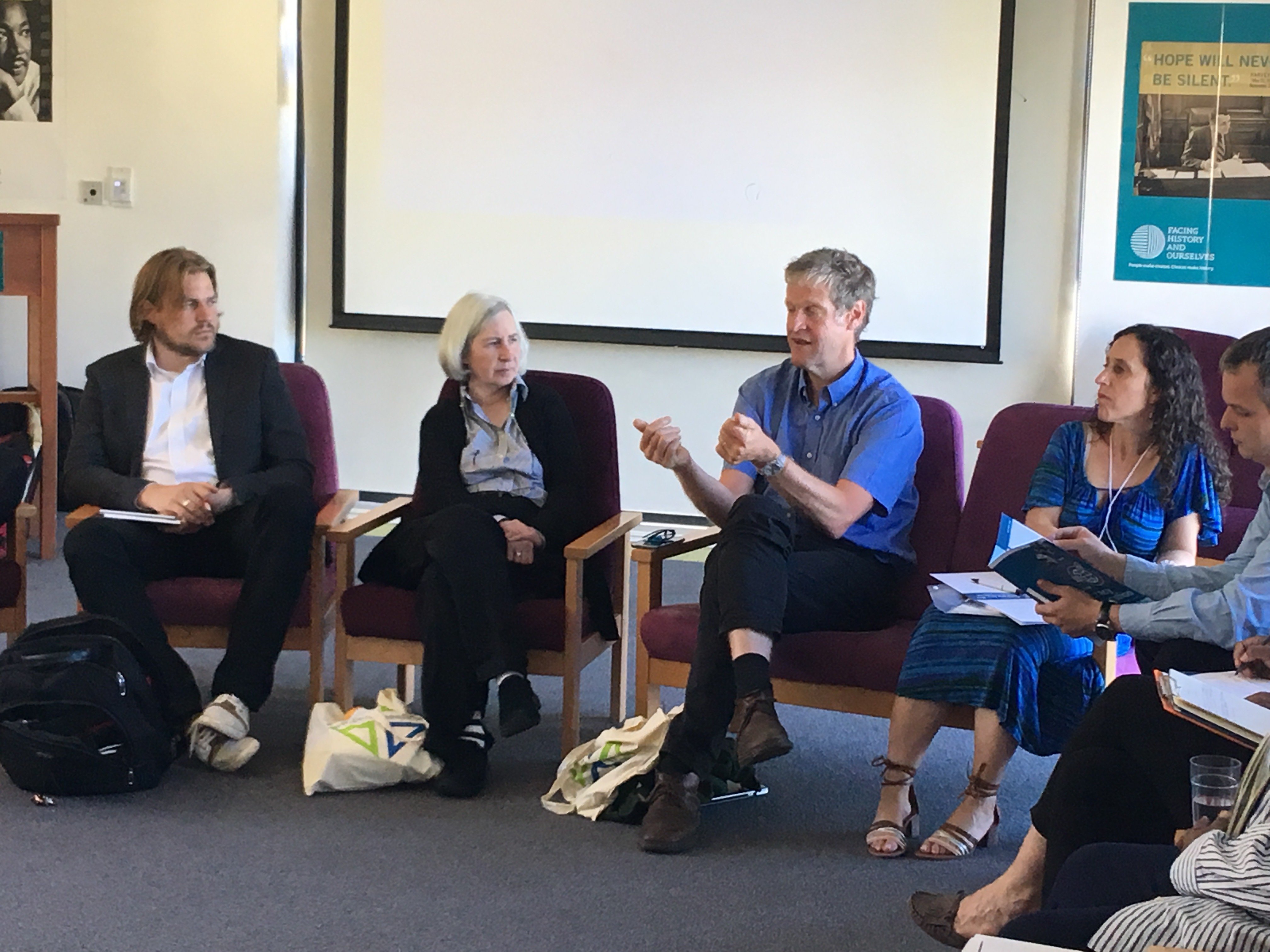 During an unusually sunny week in early July, 22 leaders of educational organizations gathered in Northern Ireland for Facing History and Ourselves' Global Summit on Democracy and Education. We hailed from ten countries spanning most corners of the globe. Some came from places with deep democratic traditions, like Australia and the Netherlands, while others represented newer democracies like South Africa and the Czech Republic, or societies emerging from periods of violent conflict, like Colombia and Northern Ireland itself.
For Yael Siman, a summit participant from Mexico City, "This was a special group formed by highly committed individuals who work in strong organizations in the field of education. That is, both from an individual stance and an institutional one, I sensed a powerful mix of knowledge, experience and commitment to nourishing democracy through education."
Over four days, we explored the troubling decline of democracy around the world and challenges to liberal democracy in our home countries. We examined historical moments that helped us make sense of present tensions, and considered what "educating for democracy" actually looks like within the curriculum and culture of schools. The summit was led by Karen Murphy, Facing History and Ourselves' Director of International Strategy, and was immeasurably enriched by the presence of two scholars-in-residence: Martha Minow, University Professor and former dean of Harvard Law School; and Duncan Morrow, a professor and leader in community relations and peacebuilding in Northern Ireland.
Belfast set the scene for our initial, compelling conversations. As we toured the city, viewing 30-meter high "peace walls" that divide Loyalist and Unionist neighborhoods and murals referencing the country's complex sectarian conflicts, we reflected on the connection between a country's willingness to face its history and its capacity to sustain democratic values in the present. As Duncan Morrow pointed out, in Northern Ireland, "the biggest obstacle to the future is the past." Later, we spent several days at the Corrymeela Community, Northern Ireland's oldest peace and reconciliation organization. Yael Siman reflected, "Being in Belfast was truly moving because it made me think of the long-term legacies of conflict at the societal level even twenty years after the signing of a peace accord. This shows that change comes not only from top down but also from bottom up processes, and in this regard education can make a strong difference. Being at Corrymeela was truly inspiring; it set me in a peaceful state of mind almost immediately. And this inner process of putting aside conflictive or defensive attitudes seems essential for peace building, reconciliation and repair. It also seems key for building mutual relationships based on trust and respect."
Yael's words echo one of the most powerful insights of the week: that educating for democracy is not only a matter of teaching students about the structures and processes of democratic governments, but also nurturing crucial habits of mind and heart. When educators create safe and inclusive classroom spaces and foster respectful exchanges of diverse viewpoints, they support civic mutuality and critical empathy. Cameron Paterson, a history teacher from Sydney, Australia, observed that "Facilitating points of confrontation to break single identities is the critical role for educators at a moment in time when we have splintered into filter bubbles and echo chambers. If we are serious about democracy, it is about how we teach." Colleagues from South Africa, Colombia, and other societies in transition stressed that education for democracy is about culture and relationships, not just curriculum; and curriculum must always be understood as not just what we teach but also how.
While this was Facing History's first global summit - we will host one a year over the next several years - for many participants, the week in Northern Ireland also renewed old friendships. Facing History has been working in partnership with many of the participants in their respective countries for almost twenty years, convening other gatherings, and helping to sustain networks of educators. For Peter Sokol, an educator from the Czech Republic, "It was simply great to meet the people I have been in touch with since…2005 and many new people who became close from the very first moment. It made me feel like I am a part of something very formative and personally strong." Though our conversations about democracy left us with a sobering sense of the challenges our societies face, we also felt a renewed sense of purpose and solidarity, as we spent our last day together exploring how the individuals and institutions represented at the summit can support each other's work and collaborate on new projects. As Cameron Paterson said, "I get the impression that this was just the beginning of some very important work that this group of deep thinking activists will continue well into the future."
Talking about democracy and democratic action, Martha Minow argued that "we have to be implicated in the lives of others, and they have to be implicated in our lives." As educators, we embraced this commitment to civic mutuality and responsibility, and hope for a shared future. The global summit was just a beginning. We will continue to be in conversation with each other and to learn together as well as to partner on events and initiatives both within countries and across them. We came together at a time when global cooperation and commitments to international institutions, norms and principles are being challenged. The summit inspired a sense of hope and renewal for work within our countries, but also revealed the critical need to work across them, to learn from each other, and to cooperate as partners who are facing shared challenges. We are all committed to supporting a generation of young people who are able to navigate complex historical inheritances and the challenges of the current environment, a generation of young people who are deserving of hope themselves and support for the skills, dispositions and knowledge they need to carry democracy into the future for the children who come after them.
(Photo: Martha Minow and Duncan Morrow lead a group discussion at the Facing History Global Summit. Photo credit: Mara Gregory)
Learn more about the power of individual and societal civic engagement from our series "What Makes Democracy Work?"