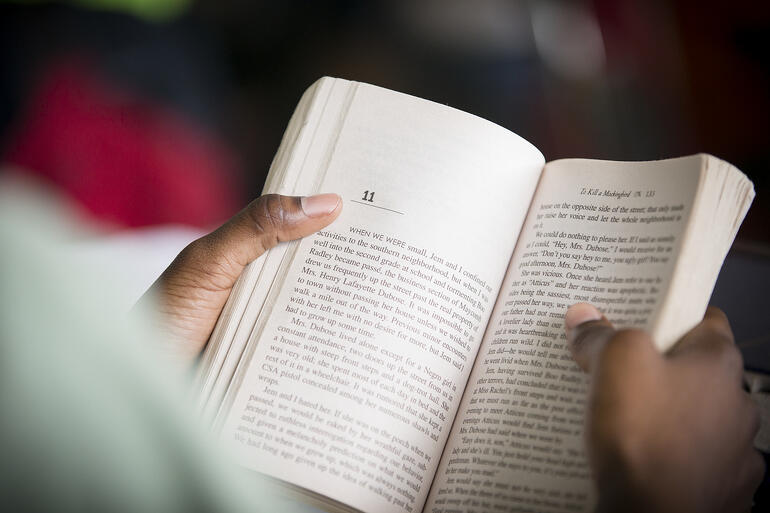 Often, summer is a time for relaxation. However, many of us also seek stories that will engage us in the experiences of others, or will help us stay engaged in making a better world. Here are a few picks of recently published books, as well as a couple of classics, that hold enduring insights.
Hate U Give, by Angie Thomas
This debut young adult novel explores the impact of police violence on one young woman, her family, and the communities she is a part of. Like many high school students, 16-year-old Starr navigates challenges between her school—where she is one of the only African American students—and her neighborhood. After witnessing the fatal shooting of her friend by a police officer, the boundaries between these two worlds begin to crumble. As the pressures mount on Starr to testify to a grand jury about what she saw, she grapples with the complex issues of identity, loyalty, and truth against the backdrop of a racialized American society.
This book is appropriate for high school and adult readers.
Many Windows: Six Kids, Five Faiths, One Community, by Rukhsana Khan, Uma Krishnaswami, and Elisa Carbone
During a time when the fear of people of different faiths is not uncommon, it is heartening to know that three young people of different faiths (a Christian, a Muslim, and a Hindu) decided to write a book together. The book itself is an act of resistance against hate and that which can divide us but it is also a collection of seven stories about children from different religious traditions who are in the same classroom and share a love of basketball. Each chapter of the book focuses on a celebration within each child's faith tradition and is a "window" into their identity. An appendix at the end explains each of the celebrations more fully; the traditions include those of Islam, Christianity, Buddhism, Judaism, and Hinduism. Many Windows provides an interesting and unique view into diverse religious observances while highlighting how we can connect and celebrate each other's cultures and faiths.
This book is appropriate for ages 10 and up.
You're Welcome, Universe, by Whitney Gardner
Julia is a graffiti artist. So when she finds a slur about her best friend scrawled across the back of the Kingston School for the Deaf, she covers it up with a beautiful—but illegal—graffiti mural. When she is caught, she is expelled from her school, and is sent to a "mainstream" school, where she is marginalized as the only deaf student. She turns to her art to express herself, and starts painting in her new suburban turf. Soon someone starts trying to compete with her tagging, and adds to her paintings. Julia will have to decide how far she is willing to go in order to even the score with her rival. This beautiful, graffiti-illustrated young adult novel explores themes of creativity, belonging, and friendship in a unique format.
This book is appropriate for ages 12 and up.
Girl in the Blue Coat, by Monica Hesse
The Girl in the Blue Coat is the story of a non-Jewish teenage girl growing up in Amsterdam during the years of Nazi occupation. Hanneke has already lost the young man she loves to the war and is struggling with a sense of personal guilt for having encouraged him to join the Dutch army. She is then asked to help locate a missing Jewish girl who is no longer in her hiding place. She is unsure if she wants to get caught up in this scary and complicated situation, but ultimately she feels she must. This story of a young person coming of age against the backdrop of war and genocide effectively highlights the difficult moral choices people faced during the Nazi era.
This book is appropriate for high school and adult readers.
Sylvia and Aki, by Winifred Conkling
This historical novel tells the story of two real California children during World War II and is based on personal interviews and historical documents. Conkling tells the story of the forced relocation of young Aki Munemitsu and her family to an internment camp in Arizona alongside the experiences of Sylvia Mendez, who moves into Aki's old room when her father rents their farm. Sylvia is not allowed to attend the local school because she is Mexican American and her father files the landmark lawsuit Mendez vs. Westminster School District. The book follows the inner lives and identities of both girls as they grapple with the circumstances that are placing them outside inclusion in American society. At the end of the book, the girls meet, exchange dolls, and begin what would become a lifelong friendship.
This book is appropriate for older elementary and middle school readers.
Americanah, by Chimamanda Ngozi Adichie.
In this award winning novel, Ifemelu, a self-possessed Nigerian immigrant to the United States starts a blog called "Racial Disorder Syndrome." Her blog gives voice to the strange and awkward racialized experiences she has had as a dark-skinned woman in America, particularly while dating an affluent white man. It resonates with many readers and becomes instantly popular. At the same time, Ifemelu is missing her first love, Obinze, who has migrated from Nigeria to London. He is living his own experience as an outsider, albeit in a different cultural context than America. Readers cannot help but be drawn into this interesting story about how one woman becomes who she is meant to be in an unexpected place. See Adichie's TED talk, which is frequently used in Facing History classrooms to explore the complexity of identity.
This book is appropriate for older high school or adult readers.
Want more great books, resources, and DVDs to explore? Check out Facing History's lending library.