Guest blogger Dr. Becki Cohn-Vargas is the director of Not in Our School, a program that creates safe, accepting, and inclusive school communities. She's challenging you to take the Not on Our Ground pledge, a growing movement with Adobe and the NBA champion Golden State Warriors against bullying, violence, and hatred. At Facing History and Ourselves, we encourage you to be an upstander in your community - so take action today.
We started the Not on Our Ground pledge to bring our efforts to stop hatred and bullying beyond just schools. Athletes are important role models, and students are influenced by the messages they share and the actions they take. That's why we're urging fans everywhere to help us spread the word and take the pledge to stop hatred and bullying.
In a PSA titled "Not On Our Ground, Not In Our Town," Warriors players, including NBA All-Stars Stephen Curry and Klay Thompson, Draymond Green, Shaun Livingston, and Coach Steve Kerr, publicly share their commitment to stand up to bullying. Golden State Warriors' legend Adonal Foyle and Phoenix Sun's Gerald Green are among the growing number of athletes who have shared their own stories of being bullied, showing young people the importance of speaking up, getting help, and not being a bystander.
Join them and make the pledge today: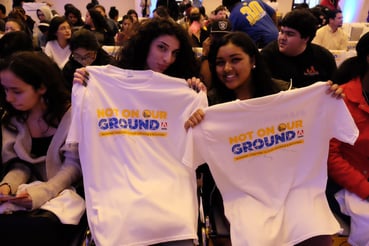 "I pledge to stand up to all forms of hate, bigotry and bullying. I will not stay silent in the face of intolerance based on race, ethnicity, sexuality, gender, religion, ability or any other factor. I will work together with my neighbors to create safer, more inclusive communities for all."
Your School Can Join the Not On Our Ground Pledge Campaign
When we work with students to take the pledge against bullying, violence, and hate, they can spread a positive message to their peers. The Not On Our Ground pledge reminds all of us - youth and adults alike - to be upstanders who speak up when someone is being harmed or when they see someone being bullied or harassed.
What Educators can do:
Help us amplify this work in your school by using social media to launch a year-long #NotOnOurGround campaign that inspires 10,000 pledges against hate!
Take the pledge and have your faculty, students, and the whole school take it too.
Have students share the link to the pledge with everyone they know. Or, have students take a selfie with the attached pledge card showing your commitment on Facebook, Twitter, or Instagram! (Remember to include #NotOnOurGround).
Work with students to share the pledge with local sports teams in your area and invite them to speak up against bullying.
When sports teams work together with members of their community to end hate and bullying, they can make their schools and neighborhoods safe and welcoming for all. These efforts can be amplified and spread across the country, bringing thousands of young people together in a shared commitment to creating a more inclusive country.