Facing History and Ourselves is saddened to note the passing of longtime friend, mentor, and Facing History supporter Dr. Maurice "Ries" Vanderpol. Ries, as his friends and family called him, died on October 19, 2014.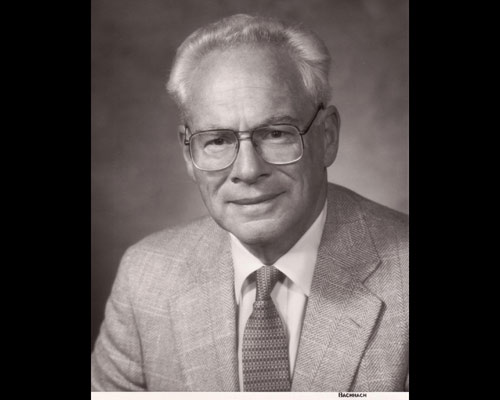 Ries was born on July 12, 1922, in Amsterdam, Holland, into a middle-class Jewish family. When he spoke to students, he would say that his parents worked very hard to give their children a secure existence and future. He attended public schools and had many friends of various religious and ethnic backgrounds. He never remembers experiencing any overt antisemitism and, while clearly having a Jewish identity, he identified himself as a Dutch citizen first and foremost.
When the Nazis invaded and occupied Holland in 1940, his father was abroad in Antwerp on a business trip and could not return home. Ries was left with his mother and brother to weather the storm of persecution and deportation. At the time, Ries was attending his second year of medical school and very soon was forced to leave the university because he was Jewish. In response to the expulsion of all Jewish students, the dean of the medical school started an underground but accredited medical school. The Jewish students went to the homes of Jewish professors to continue their courses.
By 1942, when deportations were going full speed, Ries and his family decided to go into hiding with the help of friends who were not Jewish. One of his friends gave Ries his own identity card without the "J" for Jew on it, and later reported Ries' card as lost. Ries was in hiding for about two years, until liberation on May 5th, 1945.
In 1946, Ries emigrated to the United States and completed medical school. He went on to a successful practice in psychiatry and psychoanalysis, and lived in Massachusetts with his wife, Netty, a survivor herself who shared her experiences through her art.
Ries shared his story with countless Facing History students across the state and around the world. He was also instrumental in bringing the 2005 film Secret Courage: The Walter Suskind Story, about the Holocaust rescuer credited with smuggling hundreds of Jewish children out of deportation centers in Holland, to fruition.
"Ries was our friend, our board member, a classroom speaker, a member of our survivor community, the husband of Netty, a father, a grandfather, and a teacher. He lived and breathed life," Facing History Executive Director and Co-Founder Margot Stern Strom said. "It is hard to imagine Facing History without him and the community is mourning his loss."
Watch a video of Ries sharing his story about the end of World War II:
Read more about Ries' life, find videos, and explore photos.