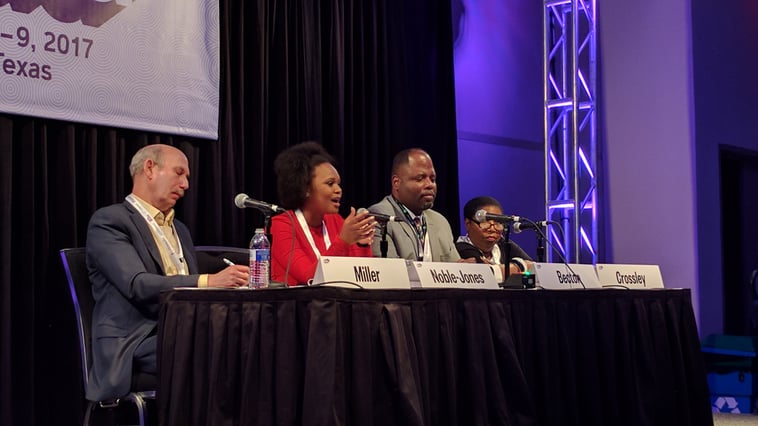 "Education is the civil rights issue of our time!" proclaimed Christopher Emdin in the opening keynote to the 2017 SXSWedu Conference and Expo in Austin, Texas. "We can't really call ourselves educators without understanding that our work is not just about teaching but about understanding the social, emotional dynamic of teaching and learning." His proclamation drew wild applause from an audience of educators, civic leaders, and big thinkers in education.
South By Southwest Edu (SXSWedu) began in March 2011, hosting 2,000 attendees from around the United States to connect those who are passionate about the future of teaching and learning. By 2016, the number of attendees swelled to over 13,000 and included visitors from 38 countries. While the attendance numbers for 2017 have yet to be announced, the crowds certainly again numbered in the thousands.
For the first time in the organization's history, Facing History hosted a panel discussion on our resource, "Facing Ferguson: News Literacy in a Digital Age" at SXSWedu. This resource was created in partnership with the News Literacy Project to help students become informed and effective civic participants in today's digital landscape. The Facing History panel covered some of the nuts and bolts of the resource itself, but the heart of the discussion was about how to acknowledge the discomfort with difference in all aspects and empowering students with the responsibility to have tough conversations. A bruising year in politics and current events in government added an urgency to the conversation as evidenced in the questions from the audience.
It was tremendously fortuitous that Facing History presented this year, and the topic couldn't have been more relevant. From Christopher Emdin's opening keynote (with the hashtag #HipHopEd) to Roberto Rivera's closing speech days later (#hiphope), the theme of equity and diversity thread its way throughout the entire conference. Overall, there were 16 themes including arts, implementation, and special needs among others. But the presentations on stage and the conversations in between always kept in mind reaching the hardest students to teach, whether it be those who were most at risk for being the lowest on the educational curve or those thought to be unteachable. The uncertainty of potential changes in the US education system was often felt just below the surface of many sessions.
We were so excited to feature an incredible group at our panel discussion:
Moderator: Callie Crossley, radio host and commentator for WGBH News in Boston; her film in the Eyes On The Prize series was nominated for an Oscar.
Alan Miller, CEO of the News Literacy Project and a veteran journalist whose work has prompted investigations by Congress and the Justice Department.
Steve Becton, Facing History's Associate Program Director for Urban Education, is currently a doctoral candidate at the University of Memphis and is a leading voice on school reform issues.
Brittany Noble-Jones, television news anchor for WJTV in Jackson, Mississippi, was one of the first journalists on the scene in Ferguson, Missouri when she learned of an "officer involved shooting." Her Instagram video interview with Michael Brown's mother moments after he was killed went viral.
It was important that Facing History was part of the SXSWedu conversation. It was very easy to be swept up into the excitement of educators looking for ways to connect to each other, their students, and their communities. We know how impactful our work is and we're very in tune with our community of teachers. But the enthusiastic reception to our panel and exhibit illustrated just how much Facing History has to offer audiences beyond educational circles.
Couldn't attend SXSWedu? Don't worry, you can listen to our panel discussion!
Want to hear what others had to say about our panel at SXSWedu? Explore our hashtags, #factvsbias and #fact(s)vsbias, to get in on all of the buzz. And make sure to explore our unit, "Facing Ferguson: News Literacy in a Digital Age."
Photo: Panelists and moderator (from left to right) Alan Miller, Brittany Noble-Jones, Steve Becton, and Callie Crossley.