Facing History was recently recommended as a proven social-emotional learning (SEL) program. Out of 400 nominations, the Collaborative for Academic, Social, and Emotional Learning (CASEL) chose Facing History and eight other approaches to include in its new guide to effective middle and high school social and emotional learning programs. Only Facing History and one other program were chosen in both the middle and high school categories.
Through SEL, students acquire the knowledge, attitudes, and skills necessary to understand and manage emotions, set and achieve positive goals, feel and show empathy for others, establish and maintain positive relationships, and make responsible decisions.
"For schools, the decision to focus on the social and emotional learning of their students is just the first step," Evie Blad wrote in a recent Education Week article about the new guide. "The real work kicks in when leaders try to navigate a confusing and still-developing field to select an evidence-based program that will translate the findings of researchers into actual results in the classroom."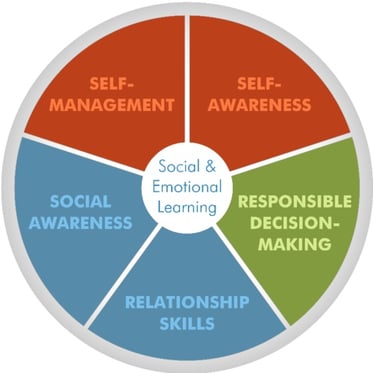 Image courtesy of the CASEL website
A meta-analysis of SEL programs
published in Child Development in 2011
found that participants demonstrated significantly improved social and emotional skills, attitudes, and behavior, as well as an 11% gain in academic performance. And research shows that SEL can also have a positive impact on school climate and promote a host of academic, social, and emotional benefits for students. These skills and habits of mind are critical to being a good student, citizen, and worker.
Most educators and parents recognize that success in life requires far more than knowledge or intellectual prowess. "The purpose of education is to cultivate thoughtful, informed, competent, creative, and compassionate students who, filled with a sense of wonder and an appreciation of life in all of its diversity, see themselves as active participants in creating a more just society," Facing History staffer and veteran educator Doc Miller says.
Facing History teacher Sasha Endo, recipient of a 2015 Margot Stern Strom Innovation Grant, agrees. "The most impactful learning arises not from receiving accepted rules or facts, but rather from learning to listen and then grappling with other people's stories on a personal level," she says.
This outlook is increasingly embraced as evidence supporting the positive outcomes of SEL mounts, impacting both our heads and our hearts. Integrating social-emotional learning as Facing History does—in its content, pedagogy, and teaching strategies, as well as in its whole-school work—pays off because it has measurable social and economic benefits. And just as important, SEL pays off because it speaks to a fuller, more inspiring conception of teaching and learning and what it means to be prepared for success in life.