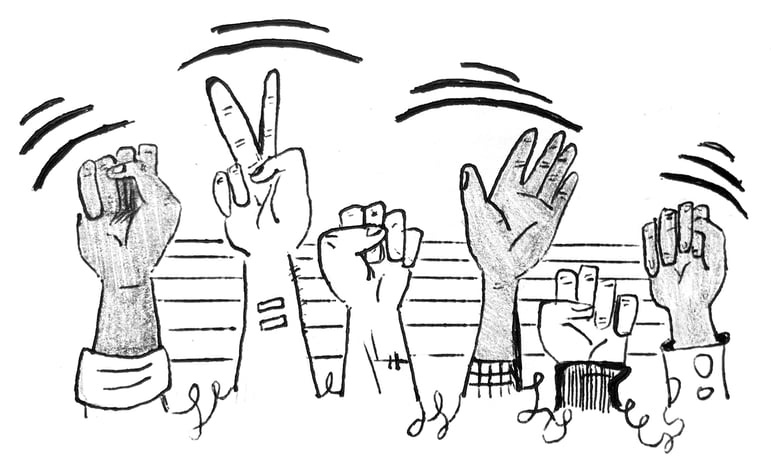 After the school day, I work with a group of teens to engage in dialogue and make a podcast called This Teenage Life, found on podcast apps such as Apple Podcasts and Spotify. We meet virtually twice per week to talk about issues the teens care about, such as when they began seeing their parents as human beings, love in high school, queerness, and the importance of the Black Lives Matter movement. We record these conversations, edit them, compose music and web art, and create podcast episodes with conversation and activity guides for teachers and students who might want to engage in similar conversations. Throughout the pandemic, This Teenage Life has been a social and creative lifeline for us.
And even though I'm the adult in the group, I learn more from the teens than they learn from me. Last year, in a conversation about the differences between our generations (I'm thirty-three and they're mostly seventeen), one teen said that my generation (millennials) internalized the idea that we can do anything. She said that millennials grew up with an illusion of grandeur leftover from the economic optimism from the 1980s. By contrast, she said her generation grew up with school shootings, the 2008 financial crisis, and the existential reality of climate change, not the distant possibility of it. I remember her saying something like "we've accepted the reality that things are bad—unlike millennials—who are still in denial."
I found this conversation both heartbreaking and true.
For some context, the young people I work with go to a project-based, public charter high school called High Tech High in San Diego. There's an admissions lottery that promotes racial and socioeconomic diversity and a population that reflects the demographics of San Diego. The school is mostly white and LatinX with smaller populations of Black and South Asian students. Students come primarily from middle and working-class families. There is a significant number of students who identify as queer. There are students who come from families who hold conservative Christian values.
With existential issues looming large domestically and internationally, the teens in This Teenage Life don't see activism as something grandiose that happens "out there in the world." They see it as something that happens inside themselves and in their everyday lives at their diverse school. For them, the conflicts that play out in their classrooms and their responses to these tensions is part of the work of advancing justice.
In This Teenage Life, when I brought up the topic of civic engagement and activism, I thought the teens might discuss voting, engaging with local politicians, and in-person protesting. However, in our group, they lead the conversation and so they took the idea of civic engagement in a direction that was relevant to them. For them in this moment, civic engagement and activism meant educating themselves, becoming aware, seeing systems of oppression, and subverting these systems through their own personal actions. This could mean challenging a peer who uses the N-word or figuring out how to use the right pronouns that properly reflect their friends' gender identities. It also means reading, donating to organizations they believe in, and signing petitions. For them, living in alignment with their values is often associated with the idea of allyship.
Cultivating self-awareness and practicing a kind of everyday interpersonal activism is how they feel able to make a change in the world. Even though they want systemic change, they're not waiting for the adults to make everything better. As the world burns around them with wildfires, a raging pandemic, and centuries-long racial discrimination, they do what they can to chip away at systems of oppression. They've said that even though everything feels wrong in the world right now, their allyship with each other gives them hope. For me, working alongside them as part of a team to amplify their voices, gives me hope too.
Here is our episode and conversation guide about allyship, which can also be found on Apple Podcasts and Spotify.
--
Facing History and Ourselves invites educators to use our Civic Self-Portraits activity—a key source of inspiration for the This Teenage Life episode noted above.
Pictured above: "Allyship" drawn by Cloe Moreno, This Teenage Life artist and contributor