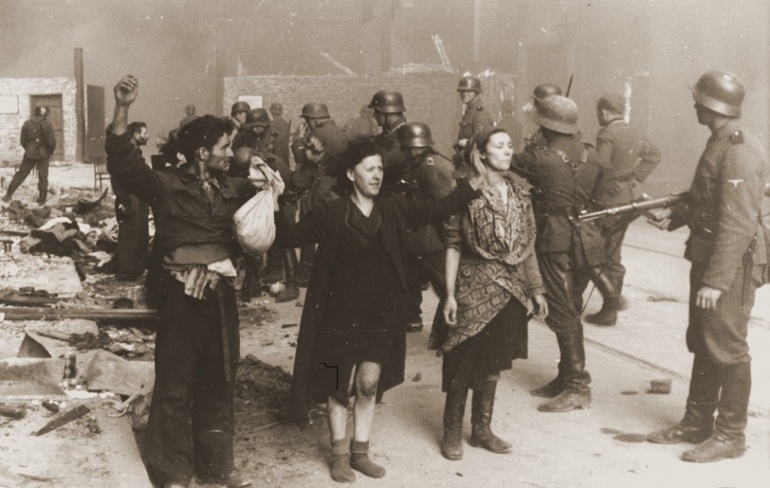 Seventy-five years ago this month, the Warsaw Ghetto Uprising began. For nearly four weeks, Jews revolted against the Nazis as they entered the ghetto to deport its remaining inhabitants to concentration camps. Although the Nazi's military prowess proved too powerful for the prisoners' efforts, it became a symbol of resistance that counteracted the often-touted narrative that Jews went to their deaths without a fight. It is no coincidence that today, Yom HaShoah, or Holocaust Remembrance Day, coincides with this historic moment.
Yom HaShoah and the Warsaw Ghetto Uprising offer stark contrasts to Auschwitz, the Holocaust's most often-associated symbol: prisoners in their striped uniforms set against a backdrop of barbed wire and long rows of bleak-looking barracks. The United Nations marked January 27, the camp's liberation, as International Holocaust Remembrance Day. Yom HaShoah is also meant to commemorate the victims of the Holocaust but its full Hebrew name, Yom Hashoah Ve-Hagevurah, adds an important nuance: it translates literally to the "Day of (Remembrance of) the Holocaust and the Bravery." It's that last word that can sometimes get lost.
Yet there was no shortage of that bravery, which came in many forms. There are the stories of photographers like Henryk Ross who risked his life to document the devastating conditions and brutality of the Lodz Ghetto. There are the stories of the sophisticated underground resistance that distributed news and information to warn others. There were the armed militias, known as the Jewish partisans, that fought against the Nazis. Then there were those who knew the end was near in the Warsaw Ghetto and rose up not so much as a means to escape, but as a means to resist, sending the message they would not go quietly.
These acts left us with stories of courage, of people holding onto their identity when their identity was the very thing they were being persecuted for. Yom HaShoah Ve-Hagevurah charges us with more than just the responsibility to remember those who were lost—as important as that is. It is also a call to honor the inspiring acts of bravery that sprung forth from the hatred, violence, and despair that was thrust upon millions of people.
And those inspiring acts came from all corners, including from young people. Sonia Orbuch was just a teenager when she helped organize the Avengers. Vitka Kempner was only in her early twenties when she joined. Think of what it means to make such a dangerous choice in the face of such unspeakable uncertainty at that age.
When I taught the Holocaust, I would often ask my students—some the same age as Sonia—to think about resistance. We visited Yad Vashem, the Holocaust memorial museum in Israel, where I would walk them past the replica of the famous Warsaw Ghetto memorial designed by Nathan Rapoport. It projects the dual narratives of Jews weeping helplessly toward their fate and Jews rising up in resistance against it onto two vast panels.
Then I would walk them past a third empty panel and ask them to reflect: If this panel represented what resistance looks like today, how would you define it?
It's important we challenge our young people to expand their definition of resistance. "Hagevurah"—bravery—is about retaining human dignity by engaging in small acts during the worst conditions. It does not need to mean acts of physical aggression (although many during the Holocaust were left with choiceless choices that compelled them to do so). Yet, we must let our young people grasp their own agency to resist injustices they see today, whether those injustices are against their own identities or of those around them who need a partner to stand with them in solidarity.
As we commemorate the memory and legacy of those who perished on Yom Hashoah, we are responsible for more than recalling the horror but for also celebrating the moments of bravery. They were performed by ordinary citizens in extraordinary circumstances. If we look at and remember their examples, we might find the strength and agency in ourselves to stand up against the injustices confronting us today.
Learn more with our unit, Resistance During the Holocaust: An Exploration of the Jewish Partisans. It will deepen students' understanding of resistance while complicating their thinking about issues of identity and ethics during times of injustice and genocide.
Photo Credit: United States Holocaust Memorial Museum, courtesy of National Archives and Records