Yesterday we released our new Canadian resource, Stolen Lives: The Indigenous Peoples of Canada and the Indian Residential Schools. This new resource brings educators primary sources and first-person accounts about a painful period in Canadian history, when about 150,000 Indigenous children were forcibly taken from their families and stripped of their language, culture, and traditions.
Stolen Lives arrives as Canada's Truth and Reconciliation Commission, after hearing thousands of survivor testimonies, offers a 94-recommendation "Action Plan." Its June 2015 call said reconciliation—especially through education—is urgent.
Theodore Fontaine, an advisor to Stolen Lives, is the author of Broken Circle: The Dark Legacy of Indian Residential Schools, A Memoir. This blog is adapted from his foreword to Stolen Lives.
For 12 years, I was locked up, punished for speaking Ojibway, shamed for being Indian. It was pounded into me that our people were no good, that Ojibway was a language of savages, that we were less than our keepers. I experienced every type of abuse: physical, sexual, mental, and spiritual.
Often I think about the loss of so many young lives, those who didn't survive and those who did but whose tremendous potential to contribute to our people and Canada was never nurtured or realized.
Residential schools instilled in our young minds hate for who we were, that we were not smart enough or good enough to do what the rest of Canadians can do or become. Those perceptions pervade our lives even today—insinuations that an Indian couldn't be a qualified doctor, lawyer, teacher, nurse, author, or achieve other professional designations.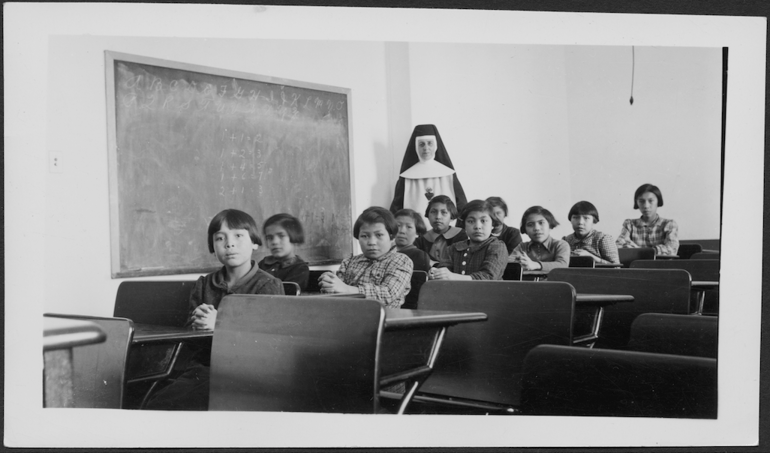 I am always apprehensive to speak about what happened to me. Sometimes I get flashbacks, soul-crushing re-livings of traumatic experiences…Survivors of abuse are often hesitant to speak up. Through many years of healing and reconciliation, I have confronted these damages and abuses to the best of my ability.
I have relearned my Ojibway language and much of our culture, and nothing gives me such joy as to be able to sling my language through conversations with family and friends, and to teach a few words here and there to non-Indigenous people who express interest in hearing this soaring, descriptive language. I imagine with horror, had the residential schools policy been successful, how many beautiful languages would have disappeared. If we lose it here, it disappears forever.
Kitchi miigwetch, a big thank you to Facing History and Ourselves…and to all the educators who use this guide to show children and youth what truth and reconciliation mean.
I believe educators will make the most difference, helping generations of youth build relationships among Indigenous and non-Indigenous Peoples, based on our seven sacred teachings of knowledge, love, honor, courage, honesty, humility, and truth.
Stolen Lives gives students and teachers individual and collective opportunities to walk the road of reconciliation…by exploring the truth of our lived residential school experiences, hearing our voices, and understanding our context.
Each day as I take another step toward reconciliation, I take a step toward finding my way back to the joyous, effervescent, mischievous Ojibway child that the Creator intended me to be.
This blog was reposted from our sister blog, Facing Canada.