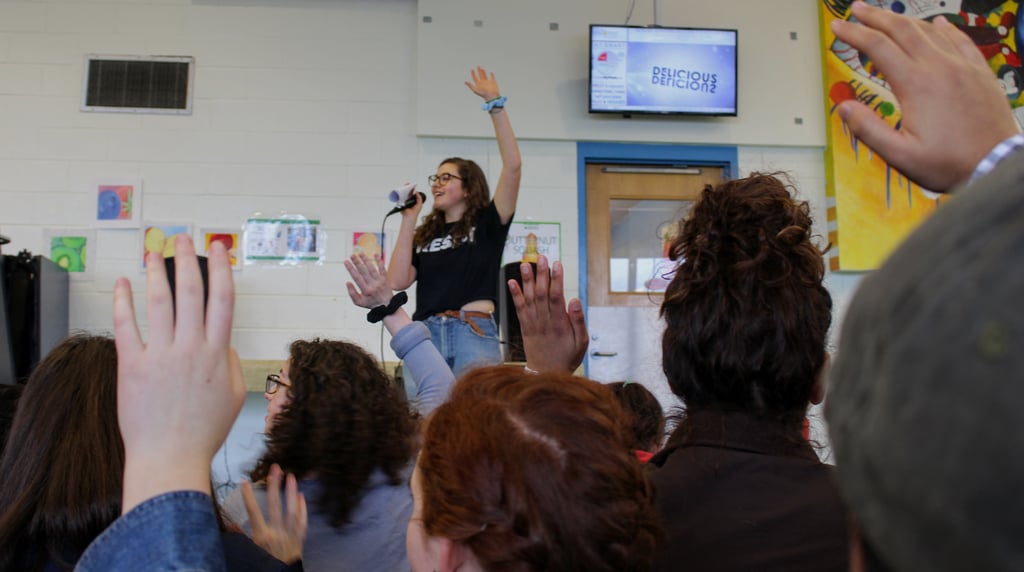 Charlotte Lowell, a Facing History senior at Andover High School in Andover, Massachusetts is using her voice after the Parkland school shooting. The 17 year old led a student sit-in at her school to discuss gun violence and how the country is currently addressing the issue. Now she's getting ready to participate in the March For Our Lives this Saturday. She even spoke about her activism on the nationally syndicated NPR show, On Point. As a student leader of the Boston branch, she's been busy organizing with adult activists, student organizers, and other community workers to get as many people as they can involved. Here's what she had to say about her new role as a student activist.
Is this an issue that you were engaged with before Parkland?
A lot of people have asked why Parkland struck so many people, and I think it's been a catalyst for so many different people all across the country. All of a sudden students said, "That's it, this is never going to happen again, we're not going to allow it." I had a lot of political values that align with the movement prior to the Parkland shooting and I was certainly vocal about them but I had never been involved in community organizing very openly or prominently. I'd done some local activism, mostly around environmentalism, and certainly gun violence was something I had feelings—strong feelings—but I don't think I was as active as I should have been or as I am now.
How did the decision to do something evolve for you?
All at once, people, students specifically, said, "We obviously need to lead in ways that adults can't. So we are going to step up and take action about something that our adults have failed to do." I don't think that I saw Emma Gonzalez's speech until after my sit-in and I don't think I realized that this was a movement—and not just a moment—until I read a New York Times article the night following the sit-in. It was a beautiful synthesis of all of these adjoining moments, all across the country, that coalesce into this vibrant and very, very attention-grabbing movement.
How did you decide to do the sit-in specifically? How did that come to be the action that you decided to try to take?
It was after hours of discussion with my dad. I felt like there was something I should be doing that I wasn't doing. So, in a mad dash, I typed out an impromptu letter addressing my school, saying, "This needs to end. We can say something about it, we have that capability. So I'm going to walk out of school." I ended up reworking it to be a sit-in because I felt like walking out would eliminate any chance for conversation. My dad and I drafted this letter, read it, reread it, reworked it, until finally I shared it to a Facebook page and it was rolling in minutes. And all of a sudden everybody at my school knew what was happening.
What do you think about the different responses that youth-led movements like Black Lives Matter have gotten compared to this current movement?
I've been grappling with that a lot. I'm white and I think it's really important to acknowledge that fact. I think that has a little bit to do with the way my school administration handled the sit-in; the fact that I have privilege in my community. I've also been thinking about how to make sure that the March for Our Lives in Boston specifically addresses issues that happen in Boston.
We're working a lot to make sure that our message is localized and that the focus of the march is of course safety in schools, but also safety in streets, in the community, in general. We should feel safe whether we're students or whether we're out of class. That messaging is so important in order to shape legislation and to make sure we're addressing the real needs. I know that gun violence in the street accounts for more deaths than school shootings this year but it's never been received with so much support or enthusiasm from adults or from celebrities.
Based on your experience, what advice do you have for teachers about what they can do in this moment to support their students?
I encourage teachers to assure their students of the power of their voice and acknowledge the fact that truths that we hold in society are not always true, like the concept that a 17 year old can't make adults turn their heads and realize, "Oh goodness, we need to do something." This generation can break down misconceptions about teenagers. Adults are realizing that teenagers can enact incredible change in society, can produce conversation that is worth having, and really make people react to it.
What advice would you offer to other students?
It is so important for students to understand that we may be young, but we are very, very strong. And the fact that we don't have a ton of knowledge about legislation, or about logistics for planning, doesn't matter so much. We have a voice that cannot be ignored. We know how to use words, we know how to connect with people and each other. And that power is going to shape the way that we affect this country, I think for the better. So just holding onto the fact that we are students that can be heard, that have useful things to say, and beautiful things to contribute to this country. That's something that I hope all students know.
As your students consider their own role in this movement, use our new teaching idea, "Youth Taking Charge! Student Activism in Historical Context," to engage them in a discussion on how activism has been used throughout history to confront racism, human rights abuses, oppressive government regimes, and a lack of inclusion in school curricula. Help them understand how they can choose to use their own voice by showing them the young voices of the past.