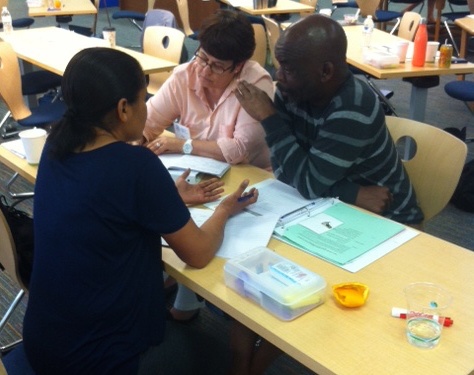 In this increasingly globalized world, we can learn a lot from each other. That's why in July, Facing History facilitated a weeklong Advanced International Seminar hosted by North Shore Country Day School. Teachers from Northern Ireland, South Africa, England, Mexico, France, and the United States gathered in Winnetka, Illinois to discuss the issues and challenges educators struggle with and to exchange best practices.
Karen Murphy, Facing History's international director, recently shared her experience on the Global Learning blog, hosted by Education Week and the Asia Society. Read about the eight lessons she learned from facilitating the Advanced International Seminar.
And, make sure to tune in for the #Globaledchat on September 28 from 8p.m. - 9p.m. ET. This is a weekly chat sponsored by @AsiaSocietyEDU and covers topics related to teaching with a global perspective. Facing History is excited to co-host this week's chat, focusing on civics education in a global setting. Log onto your Twitter account and make sure to follow @facinghistory and @AsiaSocietyEDU and use the hastag #Globaledchat.
Photo: Teachers (from left to right) Janine Kaptein, Sue Grove, and Milton Phangwa participated in the Advanced International Seminar.